This simple and easy gumbo recipe came from me wanting to surprise my Louisiana-bred husband one day with one of his favorite dishes.
Here's the thing, the idea to make said gumbo came at the spur of the moment while I was driving home from work. If you've ever watched or made true gumbo, you know it's some WORK. We've shared my aversion to the kitchen before, so I had to come up with a plan E for Easier.
I'm sharing a recipe that got 2 thumbs up from the Mister (who doesn't know it's simple and easy…SHHH!!!!).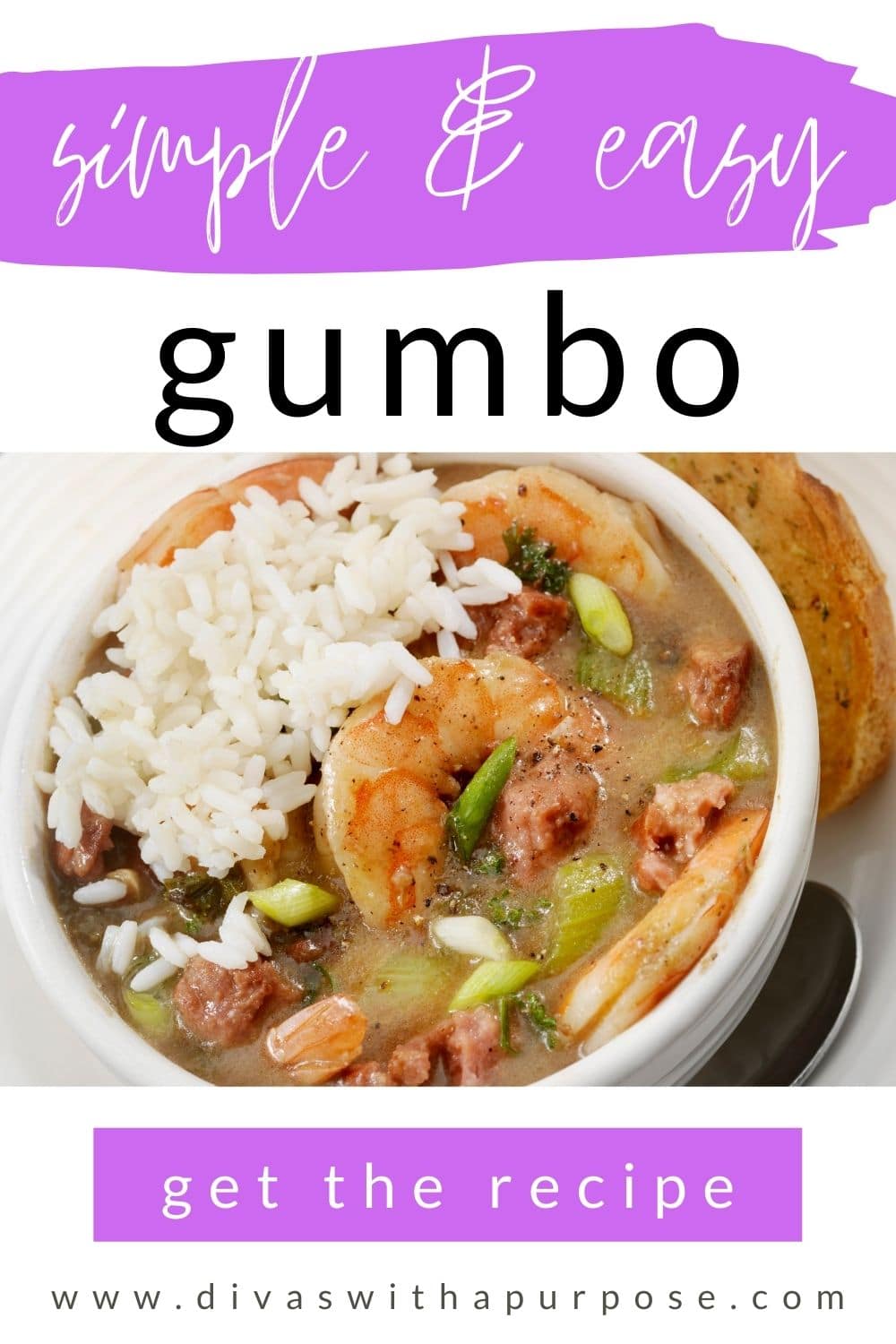 Simple and Easy Gumbo RECIPE
I cook this in a stockpot as it's easy to prepare everything in one dish, refrigerate and reheat as necessary.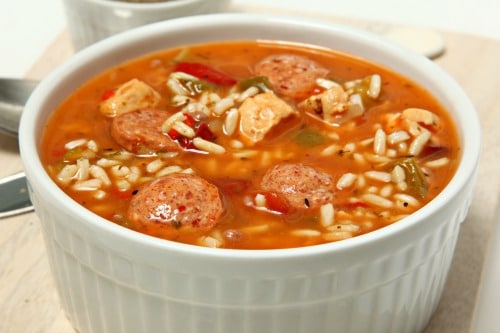 Yield: 4 people
Simple and Easy Gumbo
Prep Time: 10 minutes

Cook Time: 1 hour 30 minutes

Resting Time: 30 minutes

Total Time: 2 hours 10 minutes

A simple gumbo recipe for beginners or if you're short on time.
Ingredients
Half a stick of butter
3 tablespoons of flour
1 can of cut okra
1 can of chicken broth
10-12 ounces of tomato juice
3 cups of water
1 can of boned chicken
frozen onions and green pepper mixture
1/2 teaspoon of garlic powder
1/2 teaspoon of cajun seasoning, can add more if you'd like a little more kick
3 cans of crab meat
chopped smoked sausage
shrimp
1 teaspoon file'
Instructions
Melt half a stick of butter in a stockpot with flour to create a roux. (The roux thickens sauces and soups)
Once the mixture is color peanut butter add all items except seafood, smoked sausage, and file'.
Bring the mixture to boil and lower the heat. Simmer for 30 minutes, stirring occasionally.
Stir and add seafood and smoked sausage. Simmer for 30 more minutes.
Add 1 teaspoon of file'.
Remove from heat and let sit for 30 minutes before serving.
Viola! The entire brood devoured this simple gumbo recipe. Definitely a winner and one we'll be adding to the rotation – especially during the winter months. (And leftovers are even more scrumptious!) While this dish takes approximately 90 minutes to make, there's very little prep work. I cooked while helping my son with his homework and making the cornbread we had to go along with our gumbo.
What are some of your favorite cold-weather dishes? During the colder months when it gets dark earlier and earlier, it is important for me to have simple staple recipes that are filling.
Featured At: Life On Lakeshore Drive

Houseful of Soups Participants
---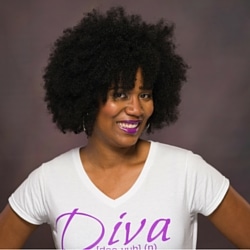 Michelle D. Garrett is the founder of Divas With A Purpose. She focuses on sharing resources for being purposely productive; setting personal and professional goals and achieving them through daily action; and successfully running a business while focusing on your mental health. Michelle is a full-time entrepreneur who specializes in teaching female entrepreneurs how to show up consistently in their business – online and off.
If you enjoyed this article, you will also enjoy reading: