An air fryer had been on my list of gadgets to get for quite some time. I'd seen so many yummy and healthier versions of my favorite recipes circulating around social media. So I was super excited to win one from Hamilton Beach at this year's Mom 2.0 Summit in Austin, TX. I have definitely been putting my Hamilton Beach Air Fryer (affiliate link) to good use.
During the warmer months I am #TeamNoOven as much as possible. Thanks to tools like my InstaPot, CrockPot and, now, Air Fryer – it is easier than ever to cook a healthy and fulfilling meal for my family without the use of my oven.
Simple Air Fryer Salmon Cakes
For salmon cakes on the stove, my go-to recipe is from my friend Natasha over at Houseful of Nicholes. Her salmon croquettes and rice recipe is the bestest!
Between her recipe and my Daddy's, I was able to perfect a recipe that came out just the way I loved them using my air fryer.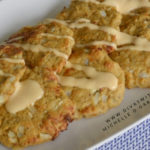 Air Fryer Salmon Cakes
Ingredients
3, 5

oz.

cans of boneless skinless salmon

drained and patted dry

½

cup

bread crumbs

½

cup

finely diced onion

2

eggs

3

Tbsp

Worcestershire sauce

½

cup

milk

Salt and pepper to taste
Instructions
Prepare the air fryer by spraying it with non-stick spray.

In a medium mixing bowl, combine all ingredients - salmon, bread crumbs, onion, eggs, Worcestershire sauce, milk, salt and pepper. Stir until mixed well.

Using your hands, form spoonfuls of the mixture into small salmon cakes/patties. Arrange the salmon cakes in the air fryer in a single layer.

Air fry on 350 degrees for 12 minutes. Repeat until all salmon cakes are done.
Recipe Notes
I have a 2.5 Liter air fryer and it took me 3 cycles to get all of the salmon cakes cooked.
These air fryer salmon cakes can be paired with so many different side dishes or even enjoyed on their own as a snack. We prefer to eat them with grits and eggs. It's the Southerner in me, y'all!