I'll be honest – this Instant Pot Beef Stew may become our go-to fall and winter favorite. It's so simple to make and everyone in our household loves. It also brings back fond memories of my childhood. This was one of my favorite dishes my mom would make.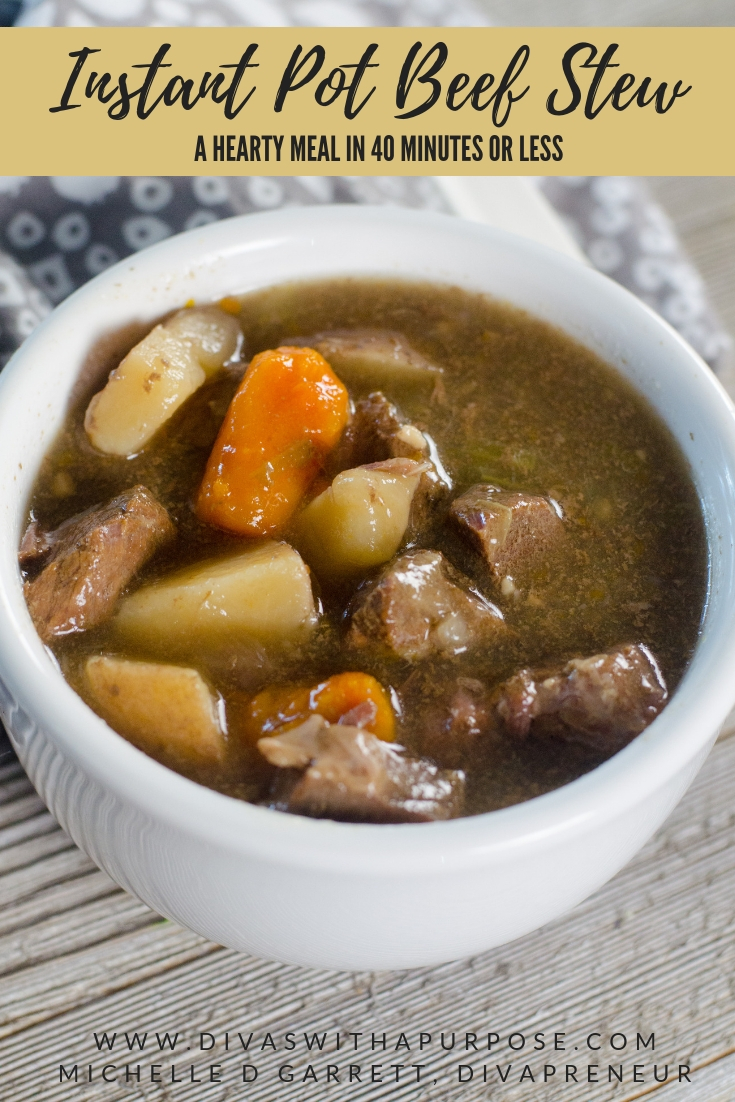 I won't let on as to how long I had my Instant Pot (affiliate link) before I actually took it out the box. Or how many more month's to actually use it. HOWEVER – it gets plenty of use these days. We love how tender and flavor-filled our meats are. I also love that we can still have a scrumptious meal if I'm out and about during the day and get a late start on dinner prep (or forget to take something out the freezer!). Instant Pot meals also come in handy when I'm traveling – my husband or teenager can quickly prepare a scrumptious meal in the evenings and NOT be dependent on take-out while I'm away.
Home-Cooked Goodness In a Fraction of the Time
This recipe has just a few simple steps and gives us enough time to do a quick family walk around our neighborhood to return to a scrumptious and hearty dinner. (And honestly – we usually need to take another one AFTER dinner is done because OH-My-Goodness!)
I love the sauté mode because everything can be done in the Instant Pot which means less dishes to clean. I prefer to season my meat with salt, pepper and garlic before I sauté them. It gives the meat more flavor. Once you've sautéed your meat and onions, just add in your veggies, broth, seasonings and start. That's it!
Use the manual release on your Instant Pot. I prefer to remove my vegetables before this next step so they don't get too mushy. Whisk in your cornstarch mixed with water and then set to sauté mode (I told y'all I loved this mode!) to bring to a low boil and let your broth thicken. Switch to the keep warm setting, add your vegetables back in and enjoy!
We love this dish served over rice and with cornbread.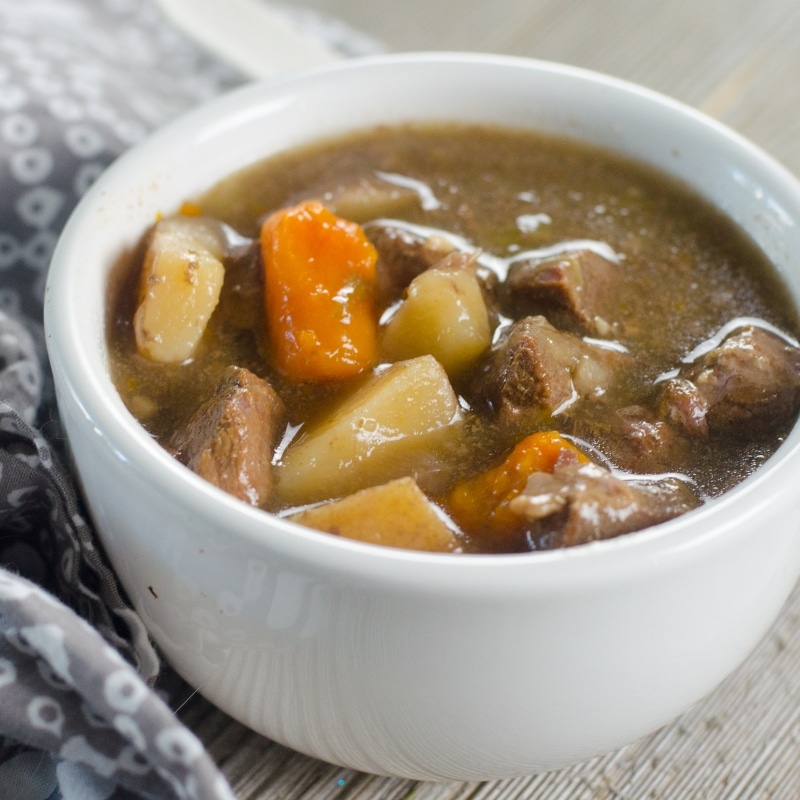 Instant Pot Beef Stew – Crock Pot Version
Also, if you don't have an Instant Pot, this dish can easily be made in your crockpot, as well. Instead of beef broth, I like to use a can of cream of mushroom with equal parts water. Cook 4 hours on high or 6 hours on low.
Instant Pot Beef Stew Recipe
Yield: 6 servings
Instant Pot Beef Stew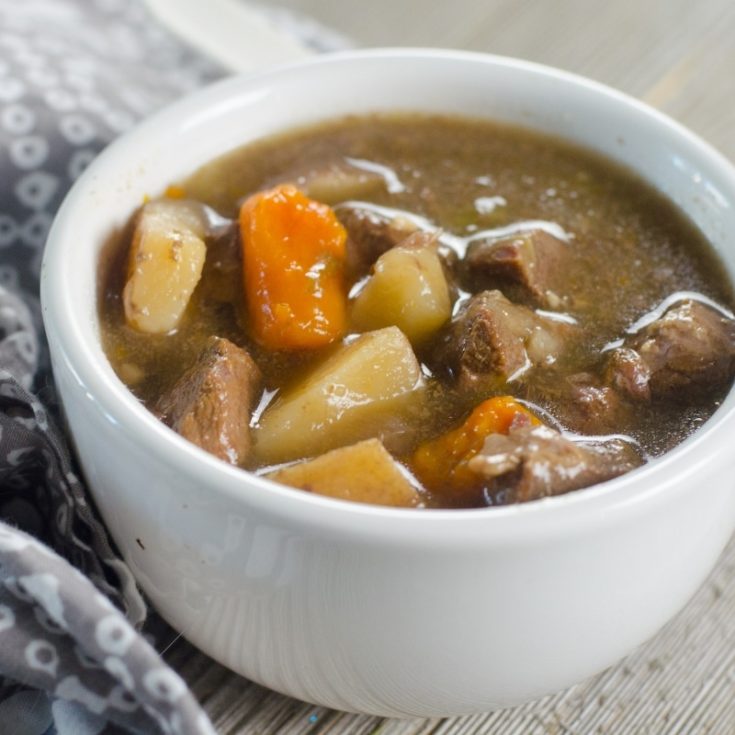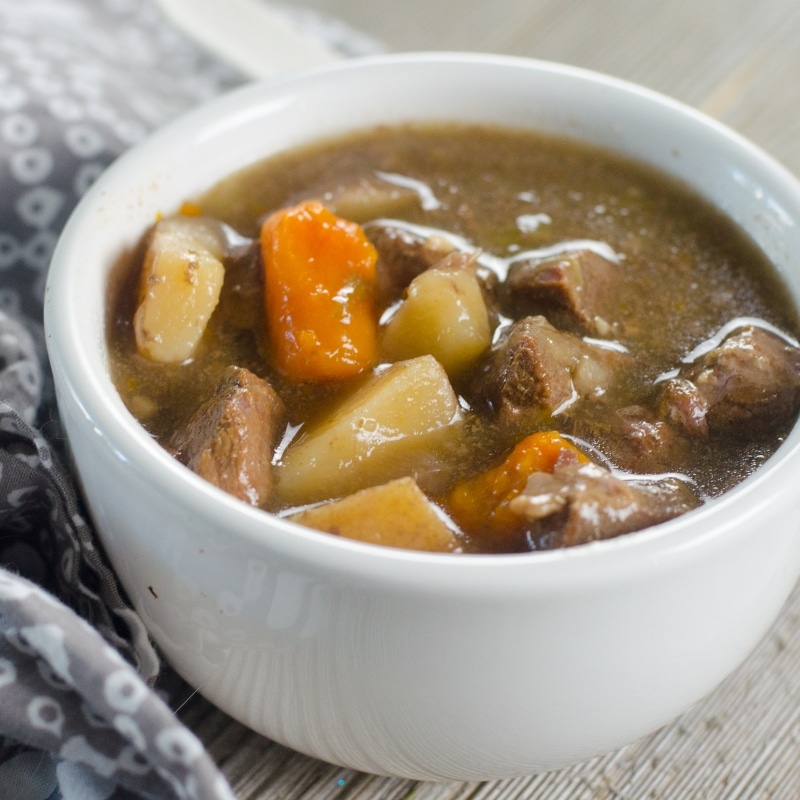 Ingredients
1 - 32 oz container beef broth
6 carrots; quartered
4 stalks of celery; chopped
2 - 1lb packages of beef stew meat
1 white onion; diced
3 red potatoes; diced
2 tablespoon garlic
2 bay leaves
1 teaspoon salt
1 teaspoon pepper
2 tablespoon cornstarch
Instructions
Set instant pot to sauté mode. In the instant pot, add in meat and onions. Brown meat and turn off sauté mode.
Add in carrots, celery, potatoes, and cover with beef broth. Fill with water to fill line.
Stir in garlic, bay leaves, salt and pepper. Place lid on instant pot. Set to high pressure on manual mode for 30 minutes. Once done, use manual release.
Add the cornstarch to 1/3 cup water. Whisk well. Pour into instant pot stirring frequently. Set instant pot to sauté mode. Bring to a low boil until cornstarch has thickened the broth then turn off sauté and set to keep warm
Notes
I remove all the vegetables to a large bowl then add the cornstarch. It helps so the vegetables don't break down to mush. It can be done either way.
Recommended Products
As an Amazon Associate and member of other affiliate programs, I earn from qualifying purchases.