Simple and Easy Gumbo and Cornbread
Between Valentine's Day and the start of Mardi Gras, I decided to surprise my husband with one of his favorite dishes – gumbo. Here's the thing, the idea to make said gumbo came at the spur of the moment while I was driving home from work. If you've ever watched or made true gumbo, you know it's some WORK. We've shared my aversion to the kitchen before, so I had to come up with a plan E for Easier. I'm sharing a simple and easy gumbo recipe that got 2 thumbs up from the Mister (who doesn't know it's simple and easy…SHHH!!!!) and my favorite cornbread recipe that is always a hit with my kiddos.
Quick and Easy Gumbo
I cook this in a stock pot as it's easy to prepare everything in one dish, refrigerate and re-heat as necessary.
Ingredients
Half a stick of btter
3 tablespoons of butter
1 can of cut okra
1 can of chicken broth
10-12 ounces of tomato juice
3 cups of water
1 can of boned chicken
frozen onions and green pepper mixture
1/2 teaspoon of garlic powder
1/2 teaspoon of cajun seasoning (can add more if you'd like a little more kick)
3 cans of crab meat
chopped smoked sausage
shrimp
1 teaspoon file'
Instructions
Melt half a stick of butter in a stockpot with flour to create roux. (The roux thickens sauces and soups)
Once mixture is color peanut butter add all items except seafood, smoked sausage and file'.
Bring the mixture to boil and lower the heat. Simmer for 30 minutes, stirring occasionally.
Stir and add seafood and smoked sausage. Simmer for 30 more minutes.
Add 1 teaspoon of file'.
Remove from heat and let sit for 30 minutes before serving.
http://www.divaswithapurpose.com/easy-gumbo-recipe/
Viola! This quick and easy gumbo was devoured by the entire brood! Definitely a winner and one we'll be adding to the rotation – especially during the winter months. (And leftovers are even more scrumptious!) While this dish takes approximately 90 minutes to be completed, there's very little prep work. I cooked while helping my first grader with his homework and making the cornbread we had to go along with our gumbo.
Sweet Cornbread Recipe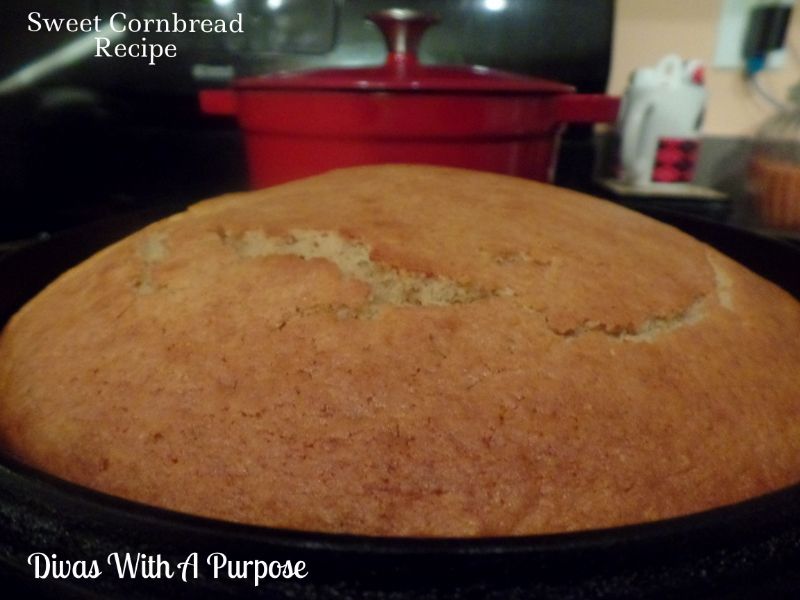 My kids and I love bread. We, especially, love cornbread. There's something about right out of the oven cornbread that soothes the soul – at least for me it does! The cornbread above was gone within a day. It was part of our dinner but made for a yummy breakfast the next morning, too! I love my cast iron pan. There's something about making cornbread in it that brings back fond memories of my grandmother and mother making this for me as a child. While preparing the cornbread mixture, preheat the oven to 400 degrees Fahrenheit and make sure your pan is lightly greased. Combine the following in a large bowl:
1 cup all-purpose flour
1 cup yellow cornmeal
2/3 cup of sugar
1 teaspoon salt
1 tablespoon of baking powder
In another bowl, beat 2 eggs and then stir in 1 cup of milk, 1/2 cup of vegetable oil, and 3 tablespoons of melted butter. I usually mix with my hand mixer. I like to add a tad bit of vanilla flavoring, too. Pour the batter into your pan or skillet and cook for about 25 minutes. My teenager has taken over making this and will let his younger siblings help with pouring and mixing. This is a great way to get everyone actively involved with helping in the kitchen.
Featured At: Life On Lakeshore Drive
Let's Talk About It Divas: What are some of your favorite cold-weather dishes?
Do you have a go-to quick and easy meal that you prepare?