Even though I grew up less than 20 miles away from the Angel Oak Tree outside of Charleston, South Carolina, I had no idea I grew up not far from this famous oak tree in South Carolina until I saw a video on social media. Horrible, I know!
The Angel Oak Tree is open for visitors.
How far is the Angel Oak Tree from Charleston?
The Angel Oak Tree – a Southern Live Oak – is actually located on Johns Island right outside of Charleston. It is located about 12 miles from downtown Charleston and will take about 30 minutes to drive to. It is one of the oldest living things in the United States.
Things to Know Before Your Angel Oak Tree Visit
Address: The Angel Oak Tree is located at 3688 Angel Oak Rd, Johns Island, SC 29455
Hours of Operation: Monday – Saturday: 9 AM – 5 PM; Sunday 1PM – 5 PM
Parking: There is a small parking lot within the tree area but most park along the road leading up to the Angel Oak Tree.
Admission: Free
There is a gift shop and picnic area on the grounds of the Angel Oak Tree.
Can you climb the Angel Oak Tree?
No. You are not able to climb or sit on any parts of the tree.
Can you touch the Angel Oak Tree?
Yes, you are able to touch the Angel Oak Tree.
The following are not allowed on or around the Angel Oak Tree:
Blankets
Drinks
Food
Props
Tripods
Can I take my pet to visit the Angel Oak Tree?
Yes, leashed pets are allowed in the picnic area and in other designated areas.
This summer my children and I are making it a point to be tourists in our state. Searching out those sites that often go unnoticed and under-appreciated by the people who share their backyard.
How old is The Angel Oak Tree?
After seeing a video about this tree on Facebook last year, I knew it was one that we needed to visit and see for ourselves. The actual age of the tree is up for debate – this sign on its grounds ages it at 300-400 years old. I, also, read that it's thought to be the oldest living thing in the United States. To think, something this amazing was growing and thriving so close to my hometown!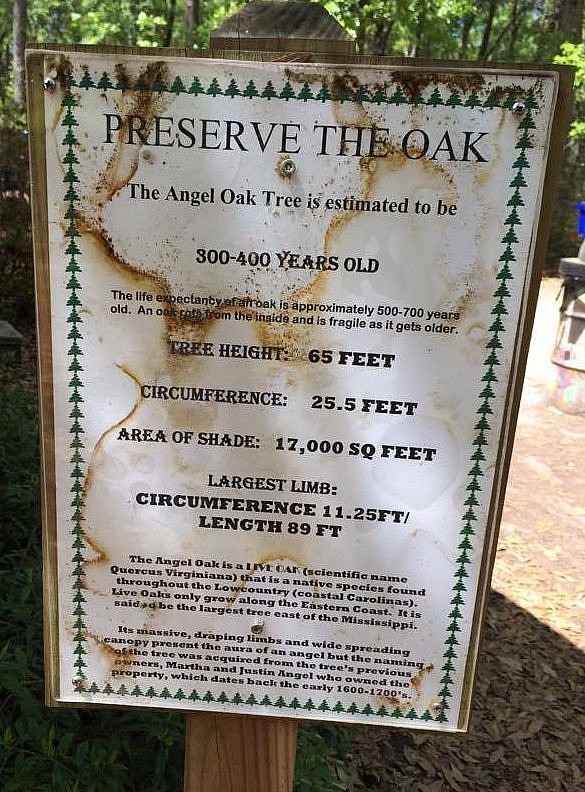 I go home on a regular basis but, I'll be honest. I truly take for granted many of the sights and culture the area has to offer. To me it's home. When I am there I'm focused on visiting family, eating my Daddy's home cooking and catching up with my girlfriends that still live in the area. And sleep. There's something about spending the night in the house you grew up in – best night's sleep ever!
Our First Visit
My children were impressed when I mentioned that the branches we could see were actually the very top of the tree as its trunk had sunk into the ground over the years. Honestly, the nerd in me wanted to see this site and I did not think my children would be as impressed. I was wrong! They oohed and ahhed as much as I did.
There's a gift shop on the grounds and as soon as we walked in through the screen door (a must in the South, right?) I was greeted by my grandparents' neighbor who had her sweet grass baskets set up. I hadn't seen her since my grandfather's funeral and it was a very welcome surprise. She was a constant in my life growing up – making sure we didn't swipe too many blackberries and make ourselves sick during the summer; stopping by to say hello on her way home from church on Sunday afternoons; coming by during our annual family cookout to get a hug from the family that grew up right next to hers; and so much more. My children swear that I am famous because we almost always run into someone I know when we're traveling – I let them believe that.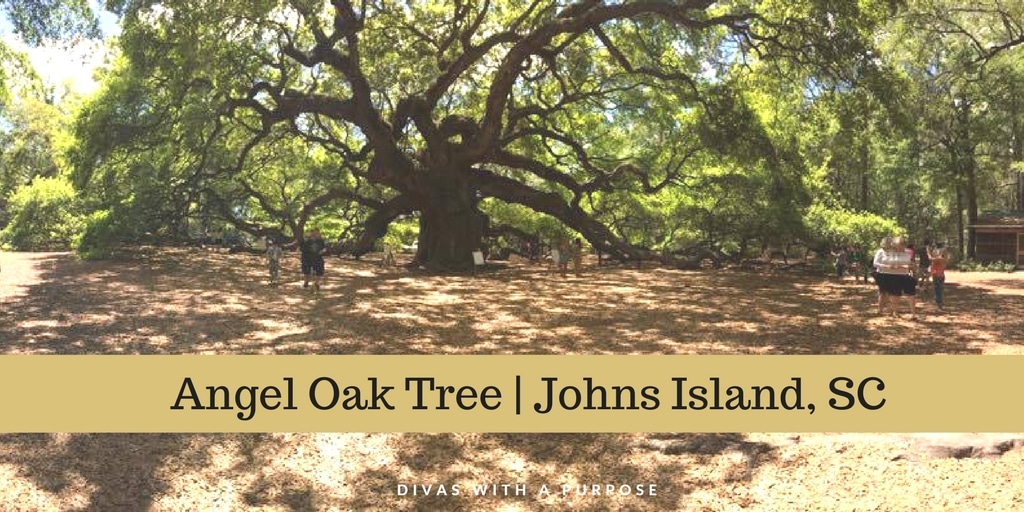 The Angels Oak has survived rough weather including earthquakes, hurricanes, floods and, of course, humans. With a history of withstanding all of that, it's safe to assume it will survive for many more centuries. When I reflect on the storms and trials that my family has endured, my goal is to apply that same logic. We're still standing. We are looking forward to living, laughing and loving one another for many more years to come and enjoying the amazing journey we have been blessed to share together.
---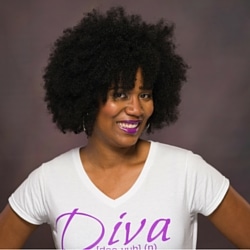 Michelle D. Garrett is the founder of Divas With A Purpose. She focuses on sharing resources for being purposely productive; setting personal and professional goals and achieving them through daily action; and successfully running a business while focusing on your mental health. Michelle is a full-time entrepreneur who specializes in teaching female entrepreneurs how to show up consistently in their business – online and off.
If you enjoyed this article, you will also enjoy reading: