Quick Note: The Grand on Main in Columbia, SC hosted the CSC Mommy Blogger Tribe's December 2019 brunch.
I love when I can combine my favorite things. My first visit to The Grand on Main allowed me to do just that. Great food and conversation with fun people I enjoy spending time with.
[Tweet "#NowReading: The Grand on Main Experience"]
Brief History of The Grand on Main
The Grand Theatre opened as a vaudeville house that offered both live performances and moving motion pictures on April 26, 1909. In operation from 1909 until 1914, the Grand changed ownership frequently. In 2016, LTC Health Solutions bought the building and a major rehabilitation began. Informed by the building's history and the rediscovery of the original sign from The Grand Theatre, they named the new restaurant and bowling alley The Grand on Main, which opened in late 2017. (Source: Historic Columbia)
Grand Atmosphere, Service, Food and Company
For those that do not know, I have a five-mile radius. I am serious about my five-mile radius, y'all. Pretty much everything I need and want is available to me within five miles of my home. Lately two things have been pulling me out further and further from Northeast Columbia: outings with the CSC Mommy Blogger Tribe and my friend Kati Horton of Lexington Mommy (also a CSC Mommy Blogger).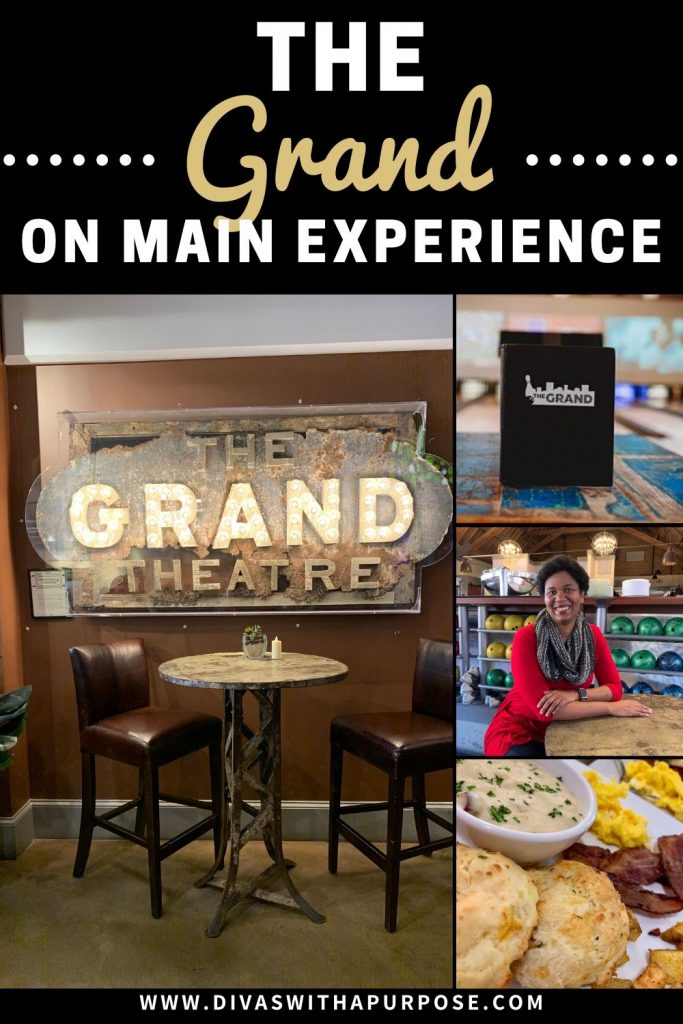 As soon as I walked into The Grand on Main, I was impressed. The atmosphere is very warm, cozy and inviting. They greet you with a smile and since I was making a grand entrance (see what I did there, again?) my group was already seated and looking over the brunch menu options.
Superb service!
Our server Katie was amazing. It takes a special person to work in the service industry. Katie seamlessly managed our large group and her other tables. I have shared before that I've removed as much caffeine from my life as possible. I'm usually not a fan of decaf coffee, but these bones wanted something hot. Katie said, "I got you!" (after confirming I had no allergies) and presented me with this special-for-me (my story!) decaf coffee that warmed my body and soul. It was scrumptious and I'm hooked so now I have to go visit her regularly. End of story.
The food was delicious. I even sent my husband a text mid-brunch to let him know he needed to bring me back again soon. I ordered the Bacon Lover's Brunch. It comes with cheddar biscuits that melt in your mouth, bacon gravy (I apparently blanked out on the gravy and thought it was grits. Big thanks to Kati for stopping me before I put a spoonful in my mouth), thick cut bacon that were delectable and two scrumptious eggs.
During brunch we had some great conversation! The ladies that are members of the CSC Mommy Blogging Tribe have been blogging for different amounts of times, have different niches and reasons for blogging. The one thing we all have in common is a desire to support and uplift one another on our respective journeys. We discussed ways to grow in the upcoming year, key updates to make to our websites, engagement on social media and so much more.
After brunch we ventured over to the Games side of the Grand: from bowling, checkers, Jenga, and more. You can find it at The Grand to have tons of fun with family and friends.
General Information
The Grand is a boutique bowling alley, restaurant and bar located on historic Main Street in downtown Columbia, South Carolina. From happy hour after work to weekend brunch, you are in for a GRAND experience. They are located at 1621 Main Street; Columbia, SC 29201.
Hours of Operation:
Monday – Thursday 11am – Midnight
Friday  11am – 2am
Saturday 9am – 2am
Sunday 9am – Midnight
Age Restrictions:
21+ The Grand (after10pm)
21+ The Grand Tap Room (Only)
Parking:
– Cannon Parking Garage located at the 1227 Taylor Street
– The city of Columbia Parking located 1100 Taylor Street (directly behind The Grand)