Disclosure: This article on 5 questions to ask when buying a car is written in partnership with Bluff Road Auto Sales.
Our family has been in limbo with our quest to add new-to-us vehicle over the past year. It's time but we want to find the right vehicle at the right price for our family's needs.
My husband is a researcher. He will find every article there is to narrow down our choices, look at mileage, recalls, reviews – all the responsible car buying stuff that you should do, right? Me, on the other hand, will ask two questions – What's the gas mileage? and How much is it going to cost me? Priorities, right? That's why we make such a great team.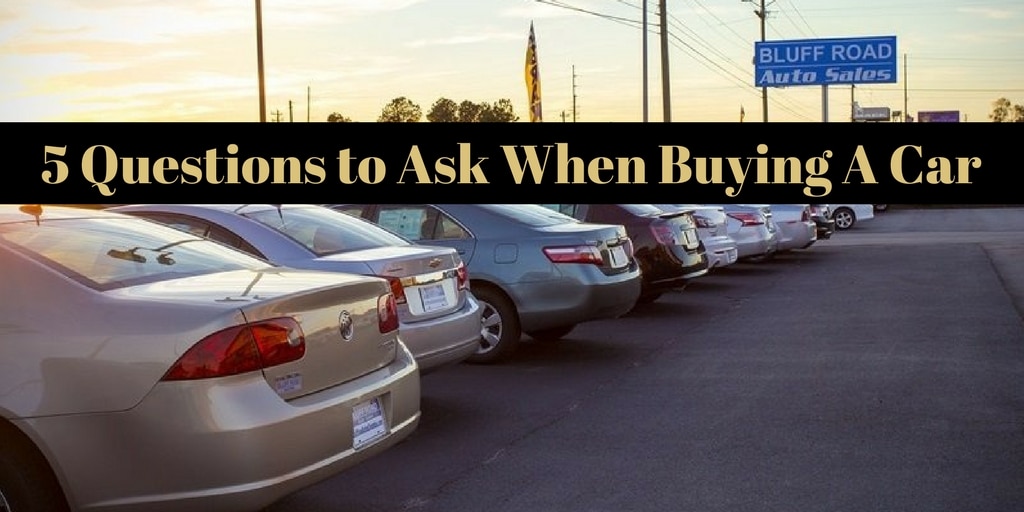 Since working with a local Columbia, SC dealership I am sold on the benefits of utilizing a locally-owned dealership that is focused on establishing a long-term relationship. Bluff Road Auto Sales is there for you for the purchase, repayment and for routine servicing of your vehicle. It's truly an on-going relationship.
[Tweet "5 Questions to Ask When Buying A Car #ColumbiaSC #sponsored"]
5 Questions to Ask When Buying A Car
I've already shared my top two questions to ask. When researching "how much will this cost?" make sure to include your insurance, additional dealer fees and state and local taxes.
Here are 5 additional questions to ask while going through the car-buying experience. Purchasing a vehicle is an investment and a salesman or dealership that balks at your questions should be an immediate red flag.
⇒ What is the car's history? Are they willing and able to provide maintenance records and a CARFAX® Report?
⇒ Are there any recalls? 
⇒ Can I take it on a test drive?
⇒ What warranties are included?
⇒ Is this the original interior / paint color? Previous owners that were smokers, pet-owners or had messy children like I do may have compromised the interior.
Asking the right questions during your car buying process can help to alleviate a lot of stress and save you money! Is purchasing a new-to-you vehicle on your must-do list? Feel free to share any other pertinent questions in the comments below.
---
This post is sponsored by Bluff Road Auto Sales. 
As always, all thoughts and opinions are my own. 
Bluff Road Auto Sales in Columbia, South Carolina offers quality used cars at affordable prices. All credit types are accepted with their in-house financing. All of their vehicles come with CARFAX reports, service before the sale and come with a 30 day warranty. Their goal is to place you in a quality, affordable vehicle. You can visit Bluff Road Auto Sales and experience their great staff and service for yourself. Bluff Road Auto Sales 1400 Bluff Road, Columbia, South Carolina 29201 Phone: 803-451-0334
---
Related Articles: