Learn five simple, yet powerful ways to relieve stress that only take minutes per day. Small daily practices like meditation, planning, and unwinding can help you find calm amidst life's craziness.
---
Life is busy. Between work, family, and other obligations, it's easy to feel overwhelmed and stressed out. Stress can take a major toll on your mental and physical health if left unchecked. But relieving stress doesn't have to be complicated or time-consuming. With just minutes a day, you can make a big difference in finding calm and balance.
In this article, we'll explore 5 quick but powerful daily practices that can help relieve stress and refresh you amidst the craziness of life. These tips work whether you have 5 spare minutes or 20 – so they can easily fit into any schedule.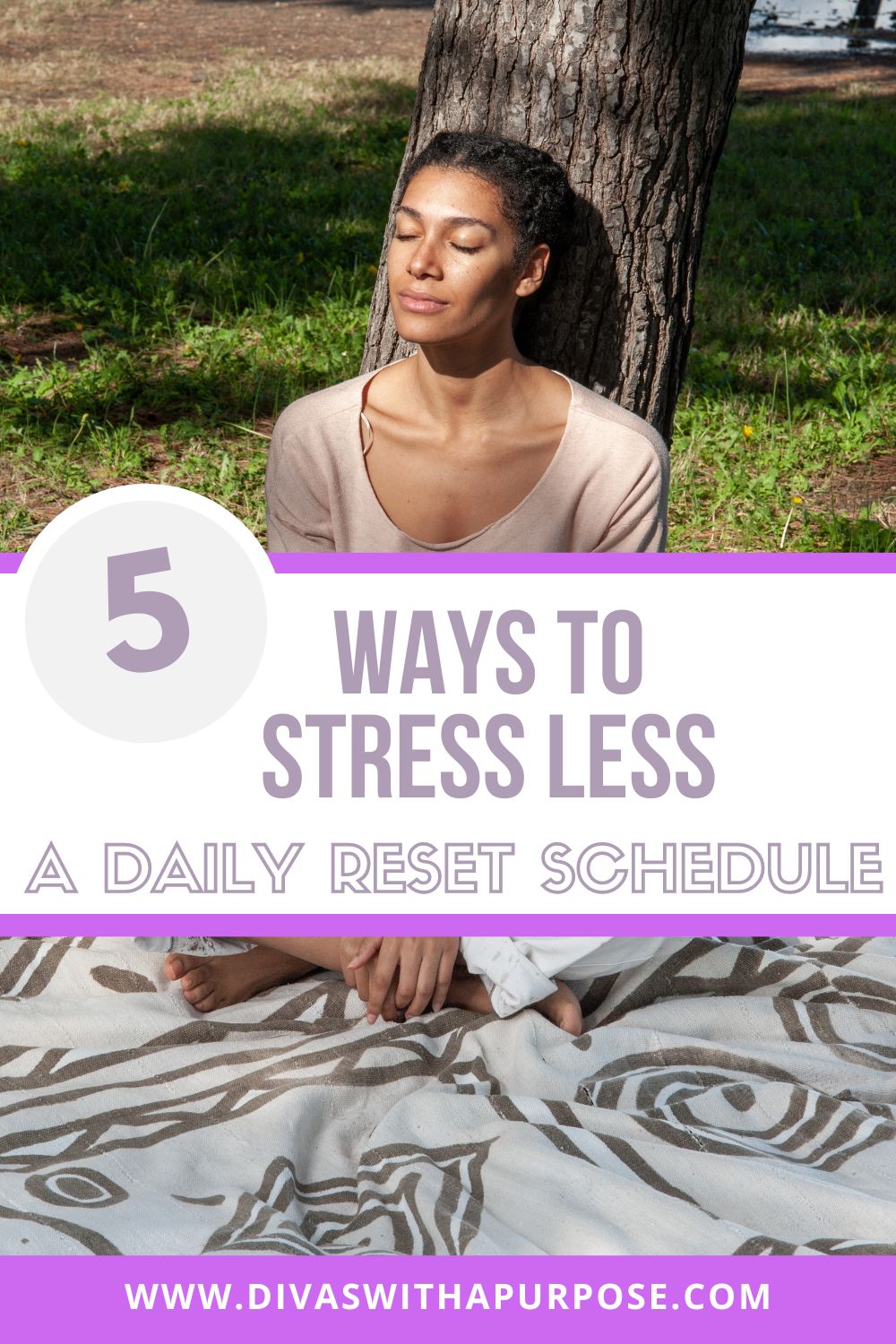 Start Your Day with Meditation
One of the best ways to relieve stress is to re-center yourself first thing in the morning. How you begin your day sets the tone for everything that follows. Just 5-10 minutes of meditation in the morning can make a huge difference in how calmly and focused you'll approach your tasks.
Meditation comes in many forms – guided visualizations, breathwork, simple mantras repeated silently. Experiment to find what works best for you. Ideas include:
Sit quietly, close your eyes, and repeat a phrase like "I am calm" or "Today is a new day" while breathing deeply.
Use a meditation app that guides you through focused breathing or body scans. Calm and Headspace are popular options.
Do a simple yoga flow with your breath to ground you in the present moment.
The main goal is to focus your awareness and connect back to yourself before jumping into work. This centers your mind, eases anxiety, and helps you tackle the day from a place of inner calm rather than stress.
Starting a consistent morning meditation habit may seem difficult at first. But stick with it for a few weeks, and it will become second nature. The benefits for your mental health and focus are immense. And it takes just 5-10 minutes!
Plan Your Day Each Morning
Do you ever have days where you feel frantic playing catch-up and trying to juggle 100 things at once? Taking just 5 minutes to intentionally plan your day each morning can prevent this scattered feeling.
Review your todo list and calendar the night before to have clarity. Then in the morning, make a priority list of the most important 2-3 tasks you want to accomplish that day. Block time on your calendar dedicated to focusing on those key items.
Also schedule things like breaks, exercise, meals and transition time. Having set blocks of time for your priorities and self-care ensures they actually happen amidst the busyness.
Sticking to your daily plan may not always be possible with unexpected events. When needed, adjust your schedule and re-prioritize on the fly. The key is avoiding feeling derailed when things are unpredictable. Maintain focus on your big picture goals.
Planning your day provides structure and direction. You'll be amazed how much more efficiently you work and how much less stressed you feel.
Check-in With Yourself Throughout the Day
We all have days that seem to spin out of control with one thing after another going wrong. You end up feeling fried trying to keep up.
This sense of reacting rather than staying proactive stems from losing touch with yourself throughout the busy day. Taking brief, one-minute check-ins can reset this.
Set a reminder on your phone or watch to go off every couple hours. When it dings, take a deep breath and check-in:
How am I feeling emotionally and physically right now?
What thoughts are occupying my mind?
Am I staying focused on my priorities?
Do I need to adjust anything to feel more balanced?
These micro self-check-ins allow you to course correct before stress builds up. Don't suppress negative emotions – acknowledge them and make a change. For example:
Feeling anxious about an upcoming meeting? Do some box breathing.
Overwhelmed by emails? Set a time limit then switch tasks.
Getting irritable with your kids? Declare family fun time.
Exhausted and distracted? Take a quick walk outside.
Checking in throughout your day strengthens self-awareness. You gain insight into your stress triggers and energy levels, so you can better manage them.
Make Time to Truly Unwind Each Evening
Many of us have a bad habit of working right up until bedtime. We collapse exhausted, without properly unwinding from the day's tension. However, taking just 5-10 minutes to actively relax and detach from work makes a huge difference in relieving stress.
Transition out of "work brain" by doing something that engages your senses in a new way. Options include:
Listening to music: Crank your favorite tunes and sing out loud.
Getting outside: Stroll through your neighborhood and admire nature.
Reading fiction: Escape into an engrossing novel.
Trying aromatherapy: Light candles or diffuse essential oils like lavender.
Taking an Epsom salt bath: Soak your cares away.
Doing gentle yoga: Flow through relaxing poses.
Sipping tea: Slow down and savor the warmth.
Engaging your creativity: Draw, paint or work on DIY projects.
The key is choosing an activity totally unrelated to work that brings you joy and relaxation. You decompress so you can be fully present with loved ones in the evening and sleep peacefully.
Don't dismiss unwinding as unnecessary down time. It's an essential part of stress relief and self-care. You deserve it!
Reflect Each Evening
Our days are so action-packed that we rarely take time to pause and reflect. But spending just 5-10 minutes each evening in self-reflection can enhance your stress relief efforts.
Here are some beneficial reflection questions to ask yourself:
What did I accomplish today that I feel good about?
What am I grateful for from the past 24 hours?
How did I handle my emotions and stressors today?
How well did I follow my daily plan and priorities?
What could I improve or do differently tomorrow?
Take notes in a journal to help crystallize insights and track patterns over time. Regular reflection helps you process experiences, highlight successes, learn from mistakes, and make positive changes.
Most importantly, it engrains the habit of checking in with yourself daily so you can better manage stress. Don't dismiss reflection as navel-gazing. A few minutes can offer perspective that transforms your outlook.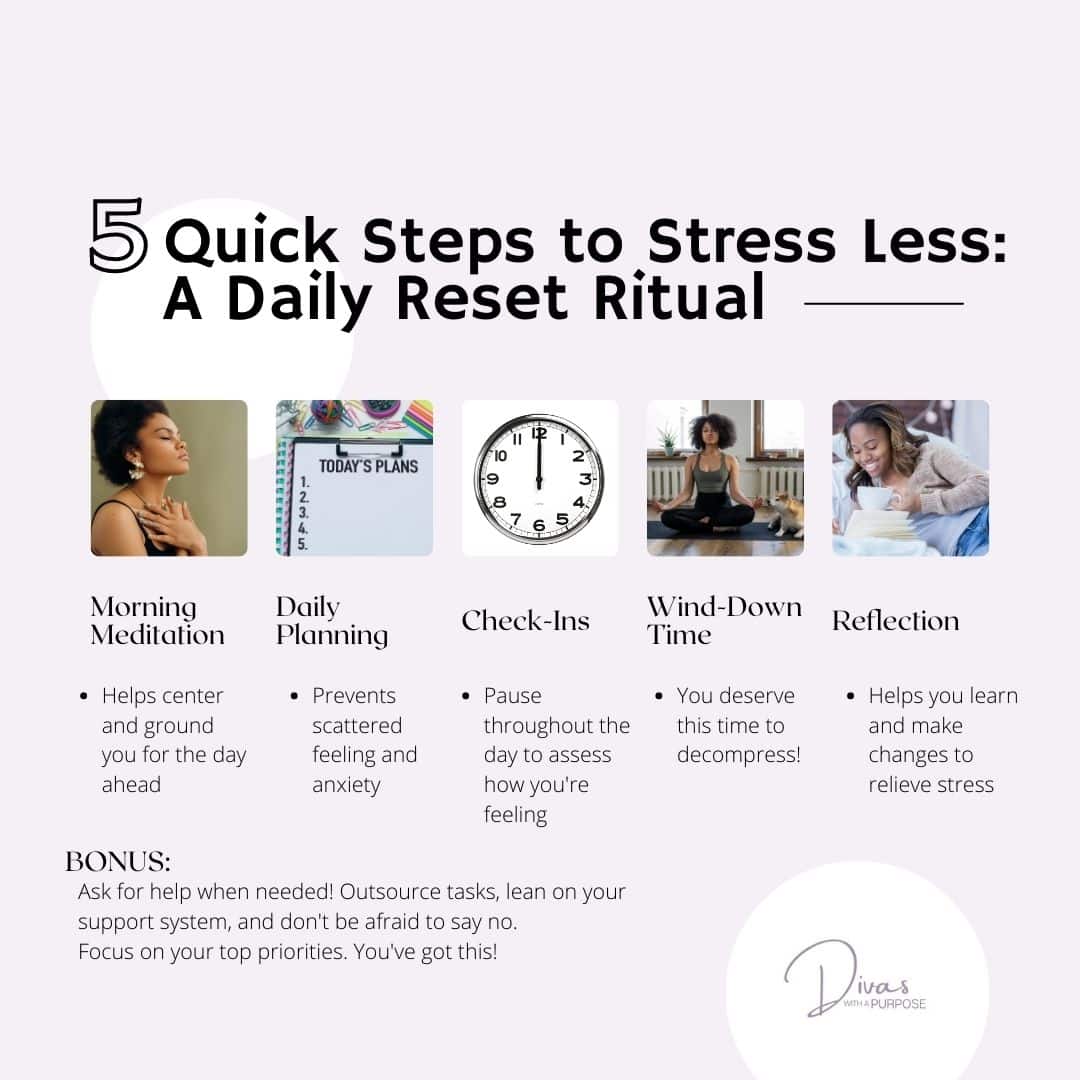 Slowly Implement These Tips to Relieve Stress
There you have it – 5 simple yet powerful ways to relieve stress that take only minutes per day. Start implementing them slowly:
Pick 1 tip to focus on for the first 1-2 weeks until it becomes an established habit. For instance, start your day with 10 minutes of meditation every morning.
Once that's consistent, choose a second tip to work into your routine. For example, add 5 minutes in the evening for unwinding.
Over the next month, keep building by adding in the other tips – planning each morning, check-ins during the day, and reflection each evening.
Baby steps are key so you don't get overwhelmed trying to do everything at once. Be patient with yourself if you miss days here and there. Just get started!
These minutes a day devoted to managing stress will compound over time into lasting benefits:
Increased focus and productivity
Less anxiety
More calm and resilience
Better self-awareness
Improved work-life balance
Stronger physical health
Deeper sleep quality
Don't underestimate the power of brief daily practices to transform how you handle stressors and show up both personally and professionally. Take control of each day instead of just reacting. Make self-care and centering yourself a non-negotiable priority.
What tips resonate most with you? Share how you find time for self-care amidst the craziness of life. Prioritize yourself – you deserve to feel focused and relaxed!