This article shares 30 November Social Media Prompts to help you show up consistently prepare your social media content calendar for the month.
Prompts are an important part of social media content marketing. They can help you come up with new ideas for content regularly. You can use them to ensure your content is always fresh and relevant, even if you don't have anything to say at the moment. It will also help you be more creative and find new topics to share on your website and social media.
Click here to sign up for my #MDGBizBoost newsletter and receive 30 days of social media prompts and resources to help plan your content.
November is the start of the busy season for many business owners.
Don't forget to pause, slow down, and give thanks for all your business affords you. You can also begin prepping your community for online sales and specials you may offer for Black Friday, Small Business Saturday and Cyber Monday. Also, don't forget Giving Tuesday – it's a day to focus on supporting your favorite non-profits after a weekend of indulging in items for you and your loved ones.
It's important to remember to consistently talk about your business. Don't be shy! Share your products and services, and why others need them in your life.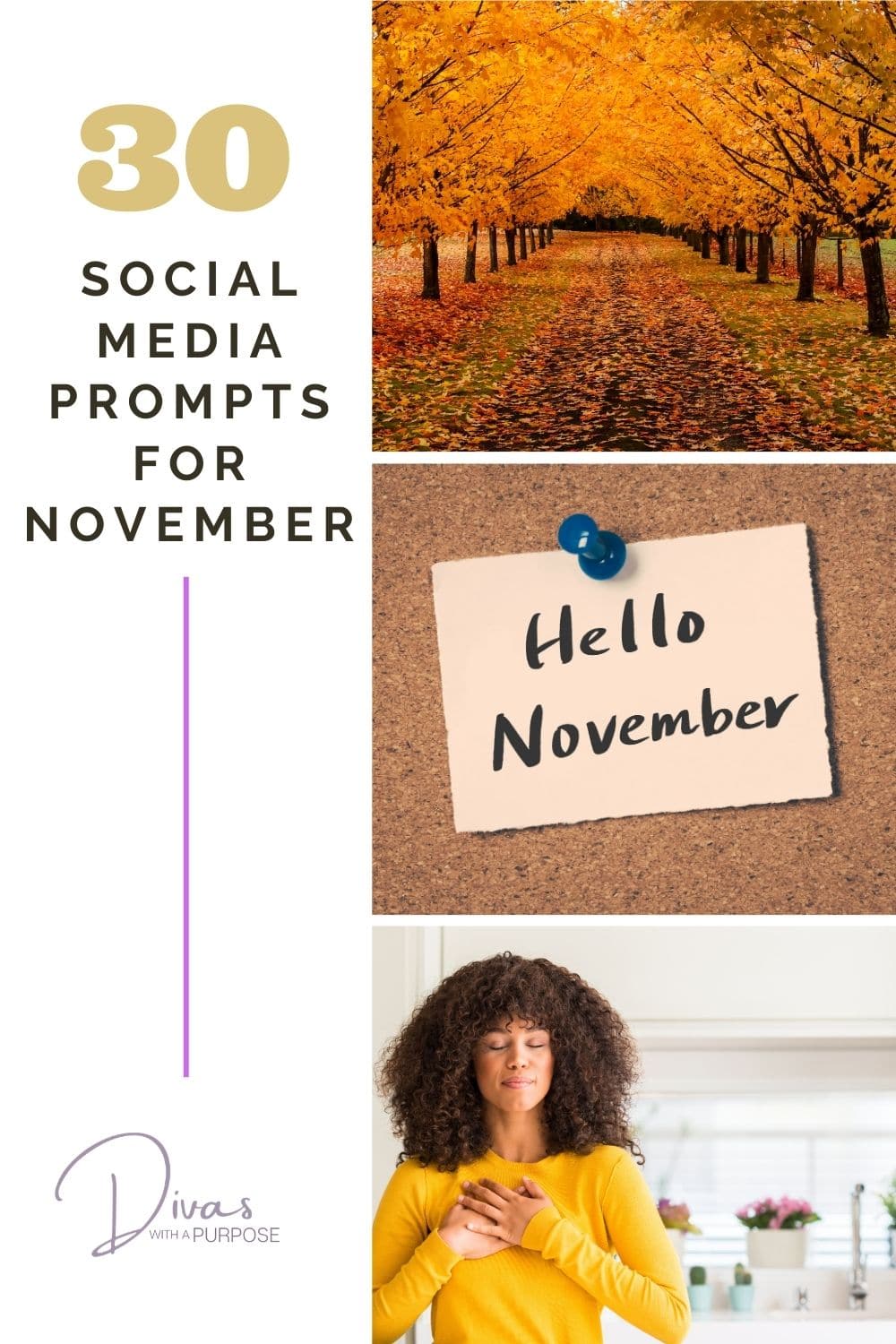 November Social Media Content Calendar
Give Up Your Shoulds Day: What "shoulds" are holding you back within your business? Share and ask your community to share their answers. You can also create a video sharing tips to move forward in life and business. 
International Stress Awareness Day (always 1st Wednesday): How do you alleviate stress in your daily life?
#Goals:

What are your November business and/or personal goals? Ask your community to share at least one goal they want to accomplish this month.

Use Your Common Sense Day: Share something that may be common knowledge for experts in your field, not for others. This is a great day to discuss the importance of not assuming others know the ins and outs of your field.
Inspiration and Motivation: Share a quote or video to kick off the first week of the month.
Introductions: (Re)Introduce yourself to your community. This is a great opportunity to share what you'll be focusing on this month, or ways they can engage and connect with you.
World Kindness Week: Share simple ways to be kind to others in different situations and settings.
National Gratitude Month: Share 3 things you're thankful for as it relates to your business this year.
Family Stories Month: What's a family story that motivates and inspires you to show up in your business? You can also ask your community to share their favorite family story.
Tip of the Day: Share 3 ways to stay connected when you work from home or while building your business
Veterans Day: Show honor to the veterans in your field or community.
November Observations Include:
Child Safety and Protection Month
Gluten-Free Diet Awareness Month
Hip-Hop History Month
Military Family Appreciation Month
National Inspirational Role Models Month
Gratitude: Ask your community to share what they are thankful for most when it comes to their family and friends. Make sure you share, too. #ThankfulThursday
World Kindness Day: Share ideas for random acts of kindness. Ask your community to share a random act of kindness that they've experiences.
#OneWord: Share how you're incorporating your One Word into your actions this month.
Pursuit of Happiness Week: How are you pursuing your happiness within your business?
Healthy Lifestyles Month: What healthy habits are you incorporating in your daily routine?
National Take a Hike Day: Share the importance of getting fresh air and exercise as an entrepreneur.
Words of Wisdom: Share an article, quote or video that you taught you something new.
Women's Entrepreneurship Day: Share about your entrepreneurship journey and how it has empowered you.
Beautiful Day: Share the beauty around you that inspires you daily.
Additional November Observations Include:
National Novel Writing Month (NaNoWriMo)
National Veterans and Military Families Month
World Vegan Month
Life of an Entrepreneur: Share with your community what you do during your downtime to help rejuvenate and prepare for a new week.
National Sleep Comfort Month: Sleep is so important to our success. Many people struggle with sleep for different reasons. Share if you're one of those people and things you've done to help improve your sleep. Or ask your community for their best tips and advice.
Motivation: Share a song that motivates you in this moment.
Thanksgiving: Share a Thanksgiving greeting with your community – include why you're thankful for their support.
Promote YOU: Share any deals or specials you have for Black Friday – Cyber Monday.
Small Business Saturday

: Spotlight local small businesses in your community that you support

National Gratitude Month

: Share how you incorporate gratitude into your daily routine.

Better Conversation Week: Share effective communication tips.
November: Share your favorite moments from this month
Healthy Lifestyles Month: Share how you strive to be healthy as an entrepreneur.
---