Did you know that having an attitude of gratitude is one of the easiest ways to increase your happiness? With all that is going on in this world, every action counts, right? Imagine instilling the benefits of gratitude into our children as early as possible? Then gratitude becomes a habit – a part of their daily routine – and not something that they have to "practice".
Disclaimer: This article includes affiliate links.
Sadly, one of the hardest things for many people to do is find something to be grateful for. How can you teach the children in your life about the things that bring true happiness? If you've seen what can happen to people who never learn gratefulness, then you'll be interested in The 3 Minute Gratitude Journal for Kids: A Journal to Teach Children to Practice Gratitude and Mindfulness.
Just what is an attitude of gratitude?
I love the phrase "attitude of gratitude" because it emphasizes that gratitude is a mindset. It's not just about saying "thank you" to others. The mindset of being appreciative of all that's around us: the people in our lives, experiences we have, just the act of being.
Gratitude allows us to celebrate the present.
The world we live in is so … busy. Taking time to focus on gratitude is a teaching moment for us all. It reminds us to hit the pause button, be present in that moment and reflect on the good that is around us.
The 3 Minute Gratitude Journal for Kids
To put it simply, this journal is all about ways to teach your children how to be more grateful for what they own, the relationships they have, and see the beauty around them in the world. In a world that has trained them to consume before they can speak, it's important to give them the right tools to navigate life, and show them how to be at peace when they aren't getting all of the things that they would like.
What You'll Love
Not only is this journal effective, it also does what it should in a few minutes a day. One of the main points of this book shows kids how to focus on the positive feelings that they get from being thankful, and shows them how to appropriately show care and appreciation or the good and kind people who they encounter as they move through life. It's easy to integrate into any educational regimen.
How You Can Use It
You can use this book to help teach your kids how to be kind to people they encounter each day. Children who are more aware of the good that they have in their lives will find joy when they look for it much easier, and they can find happiness in simple and healthy relationships.
---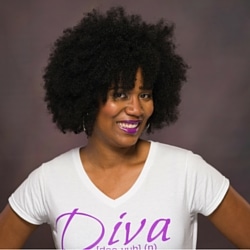 Michelle D. Garrett is the founder of Divas With A Purpose. She focuses on sharing resources for being purposely productive; setting personal and professional goals and achieving them through daily action; and successfully running a business while focusing on your mental health. Michelle is a full-time entrepreneur who specializes in teaching female entrepreneurs how to show up consistently in their business – online and off.
If you enjoyed this article, you will also enjoy reading: