As parents, teaching our children to be thankful is not always an easy task to do.  This time of year, especially, when there is often an expectation of gifts and over-indulgence it can be even more difficult.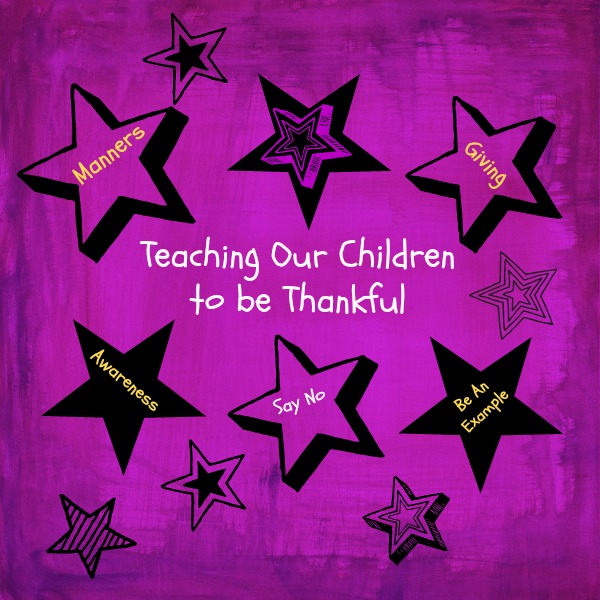 In our household, there is a constant awareness on the importance of gratitude.  We have our family gratitude jar and regularly focus on what we DO have versus what we DON'T have compared to others.
Even today, manners still go a long way. Saying "please" and "thank you" may seem like simple pleasantries to some, but instilling these pleasantries will help our children to remember the importance of being pleasant, humble and polite.
Remember, it is okay to say no.  Really, it is.  By not giving in to all of our children's demands, it helps them to appreciate our "yes" more.
This time of year is typically one that focuses on giving to others – food drives, toy drives, coat drives, monetary donations. I challenge parents to continue that focus year-round with a monthly giving project. It could be as simple as donating books to a shelter or collecting donations for a local organization.
In the end, the best way to teach our children is to show them. By being an example and letting our actions speak for us, we can give our children a pattern to model throughout their lives.
Chime in, Divas! What ways to do you teach or have you taught gratitude to your children?
 Each Thursday on Divas With A Purpose, we pause to reflect on what we're thankful for. Gratitude is a huge part of my life. A few years ago I made a conscious decision to reflect more on what I had versus what I did not have – since then I've seen a considerable positive change in my attitude and demeanor even in stressful situations. I encourage my supporters to take a moment to think about what they have to be thankful for. Feel free to share below in the comments – you never know how you'll inspire and motivate someone else.
[inlinkz_linkup id=306345]