This week we're Spring Breaking in Orlando, Florida and decided to make an impromptu visit to LEGOLAND Florida!
First, I have to explain my method of traveling for pleasure. Often on my business trips every aspect of my itinerary is accounted for – often by someone else, so it is refreshing to have some downtime and absolutely go with the flow.
This week I may have been a little too lax (which was so unnerving to my Daddy) and it caused me to make some shifts and moves to our plans. On a positive note, it meant my kids got an unexpected visit to LEGOLAND Florida.
[Tweet "#NowReading: An Impromptu Visit to @LEGOLANDFLorida #BuiltForKids"]
The positives – online we were able to get a combination ticket that included the park, water park AND an all-you-can-eat pizza and pasta buffet for approximately the same price as the park and water park ticket at the gate. Tip: Tickets are almost always cheaper online and if you purchase 2-3 days in advance. (Hence me working on that pre-planning thing a little more)
Overall we had a great time! The park closes fairly early – 6 PM – so getting there as early as possible is suggested to maximize your time. We arrived around 1 PM and spent two hours at the water park. The kids would have loved to spend at least another hour or two there, but were (thankfully) very accommodating with our plan to split our time between the two areas.
Walking through the park we were amazed at all of the outstanding LEGO creations that we saw. My daughter made it her mission to have her photo taken with as many of the "Diva Legos" (her words LOL) that she could find.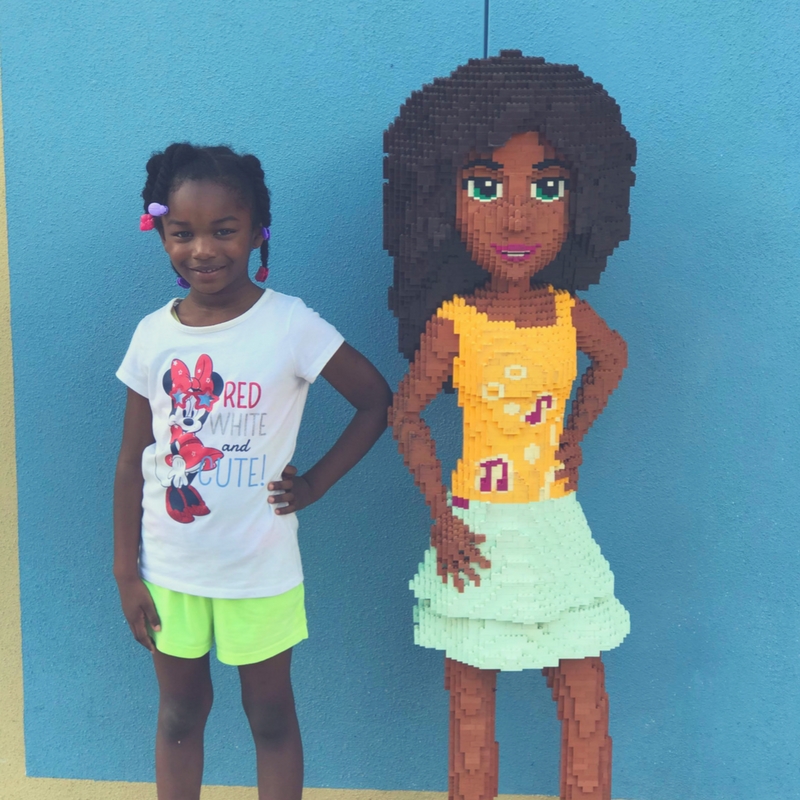 I was also pleasantly surprised to run into one of my dear friends and fellow blogger, Alisha from Wine'ing Momma and her daughter (who were also Spring Breaking) while we were there!
Our Favorites from Our Visit to LEGOLAND Florida
Once we got home and settled, I asked each of the kids what their favorite part of the day was. I know I was personally impressed at how friendly the staff was and that the attractions stayed open without until the last person in line rode them. I know that's the norm at amusement parks, but you know how it is when it's quitting time and you're ready to go. I saw so many smiles and even heard managers thanking their staff for staying after their shifts were over. The former hospitality manager in I loves seeing others go above and beyond what's expected.
Hands down all four of the kids loved the water park experience! That's not surprising since I am convinced my kids, niece and nephew are part merpeople. If there's water, they're there for it.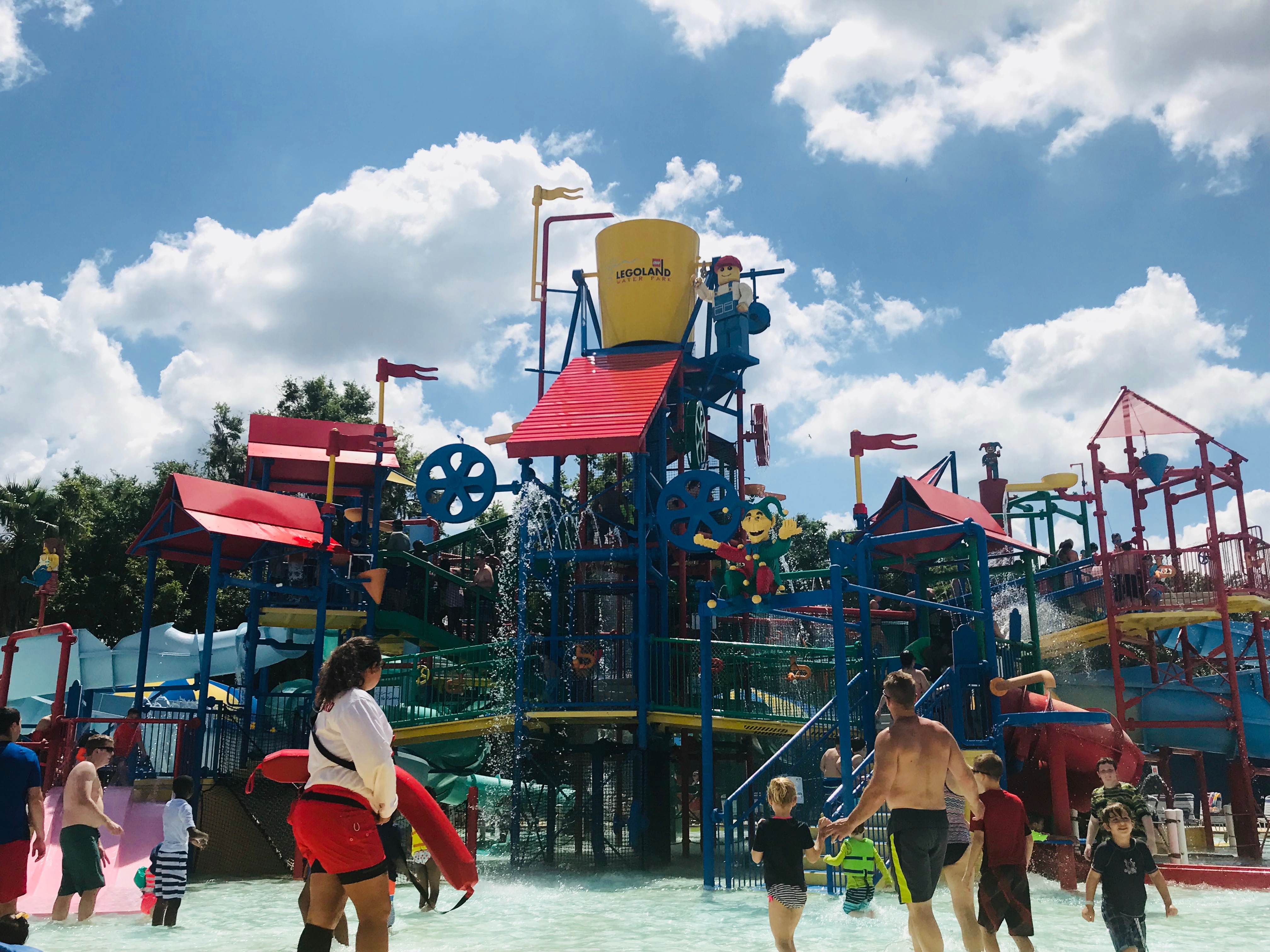 My daughter was also adamant about getting her license at Driving School and I'm proud to say she passed with flying colors!
All 3 of the older children rode Mia's Riding Adventure at least 5 times! So I would say that was a favorite, as well.
I also have to give a huge shout out the workers who came to our assistance when a bug got lodged in my youngest son's eye. (Leave it to my kid, right?) They worked very efficiently to calm him down and ensure we were alright. In all the hustle and bustle I forgot to get their names, but as I said before everyone we encountered during our visit was fantastic.
Finally we could not get enough of MINILAND USA! It contains over 32 million LEGO® bricks that make up familiar scenes! We could have spent hours in this section alone. Many of the scenes were interactive and it was mind-boggling to think of the time, effort and creativity that went into these creations!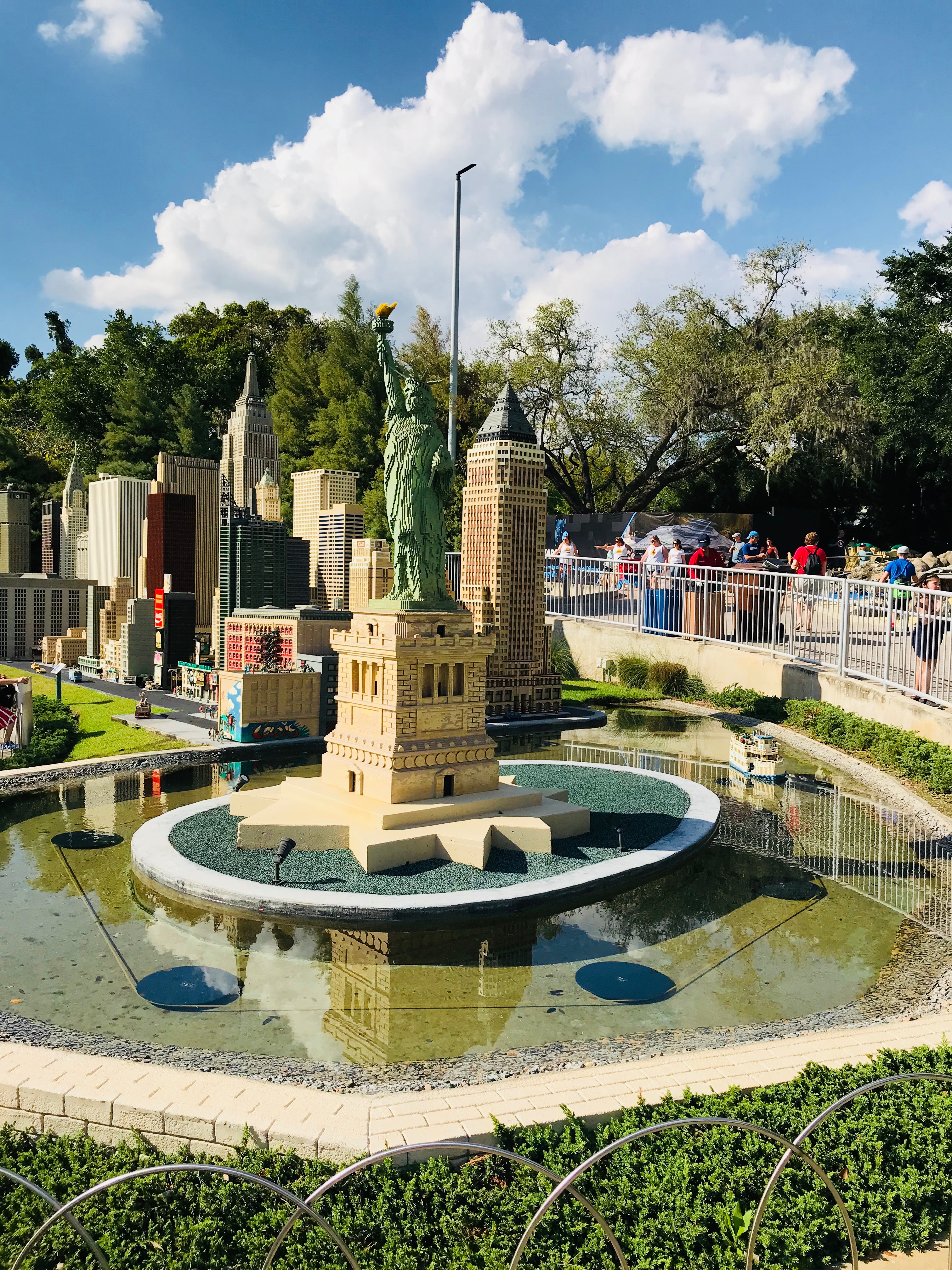 We experienced so much but there was so much we still did not get a chance to see! My son has already declared that we have to return to stay at the hotel and fully re-visit the park at a more relaxed pace next year for Spring Break (if not sooner). I definitely agree that another visit is necessary and cannot wait to start planning it!