This article shares 31 March Social Media Prompts to help you show up for your community on the social media platforms of your choice. I center these prompts around special days and holidays of the month. This helps you create relevant content based on trending topics for the day or month.
While building your community it is important to post engaging content consistently on your social media channels. Each month I share a social media calendar to get you started with engaging content to connect with your followers and build a community of supporters and customers.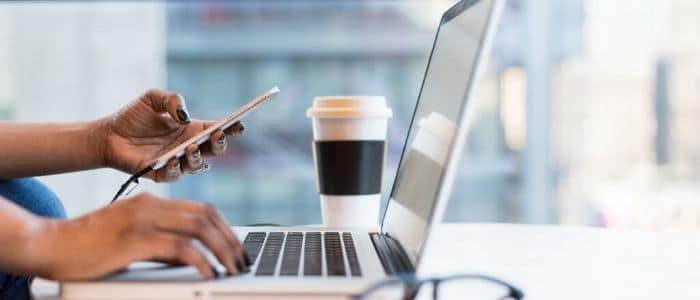 If you are needing additional content and guidance, I create an annual eBook that has a year's worth of social media content for female entrepreneurs available for only $19.99.
It is important to remember when engaging on social media to:
be your authentic self
switch up your content type – images, videos, content from other sources, etc
cross-promote what you share on your various platforms
focus on the social media platforms you are most comfortable using first
planning is good but in the moment shares are great, as well!
Below is a graphic you can save to for easy access or you can bookmark this article to refer to each day. The great thing about these prompts is that you can use them to post on your social media channels – Instagram, Facebook, Twitter, Periscope, Snapchat, the list is endless. You can create images, live-streams and even quick video snippets to answer each prompt and encourage your followers to respond back to you with their answers or ideas.
31March Social Media Prompts
1 – Share a Smile Day: Share your beautiful smile while doing an introduction post.
2 -#BizGoals: Share your March goals and focus.
3 – Read an eBook Week: Share an ebook you've written with your community or one that's inspired you. (Like my Purposely Productive eBook that's only $2.99!)
4 – March Fourth: How will you be marching "fourth" this month with your goals?
5 – Women's History Month: Share women that have impacted your life journey.
6 – Friday Celebrations: Share the positive things that have happened in your business this week.
7 – National Be Heard Day: Promote yourself and how your community can connect with you.
8 – International Women's Day: What action can I take to help forge a more gender equal world? #Eachforequal #IWD2020 (Learn more about International Women's Day and get resources for your online and offline community on the official website.)
9 – Get Over It Day: Share how you move forward after a business disappointment.
10 – International Day of Awesomeness: Share something awesome happening in your life.
11 – Dream Day: What's a dream your business has allowed you to make a reality?
12 – Gratitude: Ask your community to share what they are thankful for today. #ThankfulThursday
13 – Women's History Month: Share inspirational women in your field with your community.
14 – Ask a Question Day: Host a Q&A session with your community.
15 – True Confessions Day: Share the "truth" behind the work you do.
16 – Monday Motivation: Share a motivational quote, video or song with your community to start your week off on a positive note.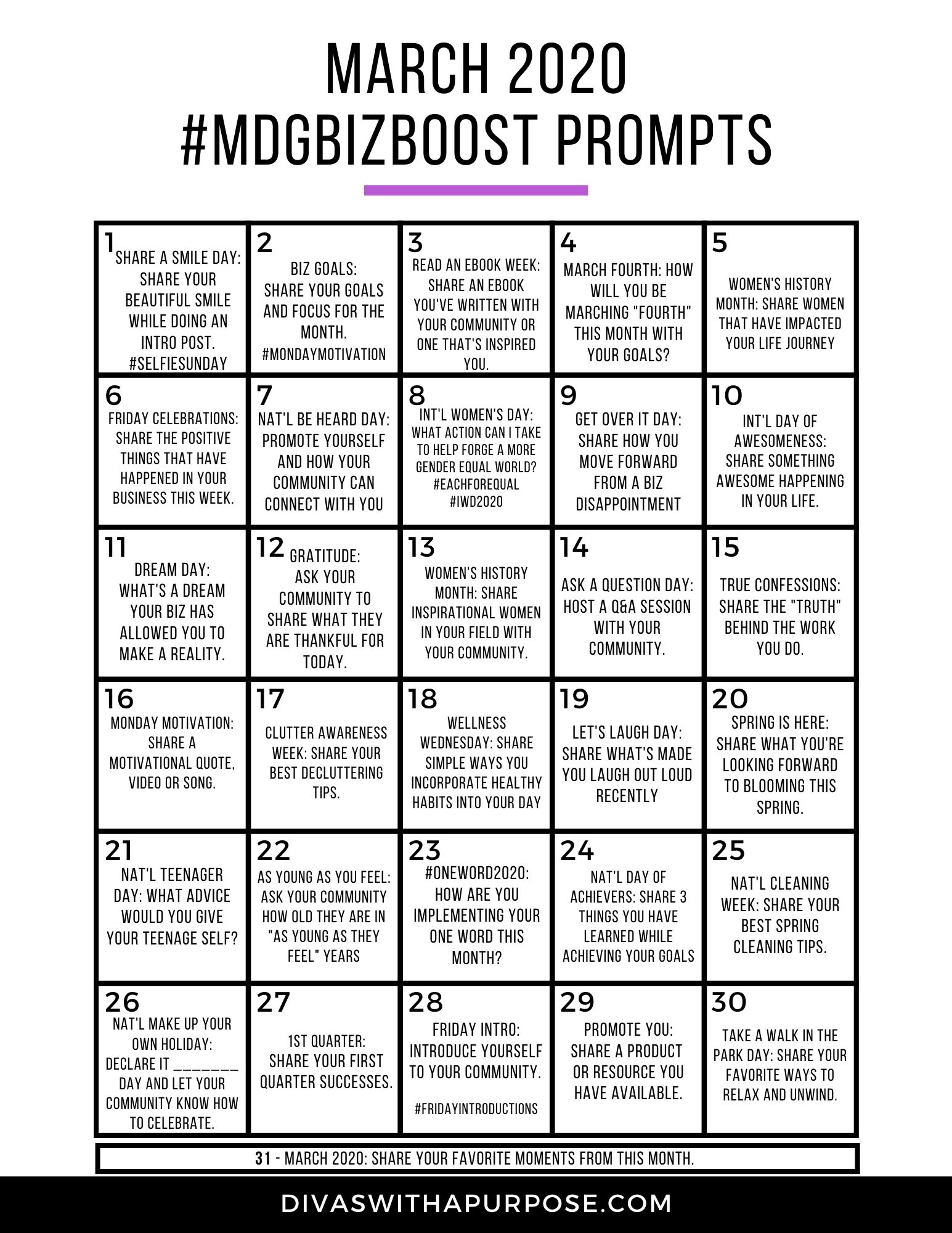 17 – Clutter Awareness Week: Share your best decluttering tips. Don't just focus on the physical. You can apply decluttering to different aspects of life that your community while relate to.
18 – Wellness Wednesday: Share simple ways you incorporate healthy habits into your day.
19 – Let's Laugh Day: Share what's made you laugh out loud recently.
20 – Spring is Here: Share what you're looking forward to blooming this Spring.
21 – National Teenager Day: What advice would you give your teenage self?
22 – As Young as You Feel: Ask your community how old they are in "as young as they feel" years.
23 – #OneWord2020: How are you implementing your One Word this month?
24 – National Day of Achievers: Share 3 things you have learned while achieving your goals.
25 – National Cleaning Week: Share your best Spring cleaning tips.
26 – National Make Up Your Own Holiday: Declare today _______ day and let your community know how to celebrate.
27 – 1st Quarter Success: Share your first quarter successes and YAY moments. Discuss what you're looking forward to in the next three months.
28 – Social Saturday: (Re)-Introduce yourself to your community.
29 – Promote You: Share a product or resource you have available.
30 – Take a Walk in the Park Day: Share your favorite ways to relax and unwind.
31 – March 2020: Share your favorite moments from this month.