What better way to kick of the holiday season than with a batch of homemade cookies, right?
I've shared before that the kitchen and I have a love-hate relationship. We're growing on each other slowly but surely. And my friend Natasha of Houseful of Nicholes always seems to come up with ways to get us to bond.
She's hosting 12 Days of Cookies and told asked me to participate. She's a pretty awesome Diva so I accepted the challenge and have to admit – the kids and I had a great time making these together.
When I announced we were making cookies, my youngest son automatically went to the refrigerator looking for the pre-made dough. Not this time, kiddo. Not this time.
When cooking with a 14, 7 and 4 year old who all went to help, I have found that it helps to do some pre-work to make life easier for all of us. The ingredients for the cookies were already laid out in plastic containers (you know those really small ones that come in the set that you can never find a use for!) and I had the recipe written out for easy access.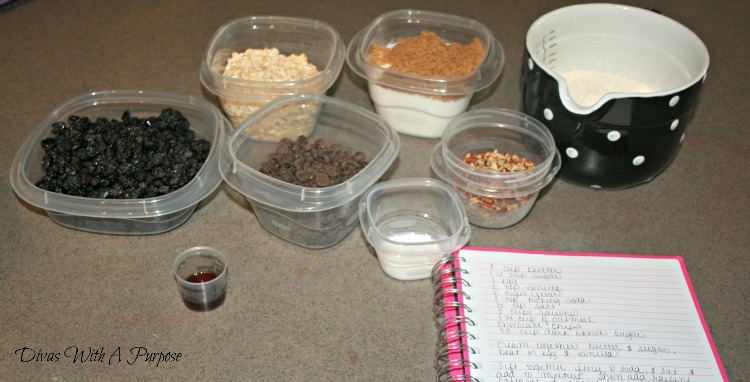 We took turns "helping" so everyone could contribute their fair share to our treat for the evening.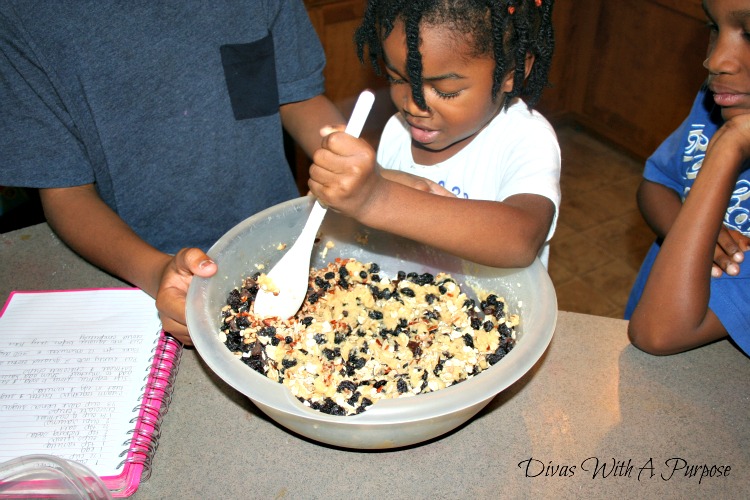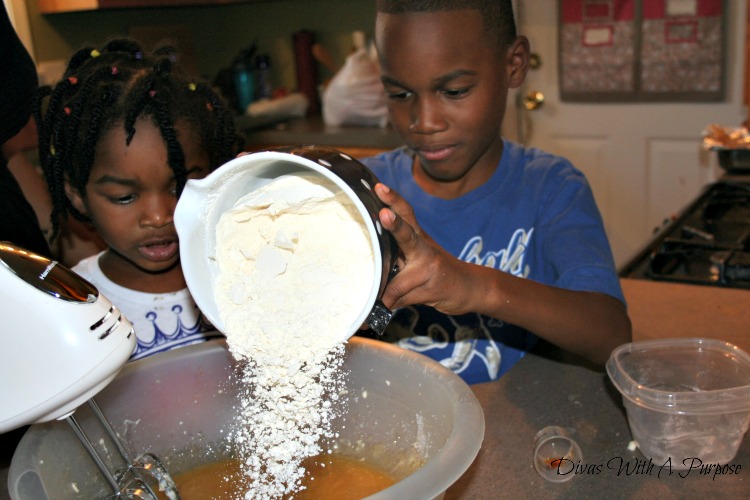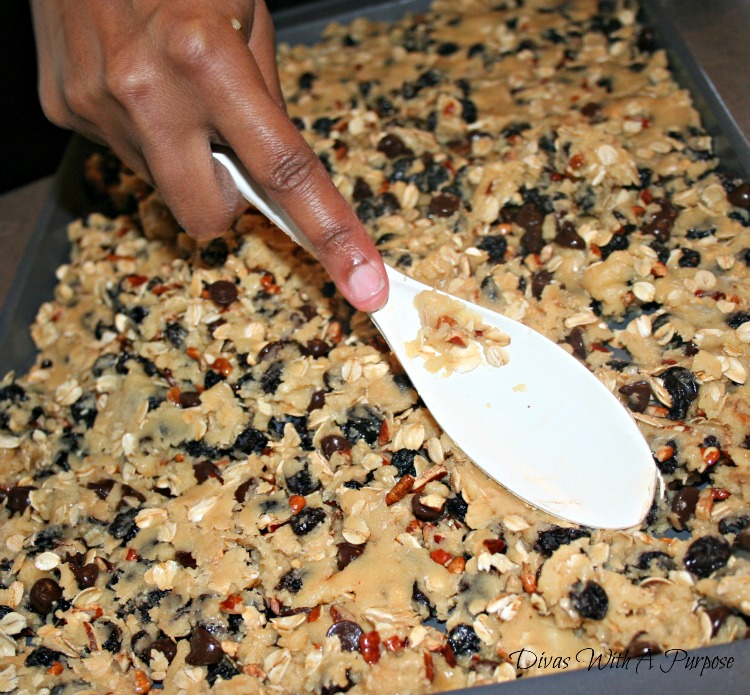 The best part about these cookies is that they are quick and easy to make from start to finish. Once they were in the oven, everyone went outside to enjoy the gorgeous weather we have been having here in Columbia, South Carolina. By the time they came in for their first water break, the cookies were already cooled enough to eat.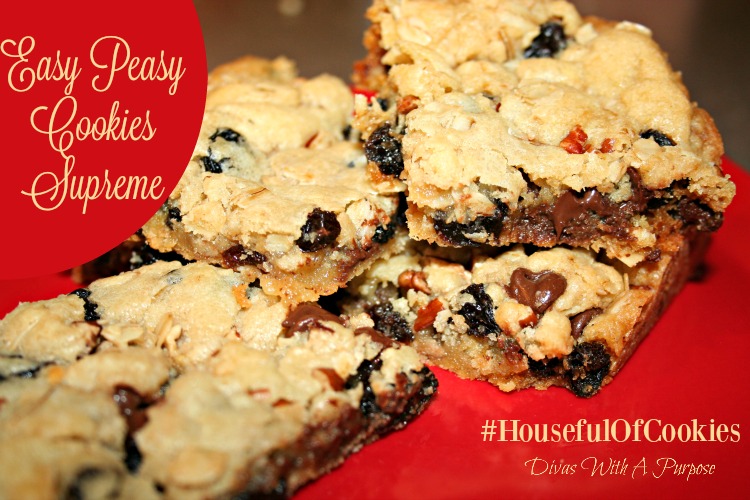 Voila! Here's the recipe – enjoy!
Easy Peasy Cookies Supreme #HousefulOfCookies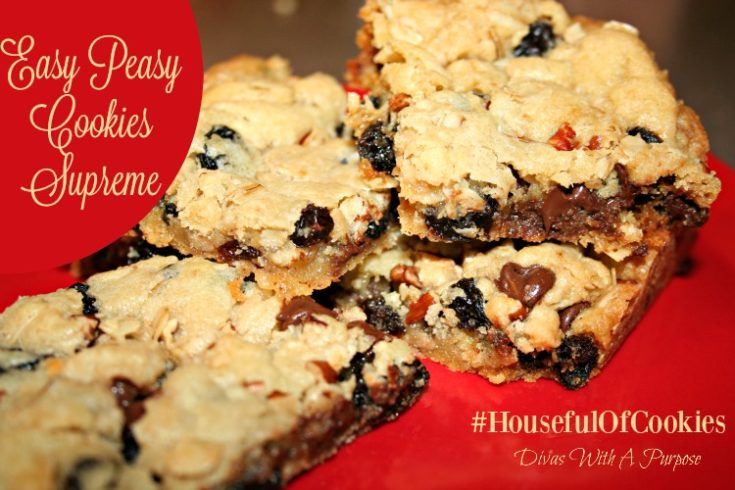 Ingredients
1 cup of butter
1.5 cup of sugar
1/3 cup of dark brown sugar
1 egg
1 teaspooon of vanilla
2 cups of all-purpose flour
2 teaspoons of baking soda
1/2 teaspoon of salt
2 cups of raisins
1 1/4 cup of oatmeal
1 cup of chocolate chips
1/2 cup of chopped pecans
Instructions
Preheat your oven to 350 degrees
Cream together butter and sugars.
Beat in eggs and vanilla.
Sift together flour, baking soda and salt. Add to mixture.
Add raisins, oatmeal, pecan and chocolate chips.
Pat evenly into greased 11x7 cookie sheet.
Bake 12-14 minutes.
Cut into squares before they've cooled completely.
Enjoy!
For the rest of the bloggers participating in the #HousefulOfCookies hop, check out the list below.
Also, if you're on
Instagram
or
Twitter
you can connect using the hashtag.
Day 1: Houseful of Nicholes: Nutty White Chocolate Cranberry Cookies
Day 2: Journey Of 1000 Stitches: Cut-out Cookie Tree
Day 4: My Crazy Life: Chocolate Chip Waffle Dunkers & Acorn Treats
Day 5: Rosie Discovers: Oreos That Begged to Be Swapped
Day 6: Hysterical Mom: Festive Oatmeal Chocolate Chip Cookies
Day 7: Divas With A Purpose: Easy Peasy Cookies Supreme
Day 8: Crayons & Collars: Homemade Puppermint Dog Treats
Day 9: So Rae … Me: Gluten-free Bourbon, Cranberry and Almond Cookies
Day 10: The Peanuts Gang: Dark Chocolate Brownie Mix Cookies
Day 11: Mama Knows It All: Granola Chocolate Chip
Day 12: A Real Urban Mom: Chocolate Chip Peanut Butter Cookies
BONUS: Mama Harris' Kitchen: Cherry Pecan Thumbprint Cookies