I am always appreciative of quick clean up tips. I will be the first person to admit that I do not keep a spotless house – with 3 kids, a full-time job outside the house and numerous other ventures and responsibilities my goal is to have a comfortable, clean home.
I believe in delegating the cleaning chores – everyone, from my two-year old to my husband, gets involved with some aspect of cleaning and tidying up.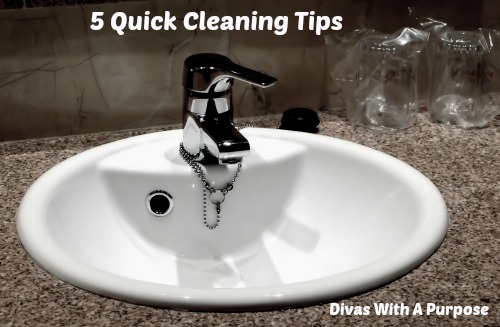 Quick Clean Up Tips for the Bathroom
This is one room that I am super anal about. My sons (ages 12 and 5) share a bathroom that is, also, the bathroom guests use. Needless to say, this room needs and gets quite a bit of attention.
All of our old t-shirts go into bins for cleaning and wipe-ups. Each bathroom has their own bin under the sink for easy access.
For simple daily cleaning, I keep a spray bottle with a 50/50 mixture of vinegar and water. I use this to clean the mirrors, counters, sink and toilet seat. I, also, keep antibacterial wipes for the door knobs, light switch and faucets. I've found by doing a quick daily wipe down I can keep the room looking (and smelling) fresh.
Quick Clean Up Tips for Clutter
This is where my kids come in very handy. They love competition. So, we have pick-up races to see who can pick up the most pieces of items and put them in the right spot the fastest without running. The winner gets a high-five and bragging rights until the next competition.
Are you a "stacker"? You kn0w magazines, books, mail, etc? If so, make those stacks look neat and place a pretty paperweight (or paperweight-like item) on top of them.
Quick Clean Up Tips for the Kitchen
Vinegar is one of my favorite cleaners! It has so many uses and is super affordable! Our microwave sees more than it's fair share of spills and stains. An easy way to clean is to microwave add a cup of vinegar to a cup of hot water and microwave for ten minutes. I usually let it sit for another 5-10 minutes and then wipe down.
 What quick clean up tips do you use in your home?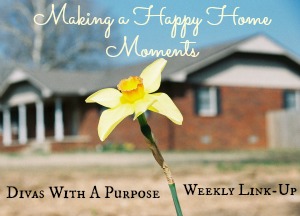 Welcome to our weekly Making a Happy Home post. One of my focuses this year is home life. Specifically spending more quality time together, organization, cooking and pre-planning meals, and decorating. To help with that focus, I have this weekly post for all things home-life. If you'd like to contribute as guest poster with this series, feel free to email us at divaswithpurpose@gmail.com
 Linking up and supporting: