When sharing lessons in gratitude and growth, I reflect on the birth story of my youngest daughter. My rainbow baby.
A "rainbow baby" is a baby that is born following a miscarriage, stillbirth, neonatal death or infant loss. In the real world, a beautiful and bright rainbow follows a storm and gives hope of things getting better. The rainbow is more appreciated having just experienced the storm in comparison.
Throughout life, I strive to have a positive and upbeat attitude. Even in trying times, it's my nature to find the good. Latch on to it and use that to keep me from sinking into despair and depression.
I realized after my miscarriage that that was the first true loss I had experienced that shook me to my core.
At the time, I felt that it was God's way of punishing me for not being excited when I learned of the pregnancy. I was angry and hurt that He was allowing me to experience this loss and that there was no one around me that truly "got it".
God, your God, will restore everything you lost; he'll have compassion on you; he'll come back and pick up the pieces from all the places where you were scattered. ~ Deuteronomy 31:3
I read this verse the week before I had my daughter and a feeling of peace, understanding and forgiveness came over me. I'll never know the whys. As with much of life, we experience it, we grow from it and we keep moving forward.
Believe me, I understand how hard it is to be thankful in hard times.
I don't want anyone to think my gratitude challenge that year was a walk in the park. There were days that I struggled to get out of bed and be present for my family.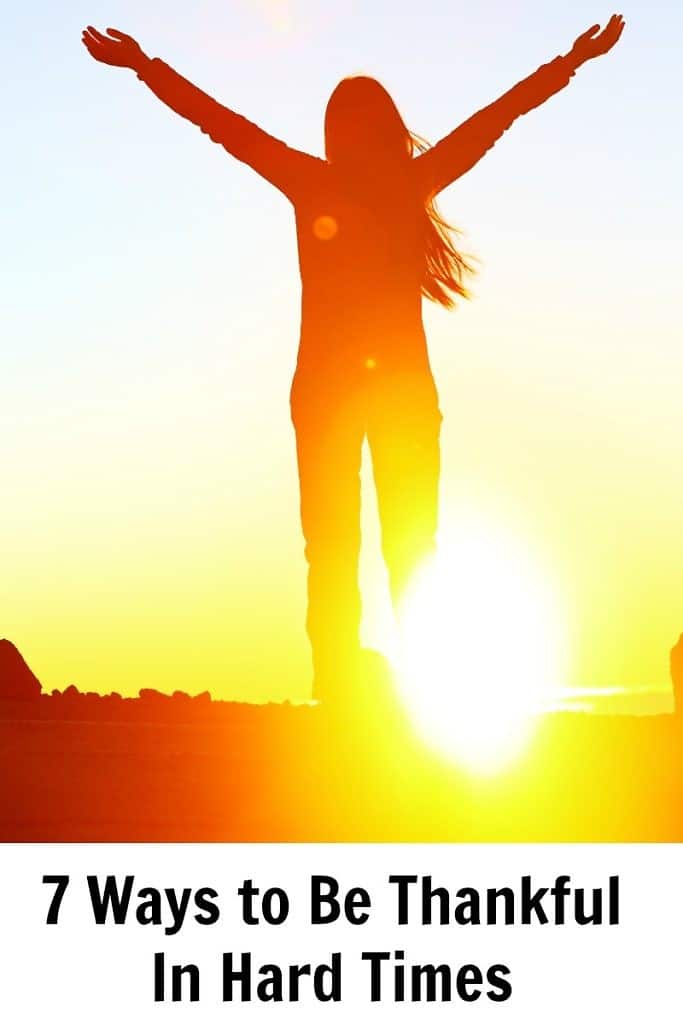 7 Ways to Be Thankful In Hard Times
Here are some ways that helped me choose gratitude during those hard times:
focus on the little things that bring you joy and happiness
look within yourself and reflect on the traits you love about yourself
stay connected with others – the gift of friendship and laughter is a treasure
focus on what you have already and not what you feel you are lacking
give others something to be thankful for by sharing your time and talents with them
realize your happiness and gratitude is not dependent on external sources
look for the lessons in your hard times
Please reach out to a professional if life seems too hard. Click here to read how you can talk to a professional from the comfort of your own home for free any time day or night.