Disclosure: This article on simple things you can do to sleep better tonight includes information on a product I received compensation to review. As always, all opinions are mine.
When it comes to being healthy and happy the amount and quality of sleep we get counts for a lot. When you don't sleep enough you become tired, cranky, moody and just plain UGH! This, of course, leads to a decline in our overall productivity.
The amount of sleep you require varies depending upon your own personal needs. Some people can manage on just 4 or 5 hours per night while others need 7 or 8 hours.
No matter how many hours you need, the key is getting quality sleep so you can wake up refreshed, rejuvenated and ready to tackle your day.
Sleep Better Tonight
1 – Stop trying.  Yes, you read that correctly. If you're not feeling tired, don't try to force yourself to go to sleep. Do some of the action items below but do not lay down, stress yourself out and prolong sleep even more by going to bed when you are not tired.
2 – Prepare yourself. We've heard it before and it is really true – get your mind and body ready for bed by shutting down electronics (yes, that includes your smart devices and television) an hour or so before you are ready to go to bed. Diffuse relaxing scents like lavender and determine what helps you decompress (meditation, prayer, or just sitting still and reflecting on what you're thankful for).
3 – Do a brain dump. Do you find a gazillion thoughts racing through your head when you prepare to lay down? Keep a notebook by your bed and write down all those thoughts to get them out of your head. Set aside time the next day to go through the list and decide how you need to act on them (tasks, follow-ups, etc.)
4 – Use a sleep aid, preferably an all-natural one. Natural sleep aids are something we have used in our household for years. My oldest son and I both are ADHD and getting our brains to turn off at night can be difficult, at times. Recently I have been using AhSleep and it has made a big difference.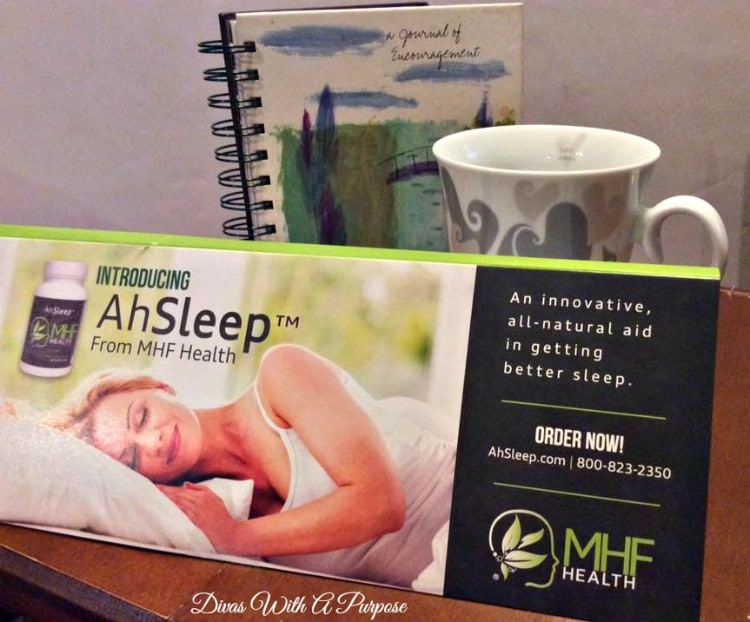 This all-natural, non-addictive product helps to restore natural brain balance and is safe to take with most medicines. How does it work?
AhSleep provides melatonin, which is the brain's primary sleep hormone, along with phenibut, which is a natural derivative of GABA, the brain's primary calming hormone. The combination of these two ingredients along with a little magnesium and passion flower (a natural calming herb) helps the brain to relax so that a deeper, sounder sleep is possible. (Source: AhSleep.com's FAQs)
Special Offer for Divas With A Purpose Readers: Save 15% on your purchase using the discount code AhSleep. Click here to purchase.
5 – Check your environment. Do you find yourself falling asleep but waking up throughout the night? Check the temperature of your bedroom. Do you have any distracting noises during the night? Is your room is dark enough? If you wake up during the night because of noise levels is there any way you can reduce or eliminate them?
If you find that you constantly wake up after a few hours you want to try and see why this is happening. Are you waking up because of a noise or because you are too warm? If you can identify the distraction it will be much easier to try and fix it.
Still Struggling?
You may need to take a deeper look at the things that are going on in your life. It is possible that you may be stressed out or worrying about something. This is why I recommend the brain dump and meditation before bedtime to clear your mind.
If your sleep issues continue, please reach out to a professional. Is medical insurance or finding the time to go the doctor's office an issue? Please see this post for additional details on how to see a medical professional from the comforts of your home.