Candy corn and pumpkin spice. Two flavors of the fall season that you either love or … don't. I know that's putting it mildly. I was in the latter category UNTIL … we tried this simple fall snack mix. My daughter loves candy corn and white chocolate. And somehow both ended up in our grocery basket recently. One guess! We decided to compromise with this snack mix so everyone else in our house could enjoy the treats, as well.
The great thing about this recipe is how versatile it is. You can easily switch out the different ingredients and flavors to work for your family or the occasion. It's a great year-round treat (especially for road trips!).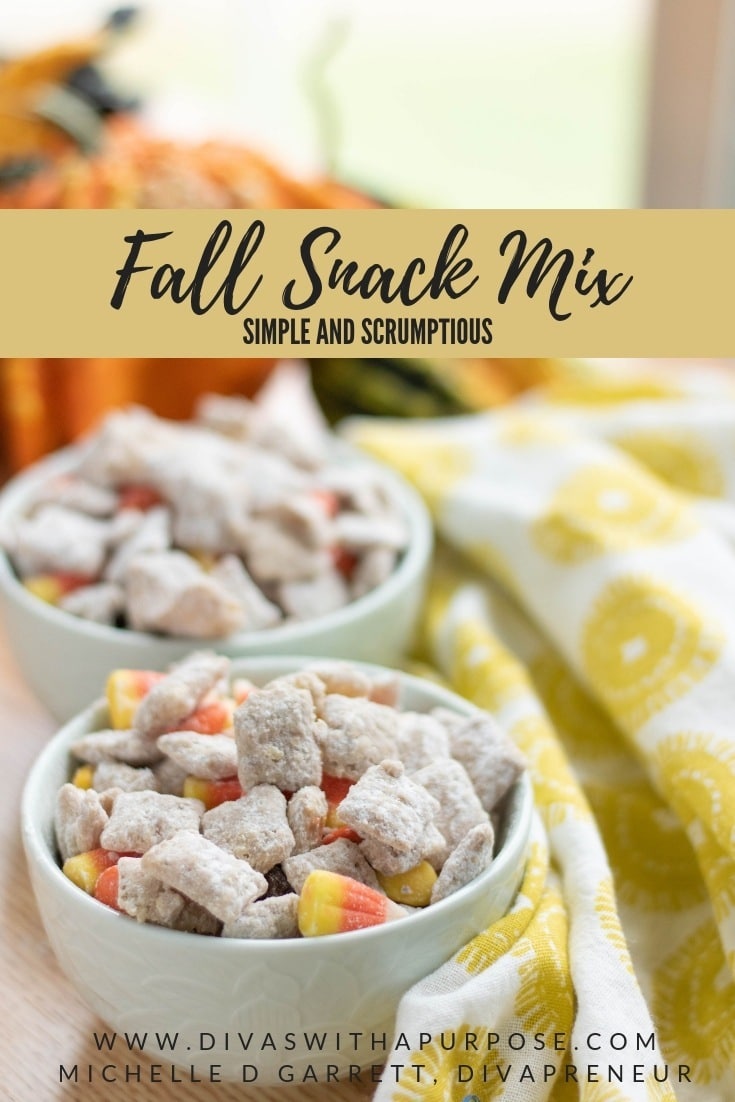 Another thing we love, as you can see in the video above, is that your kids can easily do this themselves with little assistance. We used a box of Cinnamon Chex cereal (minus a few handfuls for snacking). We melted a bag of white chocolate and added some pudding mix.
Shake, shake, shake! The next step is one of our favorites. Add the cereal mixture to a bag with powdered sugar and more pudding mix and the shake gently to coat all the cereal. Be careful that you don't crumble all the cereal. We added the candy corn and Reese's Pieces directly to the bag for easy storage and clean up, but you can combine everything in a bowl – especially if you're going to be storing in another container.
And that's it! A simple snack for the season – Enjoy!
Yield: a dozen servings
Simple Fall Snack Mix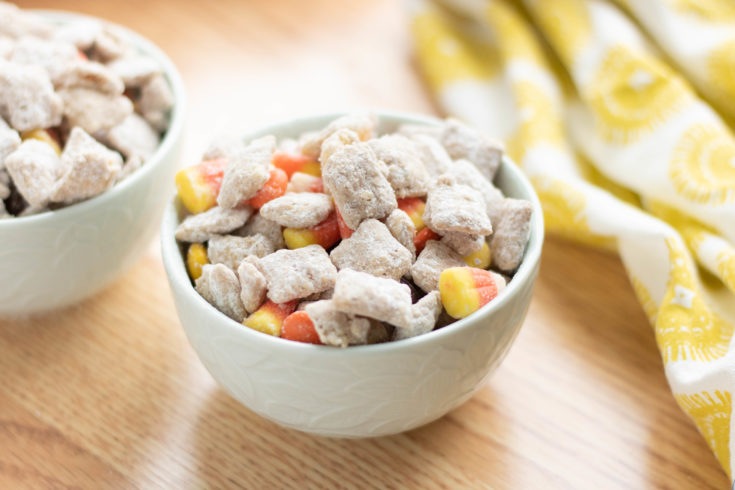 Ingredients
1 box Cinnamon Chex Cereal
1 bag white chocolate chips
½ cup pumpkin spice pudding mix + 2 tablespoons, divided
1 cup powdered sugar
1 cup candy corn
1 cup Reese's pieces
Instructions
Add the cereal to a large mixing bowl.
Melt the chips in 30 second intervals in the microwave on high, mixing in between.
When melted and smooth, mix in the ½ cup pudding mix.
Pour over the cereal, and gently mix.
In a large freezer bag, add the powdered sugar and the 2 tablespoons of the pudding mix, and shake until combined.
Pour cereal in the freezer bag and shake until well coated.
Add coated cereal into a large bowl and add in Reese's pieces and candy corn, mix until evenly combined.
---
Related Articles: