Spring Break will be here before we know it and our family is looking forward to our next road trip! We will be visiting a few states and may even have a few pop-up side-trips along the way. My mother and I have been planning this trip for the past few months. Our goal was to include things for all the age groups in our family: 2 girls – my kindergartener and 8th grade niece and 2 boys – my 4 grader and 6th grade nephew. Whew! Not including the 3 adults that will be there, as well. It's definitely going to be an experience.
It never fails – we get in the car and my children are all of a sudden STARVING with all caps and a ton of exclamation marks after it. For Spring Break this year, we are going on a trip with my parents, niece and nephew so I am planning ahead with our kid-friendly road trip snacks to ensure we are all happy and fed.
My goal for this year's road trips is to be more prepared and plan ahead when it comes to packing so I can focus on the fun and spontaneity of traveling the open highway with my family.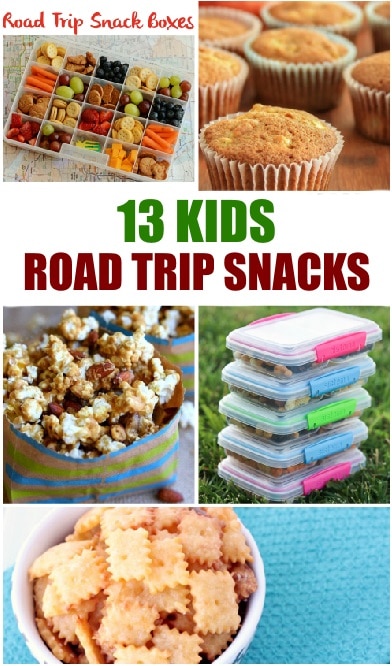 13 Kid-Friendly Road Trip Snacks
Here are 13 articles that have kid-friendly road snacks to make traveling easier and tastier for your entire family!
Enjoy!
1. Road Trip Snack Ideas
2. Apple Banana Muffins
3. 25 Easy to Pack Travel Snacks
4. Pumpkin Spice Snack Mix
5. Road Trip Snack Boxes – My younger two will have a blast customizing their own snack boxes! Love this idea 🙂
6. Popcorn Granola
7. Homemade Protein Bars
8. Homemade Cheese Crackers
9. Mango Energy Bites
10. Crunchy Baked Granola Bars
11. Trail Mix 5 Ways – Trail mix is always a winner in my book! Super easy for sharing and passing to the driver.
12. White Chocolate and Peanut Butter Buttery Waffles Snack Mix (I'll be honest! This one is for me and I'll consider sharing.)
13. Salted Caramel Popcorn with Almonds
I'd love to hear from you: What snacks are must haves for your family road trips?