Are you looking for ideas for your family's fall bucket list? As the summer heat winds down we can feel the excitement for fall starting to build. Comfort foods, cozy sweaters, football and pumpkin spice are usually the headliners but it certainly doesn't end there. Making time to get outside and enjoy time with loved ones is the key to a perfect fall.
50 Plus Fall Bucket List Activities
Each season my children and I make it a goal to create a bucket list of activities to complete. Fall is hands down our favorite one to make – the weather is cooler, so many fun festivals and foods to try and it gives us great balance as we adjust to returning back to school.
1 – Pick the best pumpkin in the patch
Visit your local pumpkin patch (or store) to pick out the perfect one for you.
Free Printable: Pumpkin Patch I-Spy
2 – Make cider donuts
Pumpkin spice has become the official flavor of fall but cider donuts are a classic.
3 – Pumpkin carving contest
See who has the best carving skills in your crew.
4 – Dunk your own caramel apples
Cut your apples into slices before dunking to make them easier to eat.
5 – Warm up around a bonfire
The cool fall air makes bonfires even more enjoyable. Of course they only get better with smores.
6 – Host a tailgate party
Make all kind of snack and huddle around the tv watching your favorite team. Even if you don't care about the game tailgate foods make it worth it.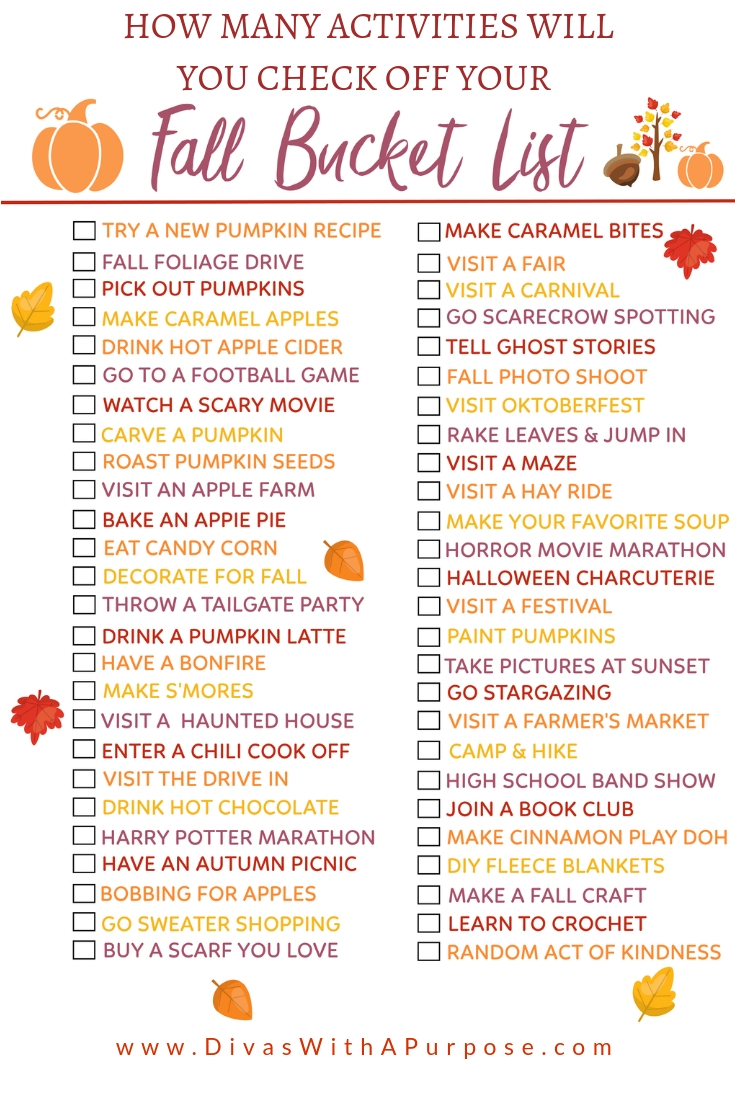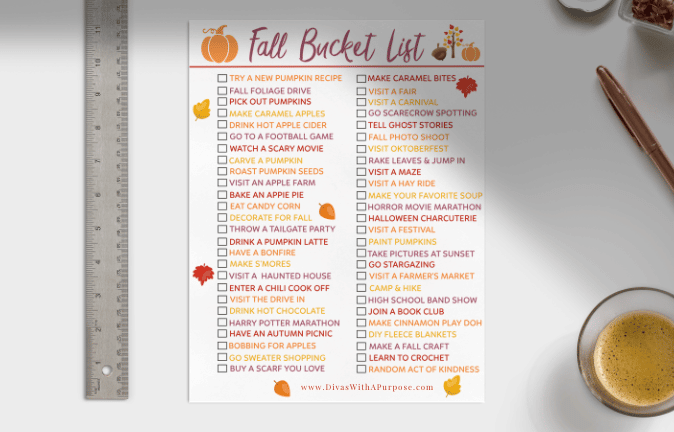 You'll receive a physical card via snail mail that you can post on your family's bulletin board or refrigerator and check off your activities as you complete them.
7 – Simmer a batch of chili
Smelling it cook all day is half the fun.
8 – Pick apples
Find a local orchard and pick a couple varieties.
9 – Toast leftover pumpkin seeds
Add some salt of chili powder to make them extra delicious.
10 – Go on a hike
Make the most of the crisp air and beautiful leaves.
11 – Purchase new candles
Sweet smells and soft flickering lights are soothing as the weather gets colder.
12 – Find a sunflower field
If you find one, make the most of it and take some cute photos.
13 – Watch a scary movie
Pick one that's the appropriate amount of "scary" after all the point is to enjoy it.
14 – Consume as many pumpkin spiced things as you can find
Pumpkin spiced everything is the fall goal right?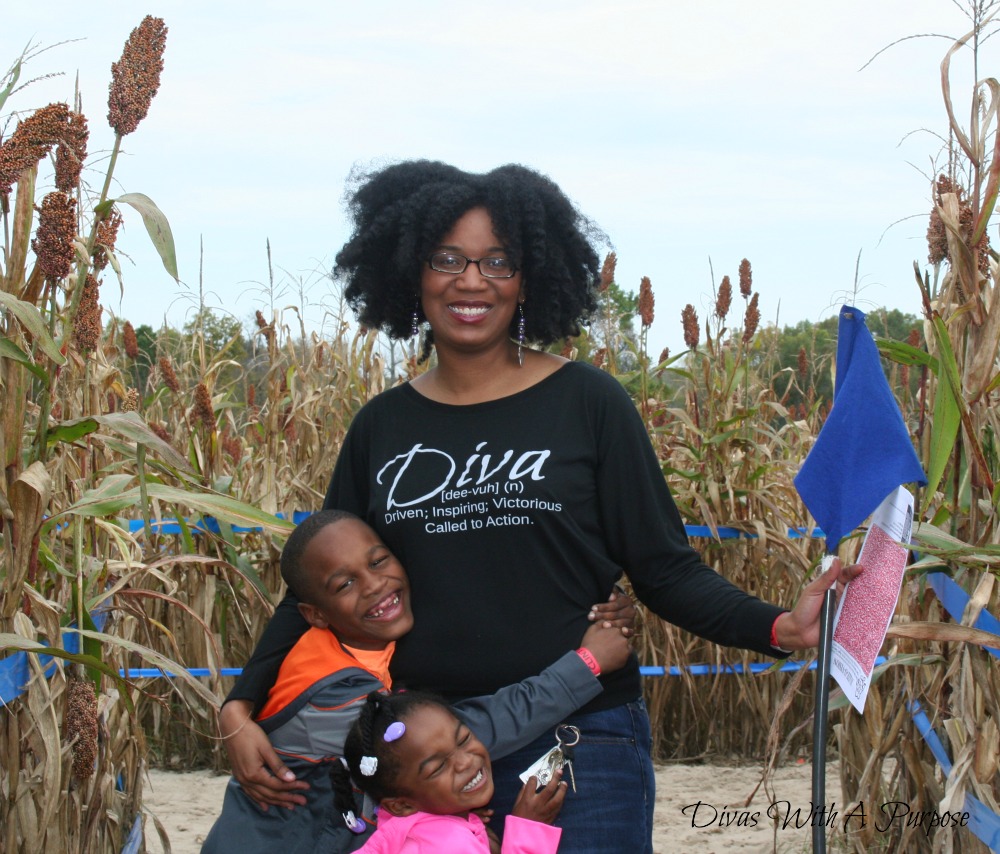 15 – Get lost in a corn maze
The best mazes will get you truly twisted up.
16 – Experience a hayride
Hayrides are a fall staple no matter what age you are the smile wont leave your face.
17 – Brave a haunted house
Bonus if you can combine the hayride and haunted house, for a haunted hayride.
18 – Plan ahead for great Halloween costumes
The key to a great costume is not waiting until the last minute. Give yourself enough time to make it or find it in the stores before it's picked over.
19 – Take a weekend getaway
Camping is always a great fall option.
20 – Buy cozy pajamas for the whole family
Thick, warm socks are also a good option.
21 – Learn and tell a ghost story
Make you delivery as believable as possible.
22 – Make fondue
An easy to make meal the feels unique and special.
23 – Enter a quirky 5K
A quick google search will turn up options from charity runs to zombie 5ks.
24 – Read a book under a pile of thick blankets
Snuggle up with a new book or an old favorite.
25 – Buy a pet halloween costume
Invite your furry family member into the holiday spirit with you.
26 – Have a flannel themed photoshoot
There are few things more fall than a good flannel. Get your family together for some adorable photos.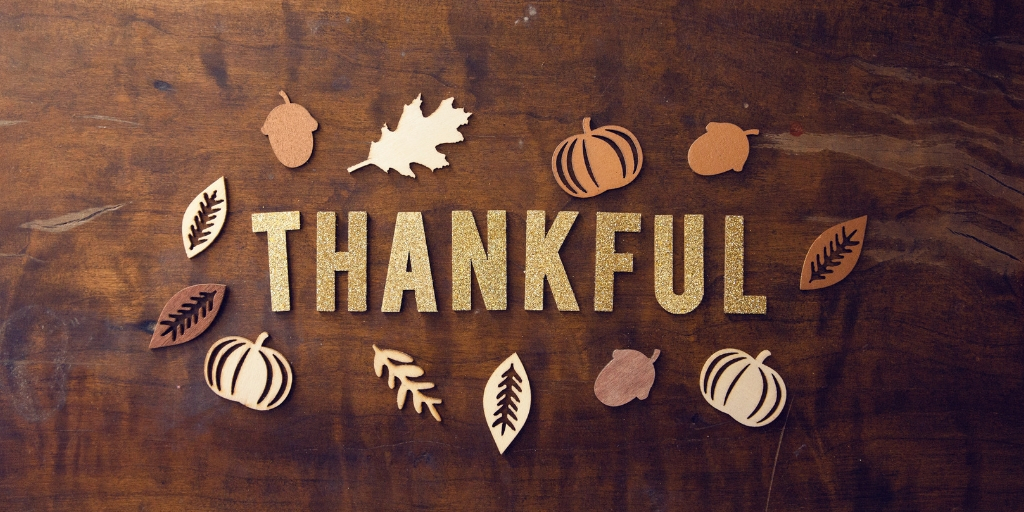 27 – Write a list of things you are grateful for
Take the time to reflect on all the good things.
28 – Do a craft with leaves
Collect the falling leaves and turn them into decorations for your home.
29 – Attend a Halloween Party
Wear the costumes you've been working on. Don't forget to take photos to document the occasion.
30 – Make a winter reading list
The icy weather will probably leave you with a little extra time on your hands to get through your reading list.
31 – Bake an apple dessert
The options are endless, my guess is you'll end up making more than one. Here's a gluten-free apple crisp recipe we're adding to our must try list.
32 – Paint a pumpkin
Not into the mess associated with carving a pumpkin? Try painting one, use various textures to jazz it up.
33 – Cheer on the local football team
Buy some stadium snacks and root on the home team.
34 – Participate in trick or treat
If you're not walking with kids make time to handout candy.
35 – Compete at game night
A little friendly competition is good for everyone.
36 – Pick out the most unique gourds
The funky shapes and colors make gourds the perfect addition to a fall centerpiece.
37 – Decorate leaf cookies
Brightly colored frosting on top of warm cookies, what more could you ask for in an afternoon.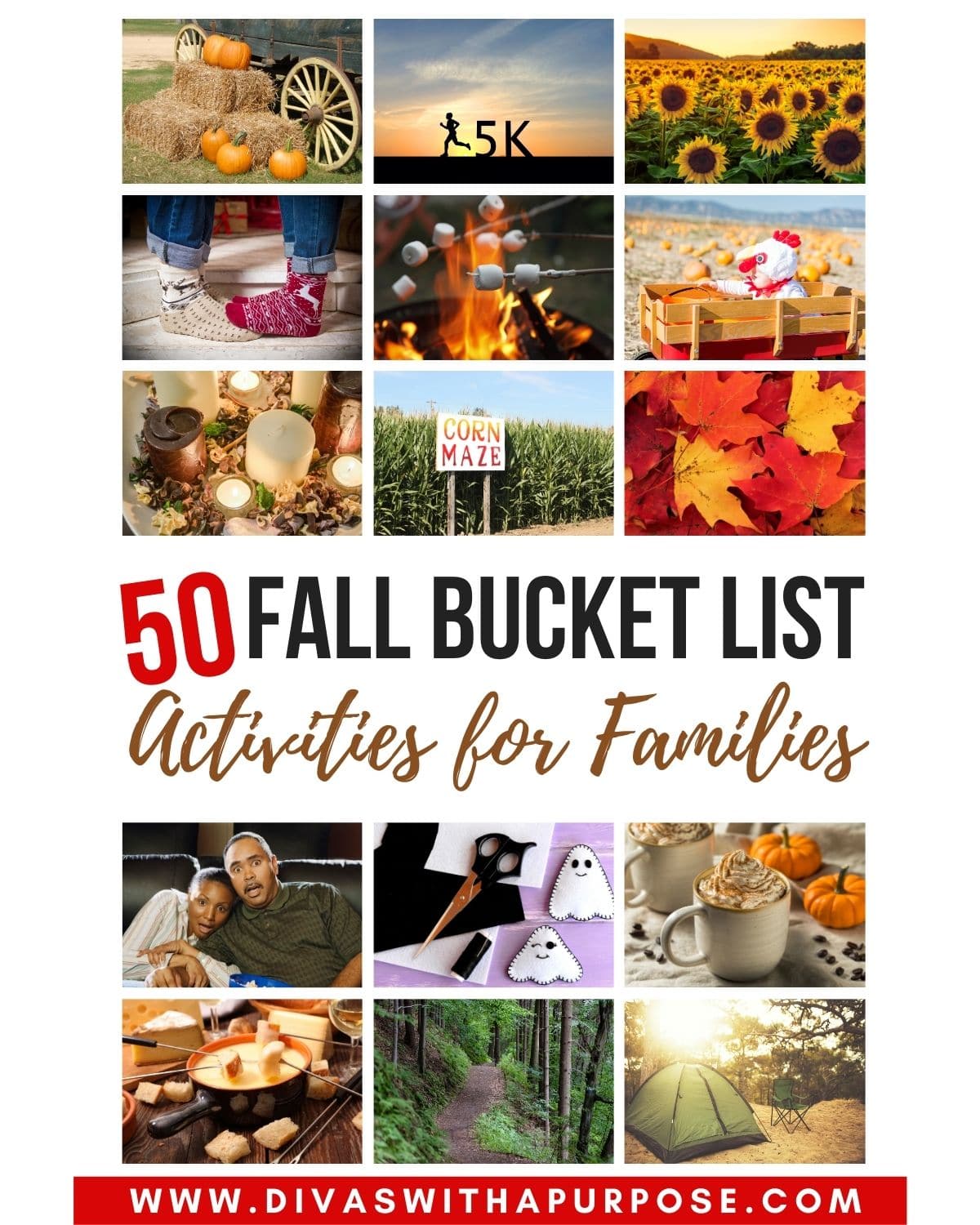 38 – Top your own pizza party
Host a pizza party where each guest gets to pick their toppings before the pie goes in the oven.
39 – Take a fall foliage drive
Take the windy backroads and appreciate the changing scenery.
40 – Arrange a bouquet of fall flowers
Take advantage of everything that in bloom in the fall and fill your house with flowers before winter rolls in.
41 – Collect leaves and acorns
DIY a center piece to show off all the things you collect on your fall walks.
42 – Make ghost crafts
Make spooky ghost crafts and fly them around the house.
43 – DIY Birdfeeders
Watch the birds stop by all autumn for a snack.
44 – Jump in a pile of leaves
Rake a neighbors yard too and you'll have twice the pile, a win for both of you.
45 – Learn about Dia De los Muertos
Take time to learn about the holiday celebrated in Mexico at the end on October.
46 – DIY placemats for Thanksgiving
Customize the place mats for each person you'll be sharing your Thanksgiving meal with.
47 – Make a salt dough leaf print
Make a small keepsake to remember how much fun this fall was.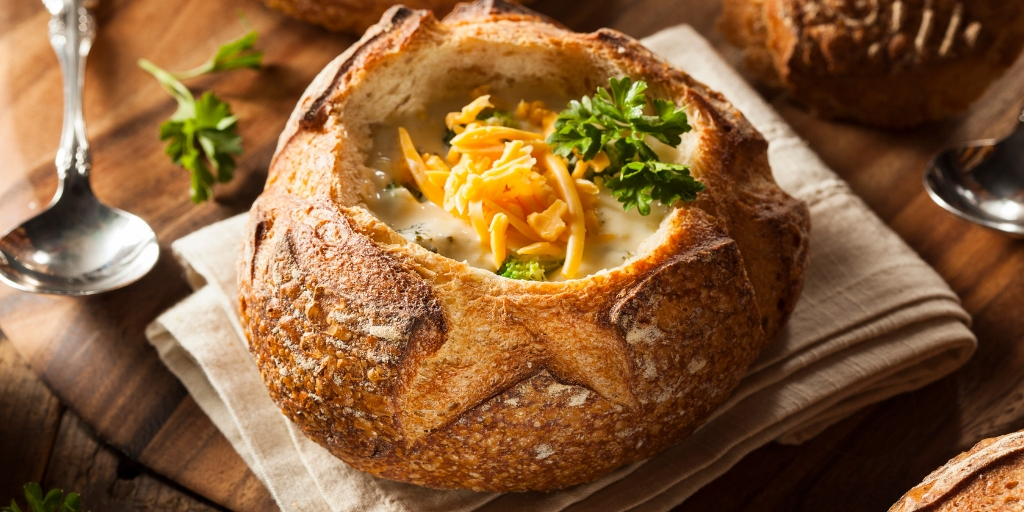 48 – Eat soup in a bread bowl
Put any soup in a bread bowl and it suddenly become the peak of comfort food.
49 – Drink homemade hot cocoa
It is really simple to make in a crockpot. Also, marshmallows are easier to make than you're probably thinking.
50 – Watch a Halloween parade
Gather as much candy and admire some fantastic costumes.
51 – Enjoy homemade applesauce
Another fall recipe that is super simple in a crockpot.
52 – Build a scarecrow
Find some old clothes and make a scarecrow to keep watch over your garden or front porch.
53 – Attend an Apple festival
Fall festivals are great because you can usually do a handful of these activities all in one afternoon. Most of then also have an arts and crafts show to browse through.