This article shares 31 May Social Media Prompts to help you show up consistently for your community on the social media platforms of your choice.
While building your community it is important to post engaging content consistently on your social media channels. Each month I share a social media calendar to get you started with engaging content to connect with your followers and build a community of supporters and customers.
It is important to remember when engaging on social media to:
be your authentic self
switch up your content type – images, quotes, etc
cross-promote what you share on your various platforms
focus on the social media platforms you are most comfortable using first
planning is good but in the moment shares is great!
[Tweet "What to post on social media every day in May #femaleentrepreneur "]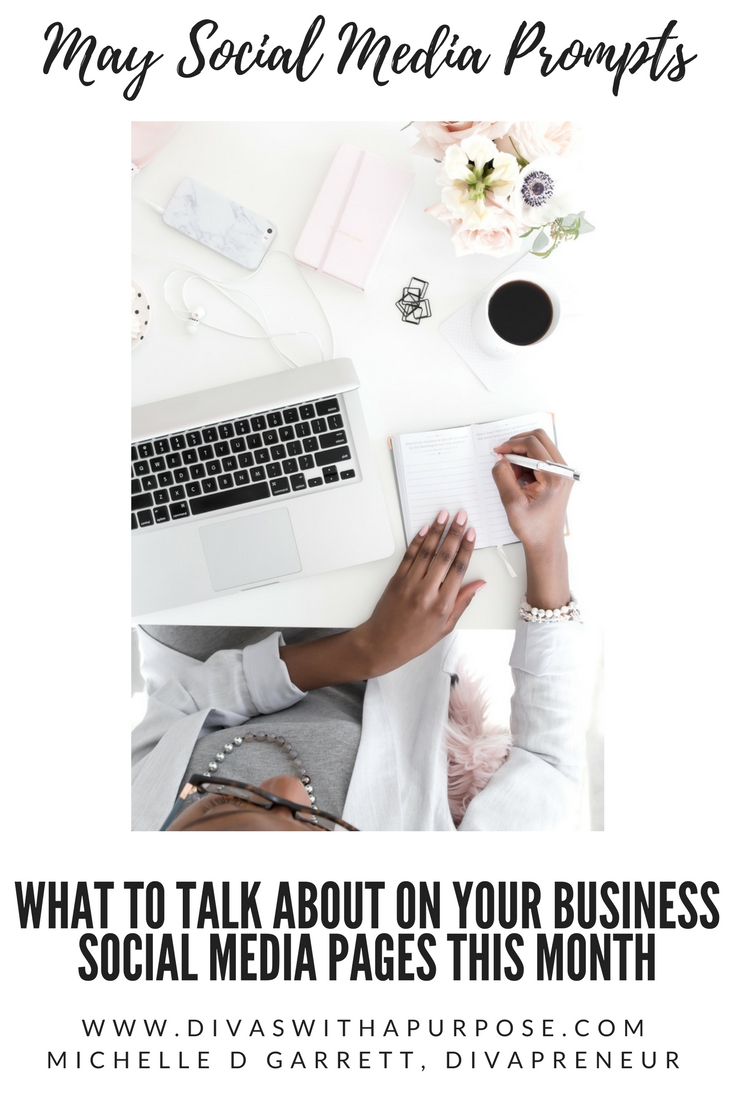 Below is a graphic you can save for easy access, or you can bookmark this article to refer to each day. The great thing about these prompts is that you can use them to post on your social media channels – Instagram, Facebook, TikTok, Snapchat. The list is endless. You can create images, live-streams and even quick video snippets to answer each prompt and encourage your followers to respond back to you with their answers or ideas.
May Social Media Prompts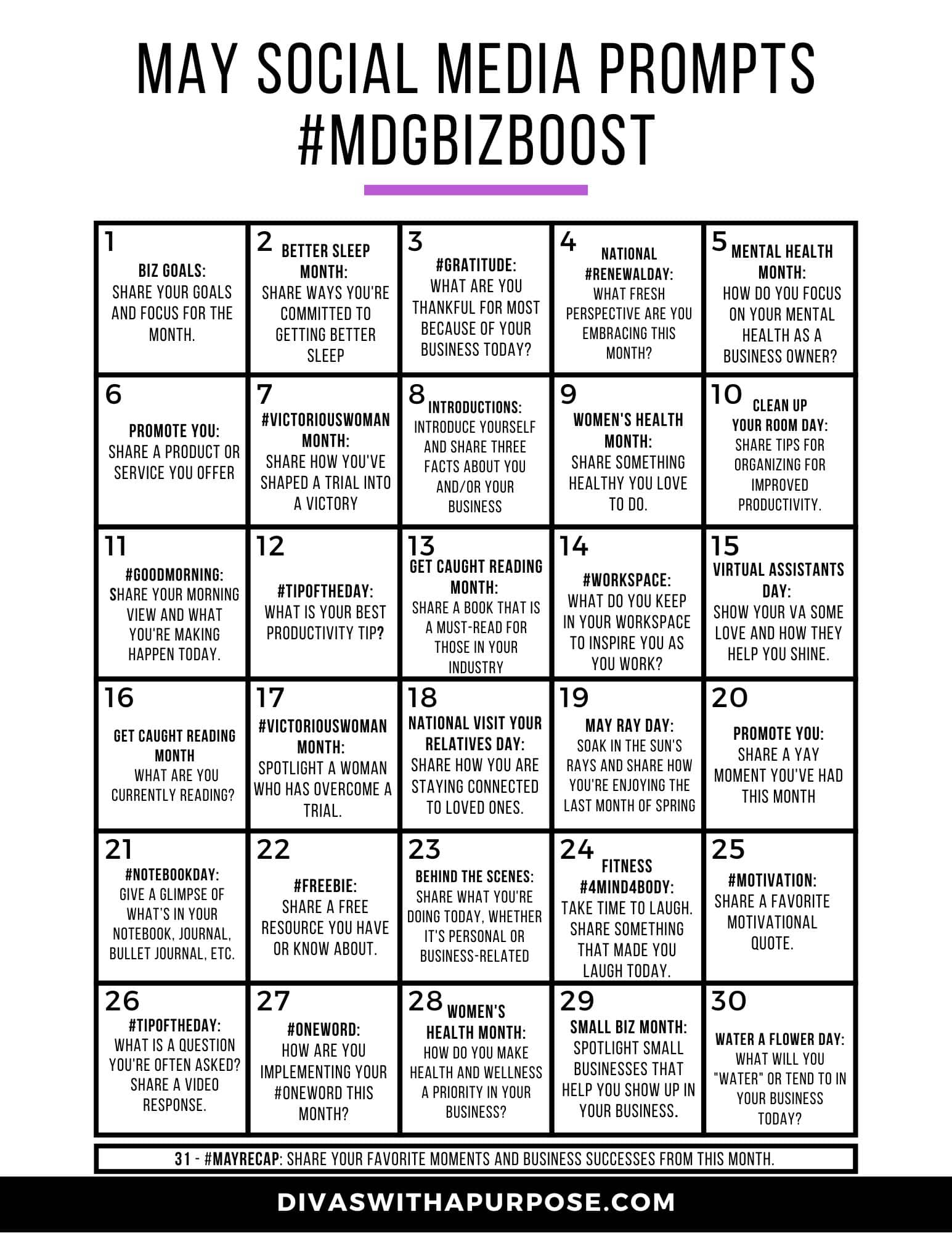 #BizGoals: Share your goals and for the month of May
Better Sleep Month: Share ways you're committing to getting better sleep and why it is important to you as a business owner.
#Gratitude: What are you thankful for most because of your business today?
National #RenewalDay: What fresh perspective are you embracing this month?
May is Mental Health Month: How do you focus on your mental health as a business owner? What tools, apps and resources do you use and/or recommend?
Promote YOU: Share a product or service you offer
#VictoriousWomanMonth: Share how you've shaped a trial into a victory
#Introductions: Introduce yourself and share three facts about you and/or your business
Women's Health Month: Share something you love to do. Ask your community what they enjoy doing. Challenge yourself to dedicate time to it at least once a day for the rest of the month.
National Clean Up Your Room Day: Share tips for organizing and decluttering your workspace for improved productivity.
#GoodMorning: Share your morning view and what you're making happen today.
#TipOfTheDay: What is your best productivity tip?
Get Caught Reading Month: Share a book that is a must-read for those in your industry
#Workspace: What do you keep in your workspace to inspire you as you work?
Virtual Assistants Day: Show your VA some love and how they help you shine.
Get Caught Reading Month: What are you currently reading? What's on your list to read if you're in between titles?
#VictoriousWomanMonth: Spotlight a woman who has overcome a trial.
National Visit Your Relatives Day: Share how you are staying connected to loved ones.
May Ray Day: Soak in the Sun's Rays and share how you're enjoying the last month of Spring
Promote YOU: Share a YAY moment you've had this month
#NotebookDay: Give a glimpse of what's in your notebook, journal, bullet journal, etc.
#Freebie: Share a free resource you have or know about.
Behind the Scenes: Share what you're doing today, whether it's personal or business-related
Fitness #4Mind4Body: Take time to laugh. Share something that made you laugh today.
#Motivation: Share a favorite motivational quote.
#TipOfTheDay: What is a question you're often asked? Share a video response.
#OneWord: How are you implementing your #OneWord this month?
Women's Health Month: How do you make health and wellness a priority in your business?
Small Business Month: Spotlight small businesses that help you show up in your business.
Water A Flower Day: What will you water / tend to in your business today?
#MayRecap: Share your favorite moments and business successes from this month.
---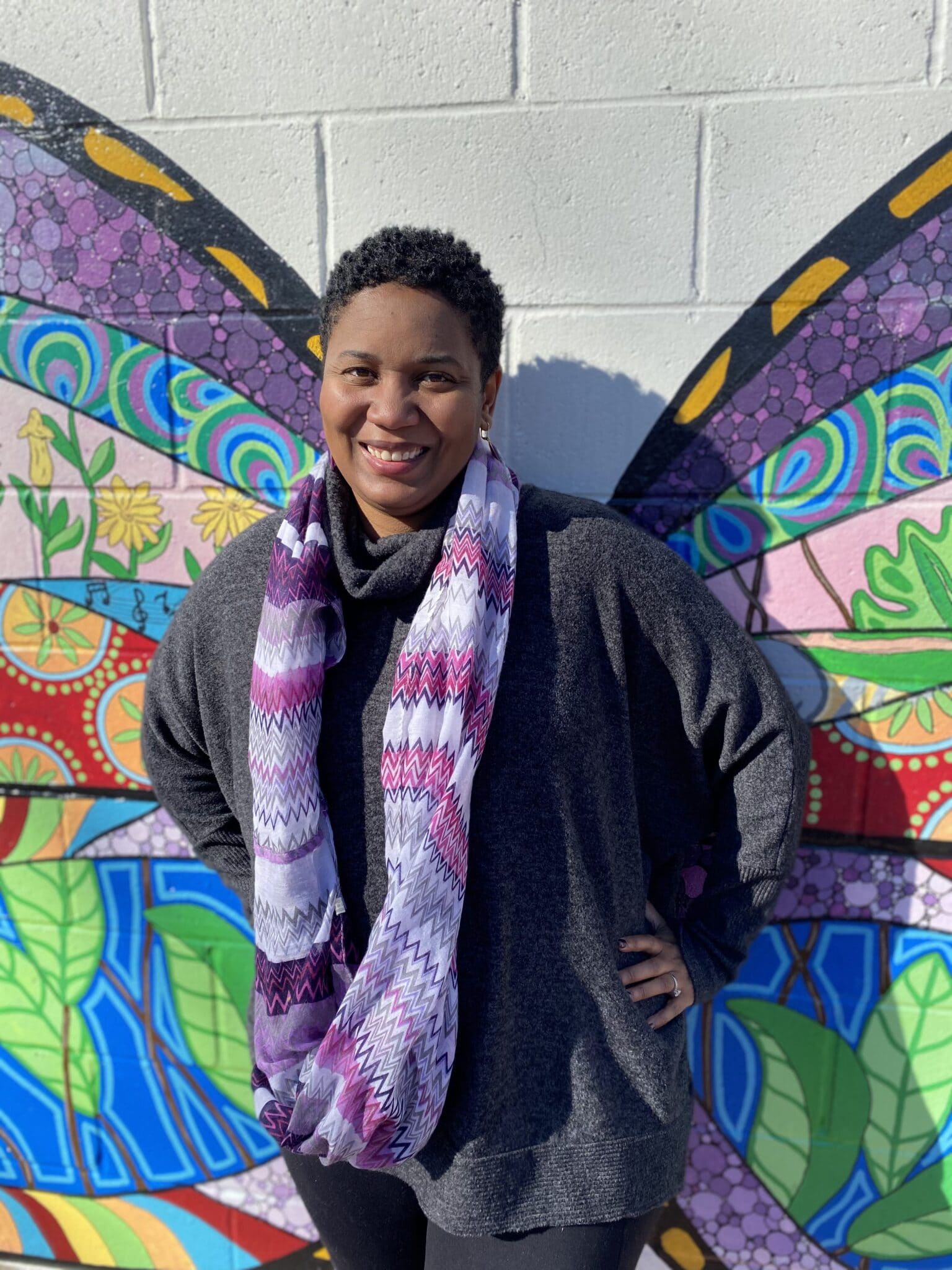 Michelle D. Garrett is the founder of Divas With A Purpose.
She focuses on sharing resources for being purposely productive; setting personal and professional goals and achieving them through daily action; and successfully running a business while focusing on your mental health. Michelle is a full-time entrepreneur who specializes in teaching female entrepreneurs how to show up consistently in their business – online and off.
---