This article shares 31 December Social Media Prompts to help you show up consistently prepare your social media content calendar for the month.
Click here to sign up for my #MDGBizBoost newsletter and receive 30 days of social media prompts and resources to help plan your content.
Each month I strive to share a social media calendar to get you started with engaging content to connect with your followers and build a community of supporters and customers. Community building has been a game-changer for my business and social media presence. When you are in the process of building your community it is important to post consistently on your social media channels, engage and be your authentic self.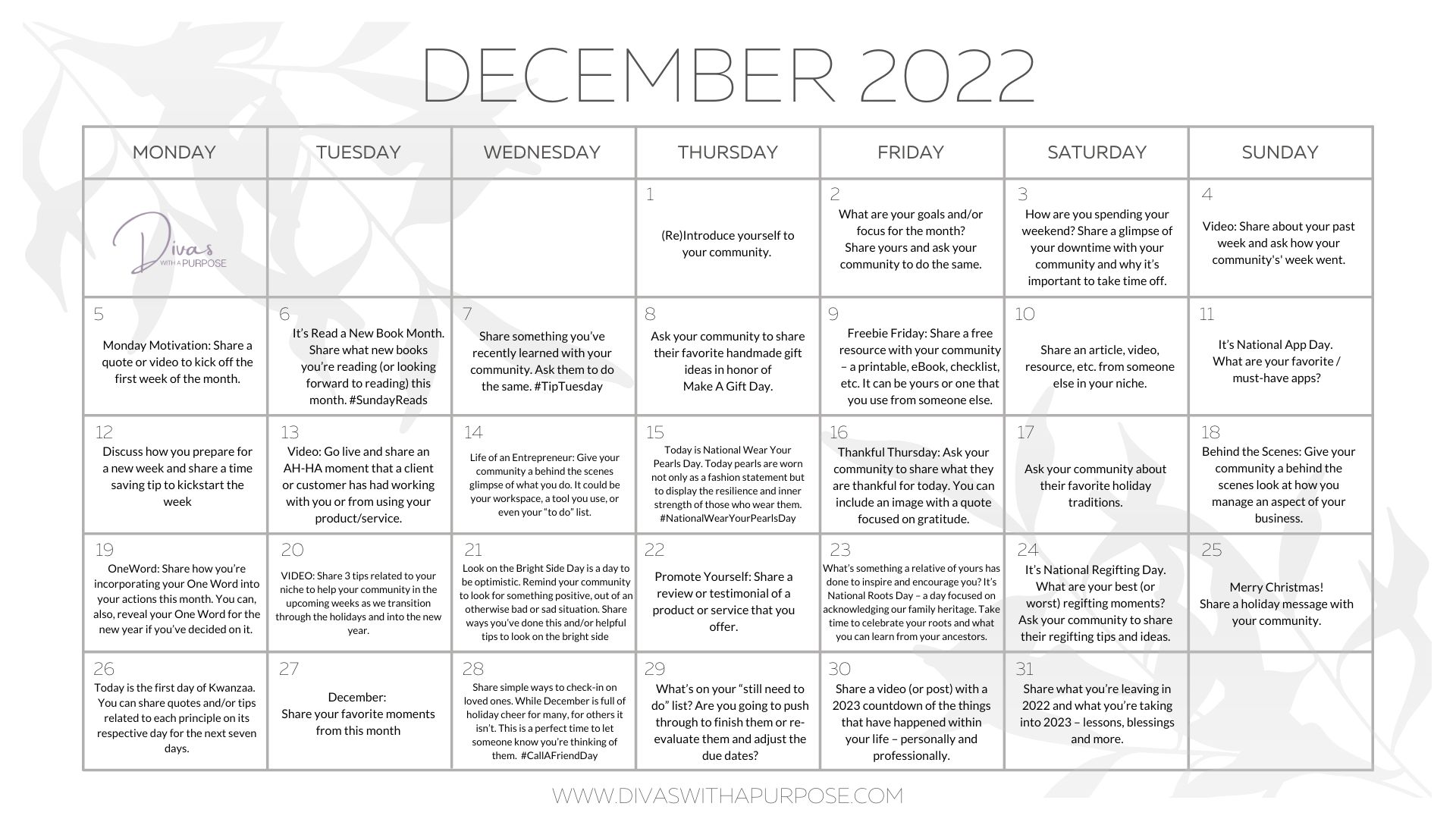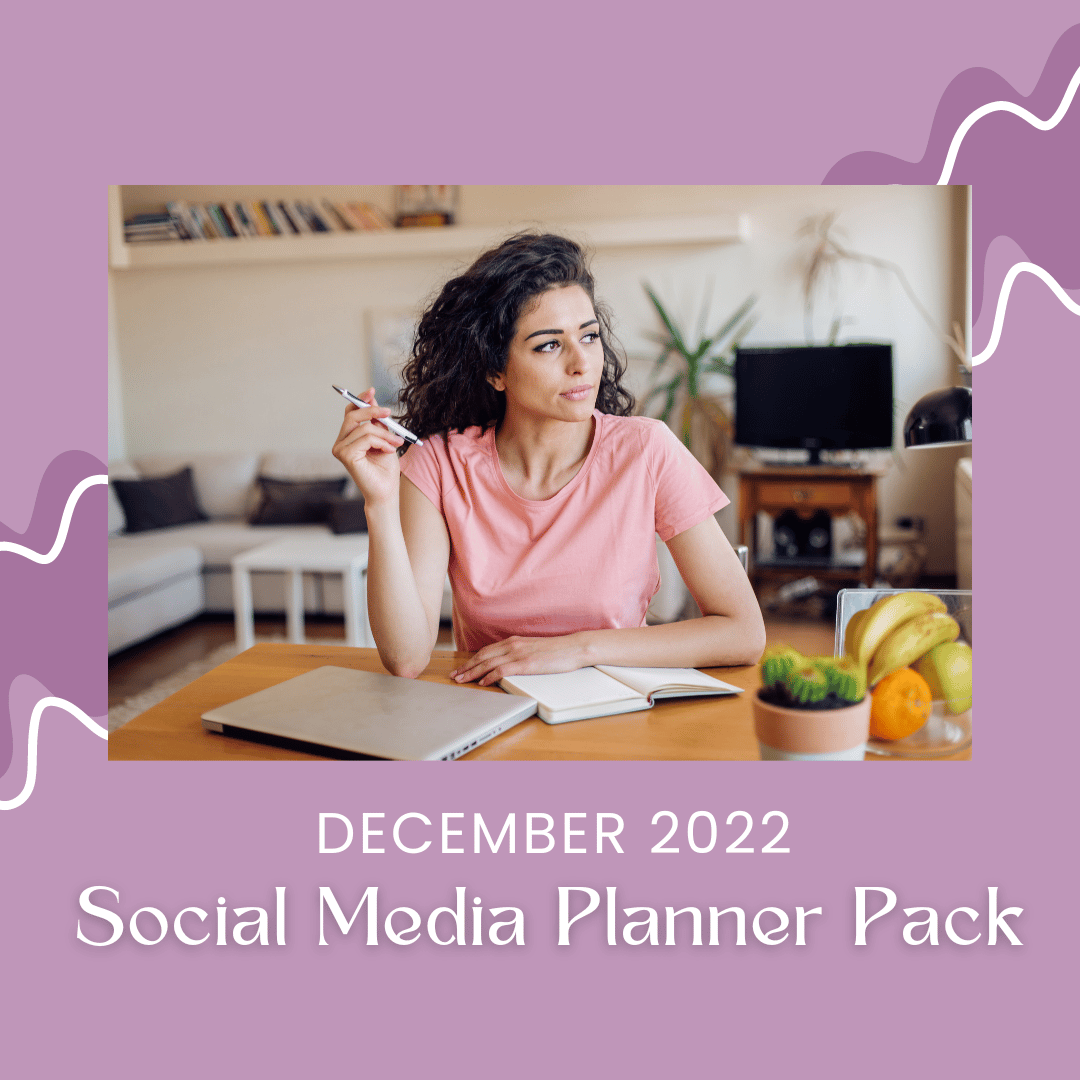 December Social Media Prompts
(Re)Introduce yourself to your community.
What are your goals and/or focus for the month? Share yours and ask your community to do the same.
How are you spending your weekend? Share a glimpse of your downtime with your community and why it's important to take time off.
Video: Share about your past week and ask how your community's week went.
Monday Motivation: Share a quote or video to kick off the first week of the month.
It's Read a New Book Month. Share what new books you're reading (or looking forward to reading) this month. #SundayReads

Share something you've recently learned with your community. Ask them to do the same. #TipTuesday

Ask your community to share their favorite handmade gift ideas in honor of Make A Gift Day.

Freebie Friday: Share a free resource with your community – a printable, eBook, checklist, etc. It can be yours or one that you use from someone else.

Share an article, video, resource, etc. from someone else in your niche.
It's National App Day. What are your favorite / must-have apps?
Discuss how you prepare for a new week, and share a time saving tip to kickstart the week
Video: Go live and share an AH-HA moment that a client or customer has had working with you or from using your product/service.
Life of an Entrepreneur: Give your community a behind the scenes glimpse of what you do. It could be your workspace, a tool you use, or even your "to do" list.
Today is National Wear Your Pearls Day. Today pearls are worn not only as a fashion statement, but also to display the resilience and inner strength of those who wear them. #NationalWearYourPearlsDay
Thankful Thursday: Ask your community to share what they are thankful for today. You can include an image with a quote focused on gratitude.
Ask your community about their favorite holiday traditions.
Behind the Scenes: Give your community a behind the scenes look at how you manage an aspect of your business.
OneWord: Share how you're incorporating your One Word into your actions this month. You can also reveal your One Word for the new year if you've decided on it.
VIDEO: Share 3 tips related to your niche to help your community in the upcoming weeks as we transition through the holidays and into the new year.
Look on the Bright Side Day is a day to be optimistic. Remind your community to look for something positive, out of an otherwise bad or sad situation. Share ways you've done this, and/or helpful tips to look on the bright side
Promote Yourself: Share a review or testimonial of a product or service that you offer.
What's something a relative of yours has done to inspire and encourage you? It's National Roots Day – a day focused on acknowledging our family heritage. Take time to celebrate your roots and learn from your ancestors.
It's National Regifting Day. What are your best (or worst) re-gifting moments? Ask your community to share their re-gifting tips and ideas.
Merry Christmas! Share a holiday message with your community.
Today is the first day of Kwanzaa. You can share quotes and/or tips related to each principle on its respective day for the next seven days.
December: Share your favorite moments from this month
Share simple ways to check-in on loved ones. While December is full of holiday cheer for many, for others it isn't. This is a perfect time to let someone know you're thinking of them. #CallAFriendDay
What's on your "still need to do" list? Are you going to push through to finish them or re-evaluate them and adjust the due dates?
Share a video (or post) with a 2020 countdown of the things that have happened within your life – personally and professionally.
Share what you're leaving in 2021 and what you're taking into 2022 – lessons, blessings and more.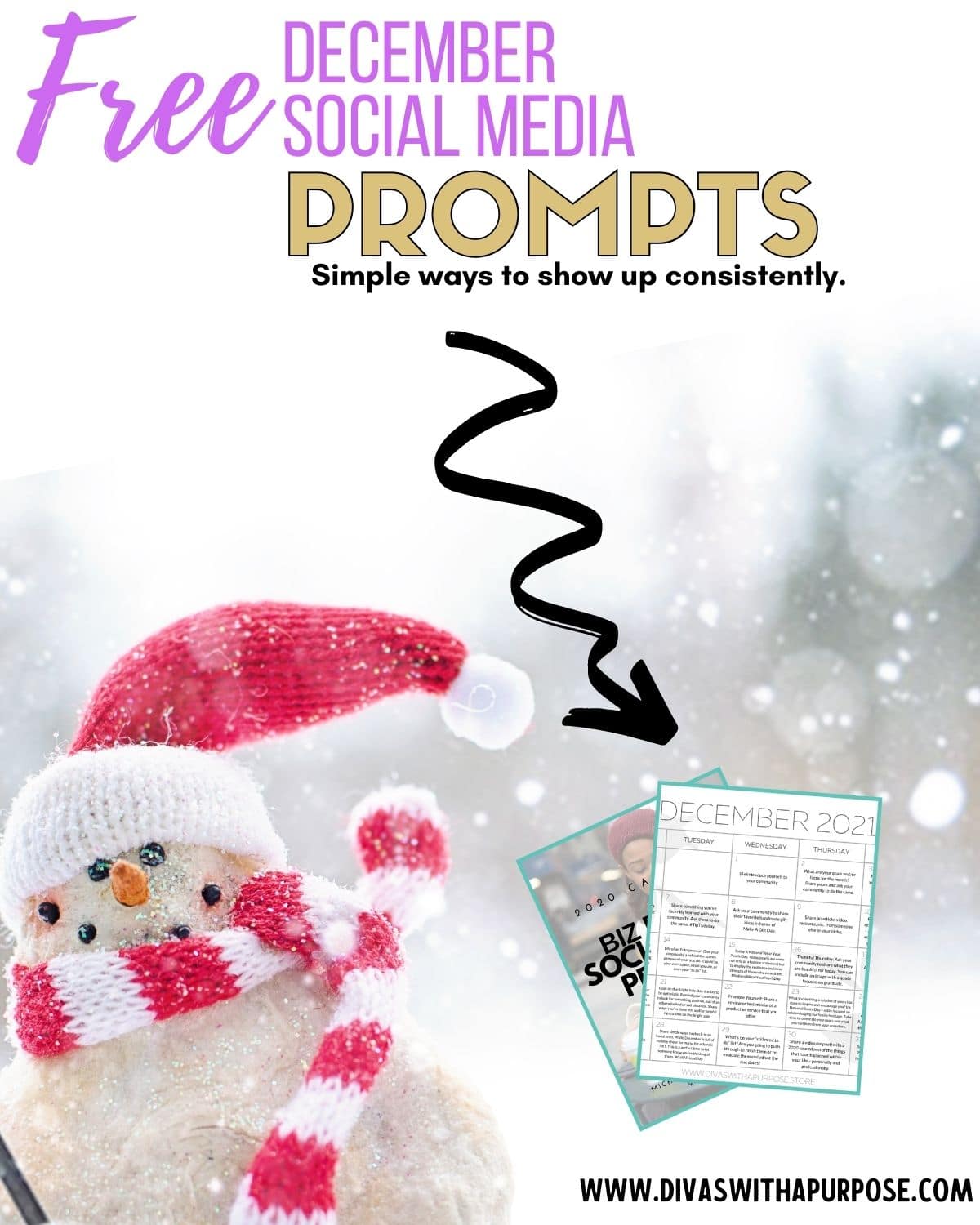 Prompts To Connect With Your Community
Below are some thought starters to help you connect with your online community. You can use these prompts within your social media calendar as posts, reels, stories, videos – the list is endless. Don't forget you can use #MDGBizBoost on Instagram to connect with our online community.
I love December because…
Winter months make me think of …
My priorities for the holidays are …
My business goals for December include…
My favorite winter or Christmas music is…
Your best family tradition for December.
What would be the best surprise you could receive?
My ideal Christmas is…
Write out 5 tips that are going to keep you on track with a healthy eating plan.
What's your favorite time of the day?
List 3 comfort foods that you love at this time of year.
What person do you never get tired of seeing?
Is there someone that you will miss this month?
Your favorite Christmas movie.
What indulgence are you going to delight in this month?
Describe your ideal winter scene in detail.
How are you planning to decorate for the holidays?
Are you running any business offers? If so plan them out in detail.
My business to-do list includes…
My personal to-do & shopping list is…
My favorite holiday hot drink for December is…
What new food or recipe are you going to try this month?
My favorite winter sounds are…
If money was no object how would you spoil yourself & your family this holiday?
Watch your local Santa Claus parade and write a detailed description of it.
Write about your funniest travel experience that happened in the winter months.
Describe how you would manage if you lost power for a couple of days during a winter storm.
Winter sports I plan on trying this year are…
My hopes and dreams for the New Year.
The scents I love the most for winter are…
How do you spoil your pets for Christmas?
More December Prompts To Connect With Your Community
What does December mean to you?
Use the word Christmas and see how many words you can create from it.
What gift are you going to buy your pet? Or someone who has one?
What family traditions do you have for Christmas?
Make a list of everyone who will be visiting for Christmas, then write a positive note about them and give it to them inside a card.
What's your favorite Christmas Song?
Do you attend Christmas Mass, if so, write about how it makes you feel? If not describe a nativity scene that you enjoy.
What outside activity do you, or have you enjoyed in the winter?
The one thing you really don't like about December is…
What's your favorite outfit to wear in December? Write about how it makes you feel.
Create your own Winter Prayer or Poem.
Find some images of your favorite table decorations for Christmas, for men do your favorite tools.
Describe what you would do on Christmas Day if it were up to you.
When was the last time you got into a sled and went tobogganing?
If money were no object what gifts would you buy for your loved ones?
What handmade gifts have you made, if any? If not, what would you like to try your hand at?
The funniest thing that ever happened to you during the holidays was…
What movie do you always make a point of watching with your family and/or friends?
Pretend you are a kid again and write a letter to Santa.
Write about what it would feel like to spend the winter in the opposite climate to what you are used to.
Use each letter of the alphabet and choose one thing per letter that you like about December or the holiday season.
Write a description of a winter scene that includes sights and sounds such as crisp air, falling snow, kids playing in the snow, etc.
Create a summary of the past year. What has been good for, the downside and what can you learn from this to carry forward to next year.
Do you have any goals yet for next year? Write them out or start making a list.
What's your favorite color for winter and why? How does it make you feel?
Create a keepsake in your journal that you would love to pass on. Who and why do you want to pass it on?
Have you ever been in a horse-drawn sleigh in the winter? If not, who would you want to go with?
What's your best Christmas memory?
What gift would you give to the world if you could?
What gift-wrapping advice would you give someone?
It's New Year's Eve, spend time reflecting on things that you can improve from last year. Write yourself a note to read again this time next year.