Discover engaging Thursday post ideas to take your social media and website content to the next level, from throwbacks to behind-the-scenes sneak peeks.
---
Planning out social media and website content ahead of time makes it so much easier to stay consistent and show up powerfully online. When you have ideas ready to go, you don't have to scramble last minute or draw a blank.
Let's dive into some creative Thursday post ideas to inspire and energize your content this week! These ideas work great on social media platforms like Instagram, Facebook, and LinkedIn as well as your blog or website.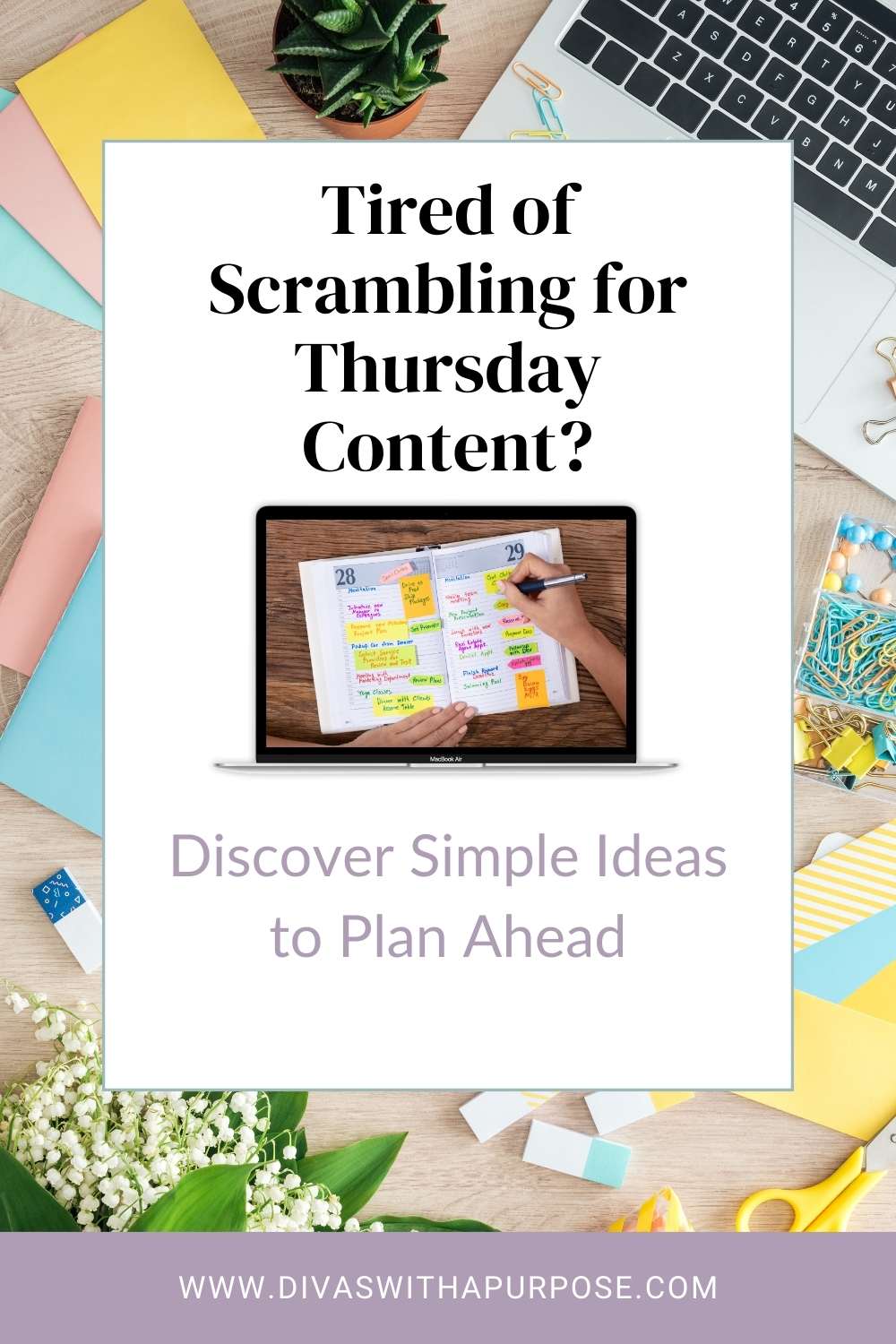 Throwback Thursday (#tbt) Thursday
Everyone loves a good throwback! For Thursday post ideas, dig through old photos and share a fun blast from the past. You could post:
Childhood or school photos to give your audience a glimpse into your backstory
Old photos of you starting your business as a #motivationmonday style throwback
Flashback photos from past conferences, events, or speaking gigs to showcase your success
Pictures with friends or mentors who have supported your journey
Embarrassing shots for a laugh! We all have some silly style phases.
No matter what photo you choose, draft a caption sharing what you were up to at that time or what the pic represents for your biz journey. Ask your followers to comment with their favorite throwbacks too!
Behind the Scenes
Give your audience a sneak peek behind the scenes of your business! Share photos or short video clips showing:
Your workspace or office setup
A look at your planner or bullet journal
Your morning routine or favorite tools to start the day focused
A peek at your content calendar and planning process
You working on a new program, product launch or big project
Recent photos from an event or speaking engagement
This is a fun way to make your business more personal and relatable. Don't forget to tag any biz besties that may appear too!
Success Stories
Share inspiring stories of clients who've achieved success with your programs or products. Interview them on Instagram Live or via email to get the juicy details, then craft a post highlighting:
What life was like for them before working with you
The biggest transformations or aha moments they experienced
Advice they would give others based on their journey
With permission, include photos of them showing results, testimonials, or using your products. This is social proof at its finest!
DIY or How-To
Create a short tutorial or how-to video to share on IGTV or YouTube. These could cover topics like:
A time management or productivity hack
Setting up your ideal office space
Planning and creating content
Tools you can't live without for your business
Morning routine tips and tricks
Teach your audience something helpful and actionable in a digestible way. Include key takeaways in the caption too!
Thankful Thursday Post Ideas
Practicing gratitude is so important, both in life and business. That's why Thankful Thursday is a excellent post idea!
Use Thankful Thursday as a chance to share what you're grateful for with your audience. Some ideas include:
Thanking followers who have offered support, advice, or opportunities
Showing appreciation for your community and the connections you've made
Sharing accomplishments, milestones, or wins in your business and thanking those who helped you achieve them
Giving shoutouts to brands or companies you love working with
Highlighting inspiring clients who are rocking their goals
You can also open it up for others to share their gratitude by asking questions like:
What are you thankful for this week?
Who is someone that inspires you or has made a difference in your life? Tag and thank them!
What have you accomplished recently that you're proud of?
Gratitude posts create positive engagement and remind us of all we have to be grateful for. They cultivate meaningful connections with your audience.
With the heavy workload of entrepreneurship, taking time for gratitude is a beautiful reminder to nurture yourself too. Slow down, reflect, and acknowledge your wins!
So be sure to weave Thankful Thursday into your content mix. It's a thoughtful way to inspire yourself and others.
Related Article: Thankful Thursday Thought Starters
Quote Graphics
Design quote graphics using Canva or PicMonkey. Find inspirational quotes by female entrepreneurs or sayings that relate to themes like:
Taking action
Having a growth mindset
Managing your mindset
Staying consistent
Balancing life and business
Self-care and self-love
Pair the text with colorful backgrounds, fonts and graphics. This makes inspiring visual content you can share to FB, Insta and Pinterest.
Spotlight Another Biz Owner
Share the love with another #ladyboss by featuring them on your platform! Schedule an Instagram Live interview or share a post with:
A brief intro about them and their biz
Their best tips for your audience
Ways to connect or follow them
This is a win-win – you provide value for your audience and get exposure for a fellow biz owner. Plus it builds goodwill and relationships!
FB or IG Live Q&A
Go live and open up the floor for your followers to ask questions! Share that you're doing a Q&A in your Stories first so people tune in. Cover topics like:
Balancing biz and personal life
Overcoming failure or setbacks
Recommended tools and resources
Time management struggles and solutions
How to stay motivated and consistent
Keep the tone casual and conversational. Your followers will appreciate the chance to interact.
---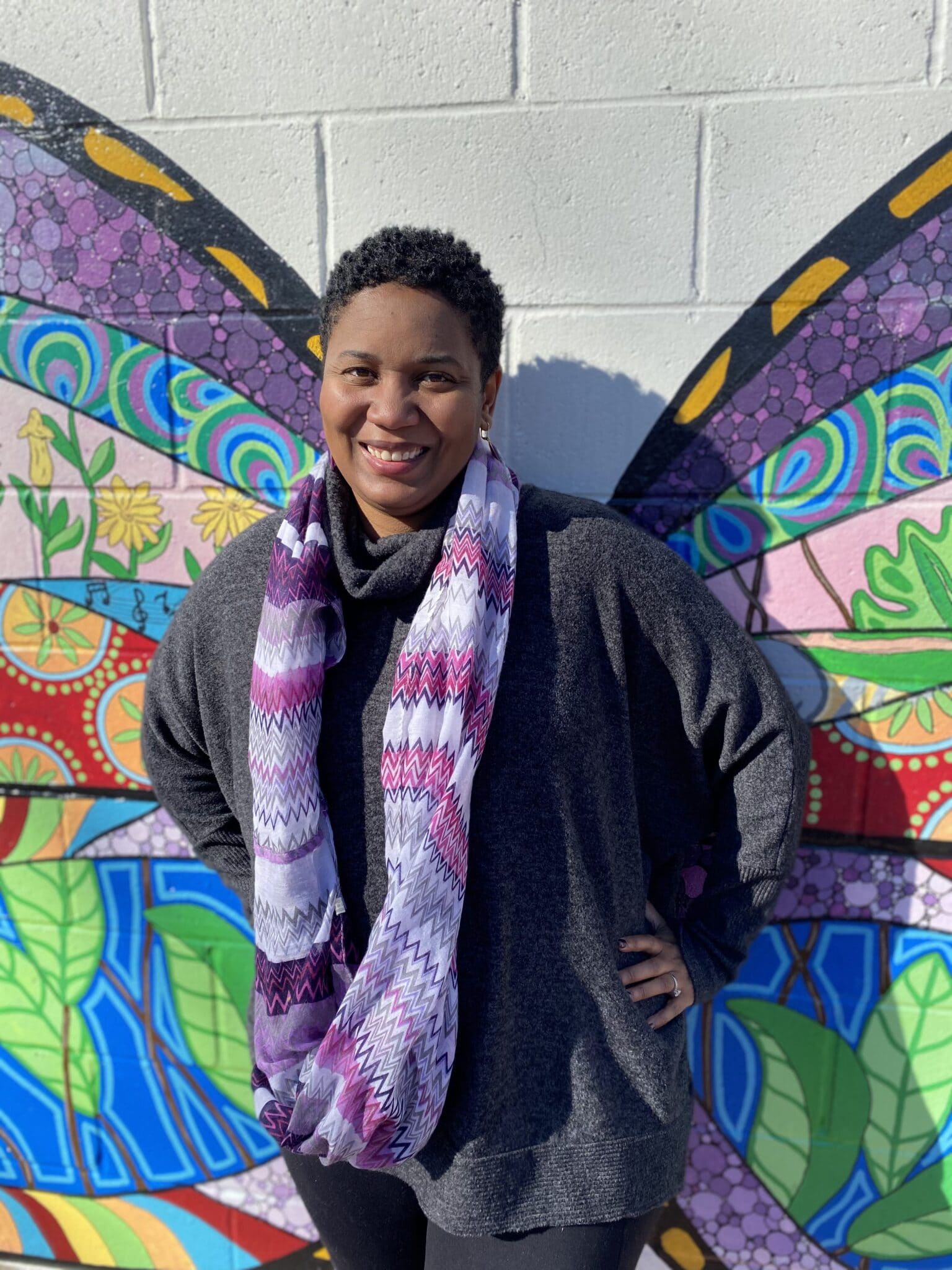 Michelle D. Garrett is the founder of Divas With A Purpose.
She focuses on sharing resources for being purposely productive; setting personal and professional goals and achieving them through daily action; and successfully running a business while focusing on your mental health. Michelle is a full-time entrepreneur who specializes in teaching female entrepreneurs how to show up consistently in their business – online and off.
---