December journal prompts are here! These prompts are great to use in your family journaling projects, business live-streams and videos, social media posts and even to spark conversation around the dinner table.
Each year we add new traditions and experiences to our family. December is when we started family journaling. My daughter fell in love with writing in kindergarten. She is meticulous about collecting notebooks and funky pencils to practice her letters and to write love notes to our family.
One day she plopped down next to me during my journaling time and asked what I was writing about. I shared my prompt for the day and she started writing away without hesitation. One of her big brothers walked through and she pulled him in for "writing time". And the rest is history!
Each day we set aside time to write and chat about my prompts for the day. Even when they are business-focused they will apply them to their school and personal goals.
From this bonding time, I've been able to learn more about my children and initiate fun and insightful conversations.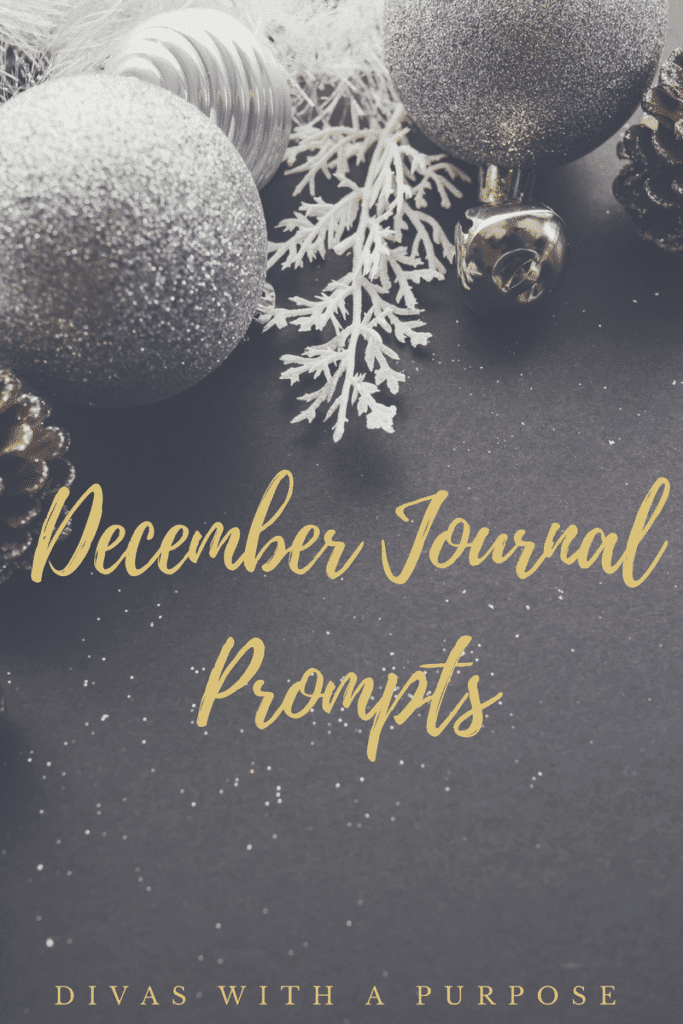 December Journal Prompts
I love December because…
Winter months make me think of …
My priorities for the holidays are …
My business goals for December include…
My favorite winter or Christmas music is…
Your best family tradition for December.
What would be the best surprise you could receive?
My ideal Christmas is…
Write out 5 tips that are going to keep you on track with a healthy eating plan.
What's your favorite time of the day?
List 3 comfort foods that you love at this time of year.
What person do you never get tired of seeing?
Is there someone that you will miss this month?
Your favorite Christmas movie.
What indulgence are you going to delight in this month?
Describe your ideal winter scene in detail.
How are you planning to decorate for the holidays?
Are you running any business offers? If so plan them out in detail.
My business to-do list includes…
My personal to-do & shopping list is…
My favorite holiday hot drink for December is…
What new food or recipe are you going to try this month?
My favorite winter sounds are…
If money was no object how would you spoil yourself & your family this holiday?
Watch your local Santa Claus parade and write a detailed description of it.
Write about your funniest travel experience that happened in the winter months.
Describe how you would manage if you lost power for a couple of days during a winter storm.
Winter sports I plan on trying this year are…
My hopes and dreams for the New Year.
The scents I love the most for winter are…
How do you spoil your pets for Christmas?
31 More December Journal Prompts
What does December mean to you?
Use the word Christmas and see how many words you can create from it.
What gift are you going to buy your pet? Or someone who has one?
What family traditions do you have for Christmas?
Make a list of everyone who will be visiting for Christmas, then write a positive note about them and give it to them inside a card.
What's your favorite Christmas Song?
Do you attend Christmas Mass, if so, write about how it makes you feel? If not describe a nativity scene that you enjoy.
What outside activity do you, or have you enjoyed in the winter?
The one thing you really don't like about December is…
What's your favorite outfit to wear in December? Write about how it makes you feel.
Create your own Winter Prayer or Poem.
Find some images of your favorite table decorations for Christmas, for men do your favorite tools.
Describe what you would do on Christmas Day if it were up to you.
When was the last time you got into a sled and went tobogganing?
If money were no object what gifts would you buy for your loved ones?
What handmade gifts have you made, if any? If not, what would you like to try your hand at?
The funniest thing that ever happened to you during the holidays was…
What movie do you always make a point of watching with your family and/or friends?
Pretend you are a kid again and write a letter to Santa.
Write about what it would feel like to spend the winter in the opposite climate to what you are used to.
Use each letter of the alphabet and choose one thing per letter that you like about December or the holiday season.
Write a description of a winter scene that includes sights and sounds such as crisp air, falling snow, kids playing in the snow, etc.
Create a summary of the past year. What has been good for, the downside and what can you learn from this to carry forward to next year.
Do you have any goals yet for next year? Write them out or start making a list.
What's your favorite color for winter and why? How does it make you feel?
Create a keepsake in your journal that you would love to pass on. Who and why do you want to pass it on?
Have you ever been in a horse-drawn sleigh in the winter? If not, who would you want to go with?
What's your best Christmas memory?
What gift would you give to the World if you could?
What gift-wrapping advice would you give to someone?
It's New Year's Eve, spend time reflecting on things that you can improve from last year. Write yourself a note to read again this time next year.