I have to admit that these Christmas Rose Cookies might be my favorite holiday creation of all time. They're so versatile and scrumptious. And they got me to go and purchase actually baking utensils. That's big for this, Diva!
The first time I attempted to make these they kicked my butt. My kitchen was a complete mess and there was dough EVERYWHERE! The kids and I did enjoy eating the filling and it pairs fairly well with my Duplin Rosé. The Lil Diva was adamant that we were going to try these again and perfect them. I'm so glad we did because they turned out yummy! Honestly – even the "failed" batch was delicious, they just weren't appealing to the eye at all.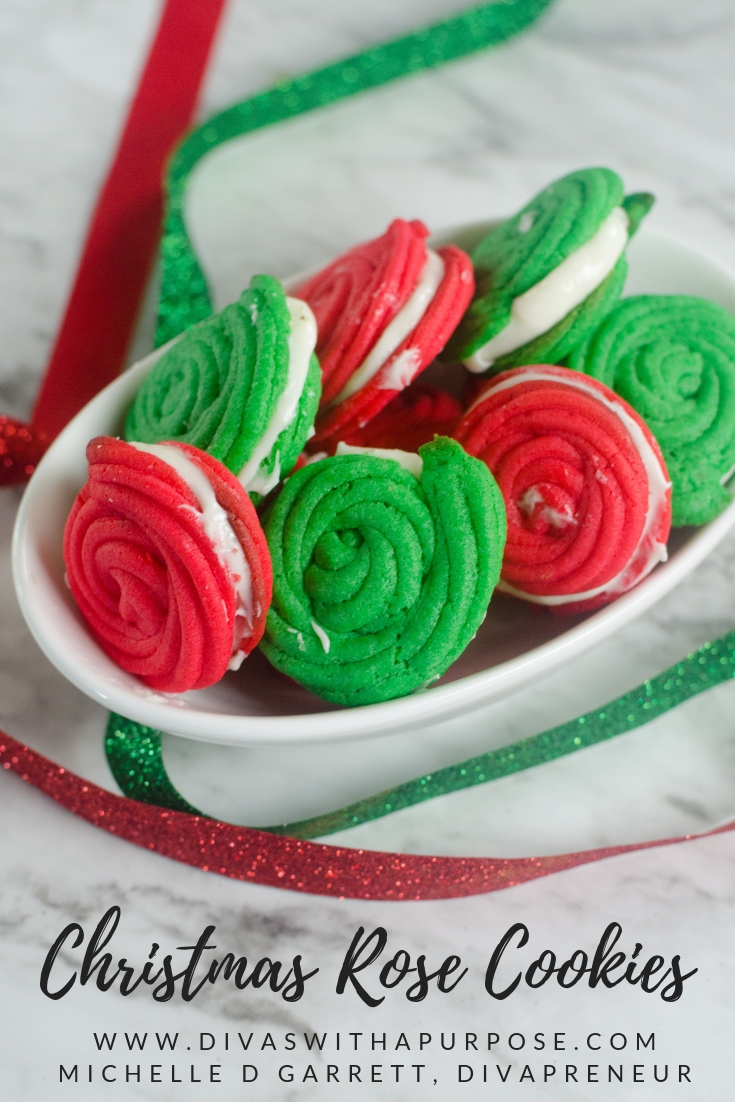 [Tweet "#NowReading: Christmas Rose Cookies #HousefulOfCookies"]
A few things we learned the hard way while making these:
Use a deep bowl to do your mixing. Trust me on this.
The dough is sticky and you have to be patient (not one of our virtues).
Use quality food coloring to get your desired color. Also, once you put it in the pastry bag, it will mix even more and adjust your coloring.
Don't taste the filling. You won't want to stop.
Here's the full list of participants in this year's Houseful of Cookies. Connect with us all on social media by following the hashtag #HousefulOfCookies on Twitter, Instagram and Facebook. I love that my friend, Natasha, does this every year! It's so much fun and pushes me to get out of my comfort zone with baking. I think I even impressed her this year when I mentioned the use of a pastry bag. Moments like those make me happy.
Holiday Rich Butter Cookies – Houseful Of Nicholes
Rolo Pretzel Cookies – Creating Really Awesome Fun Things
Best Chewy Chocolate Chip Cookies – Ashley & Co
Minty Holiday Cookies – Amy Ever After
Scottish Shortbread Christmas Cookie Wedges – Albion Gould
Loaded Oatmeal Raisin Cookies – This Worthey Life
Brown Sugar Shortbread – Eat Picks
Pretty Decorated Sugar Cookies – 100 Directions
Nutella Brownie Cookies – Big Green Pen
No Bake Cookies – Hysterical Mom
Norwegian Cookies – Kringla – Little Family Adventure
Cake Mix Christmas Cookies – Mom Generations
Christmas Rose Cookies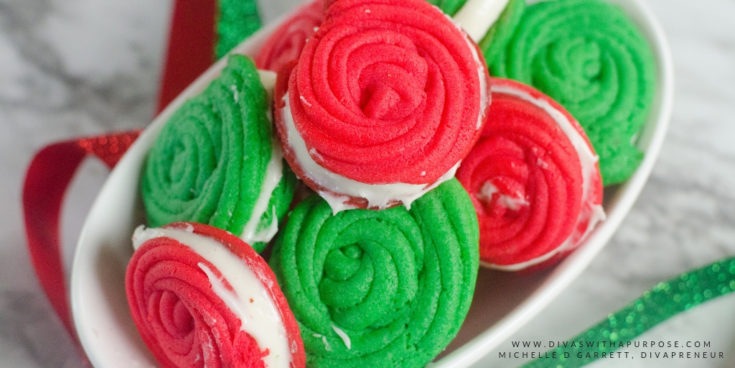 Ingredients
1 cup room temperature butter
1/2 cup sugar
1 egg
1 tablespoon vanilla extract
2 1/4 cups all-purpose flour
1/2 teaspoon salt
Red and Green Food Coloring
1 cup cream cheese (filling)
2 cups powdered sugar (filling)
Instructions
Heat oven to 400°F. Combine butter, sugar, egg and extract in mixer. Blend at medium speed until creamy. Add flour and salt; and blend at low speed until well mixed. Divide and dye dough per the colors you're looking to make.
Insert a Wilton 1M Pastry Tip into pastry bag. Fill your bag with cookie dough and pipe cookies on to parchment paper.
Bake for 6-10 minutes. They will remain the color on top. If you see browning they are definitely done.
For filling, mix cream cheese with powdered sugar and blend well. Add one tablespoon to one cookie and close with other side of the cookie.
You can fill these with jams, jellies, or whatever filling you would like.
Enjoy!
---