Do you have a business page and struggle with what to post each day? While building your community it is important to post engaging content consistently on your social media channels. Each month I share a social media calendar to get you started with engaging content to connect with your followers and build a community of supporters and customers.
When posting on social media, it is important to remember to:
be your authentic self
switch up your content type – images, quotes, etc
cross-promote what you share on your various platforms
focus on the social media platforms you are most comfortable using first
planning is good but in the moment shares is great!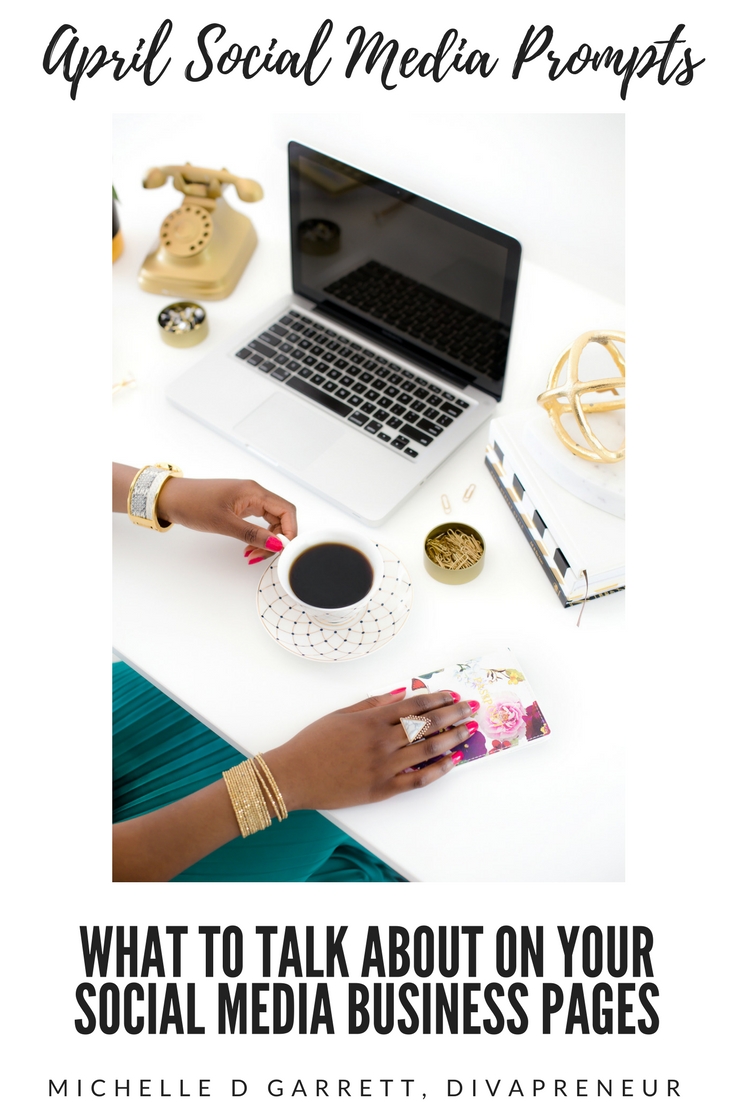 Below is a graphic you can save to for easy access or you can bookmark this article to refer to each day. The great thing about these prompts is that you can use them to post consistently on your social media channels – Instagram, Facebook, Twitter, Periscope, Snapchat, the list is endless. You can create images, live-streams and even quick video snippets to answer each prompt and encourage your followers to respond back to you with their answers or ideas.
How to engage and connect on social media #teach #inspire https://t.co/yToC2jZBxB https://t.co/ZdskVNCMYJ

— Michelle D Garrett (@Divatude) April 9, 2018
I would love to support you on social media – feel free to use the hashtag #MDGBizBoost so I can easily find your posts to like, comment, heart and share.
April 2018 Social Media Prompts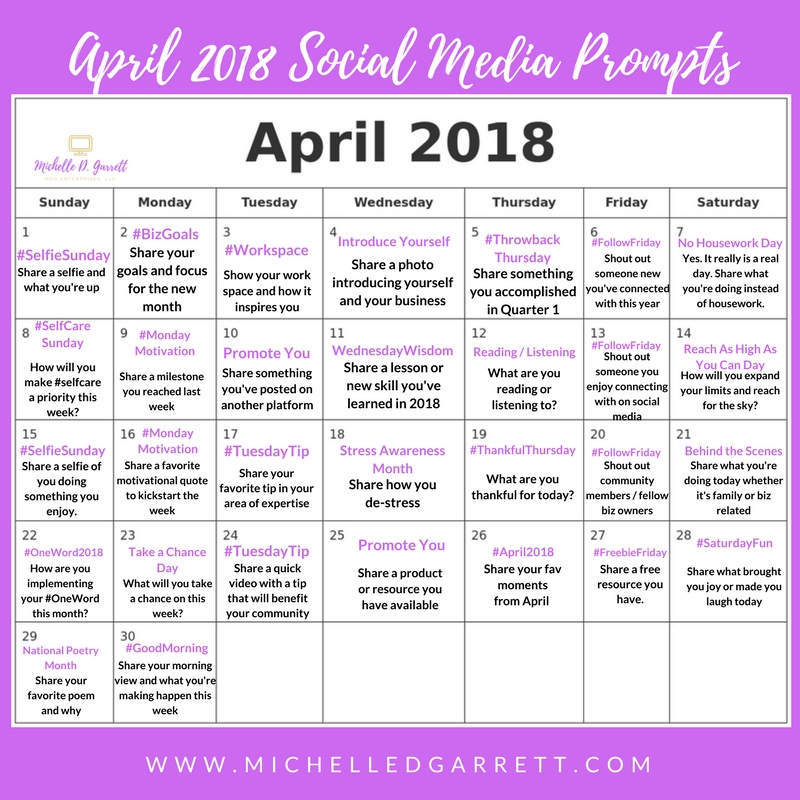 #SelfieSunday: Share a selfie and what you're up to today
#BizGoals: Share your goals and focus for the new month
#Workspace: Show your work space and how it inspires you
Introduce Yourself: Share a photo introducing yourself and your business
#ThrowbackThursday: Share something you accomplished in Quarter 1
#FollowFriday: Shout out someone new you have connected with this year
No Housework Day: Yes! It's a real day and it's TODAY. Share wha you are doing instead of housework
#SelfcareSunday: How will you self care a priority this week?
#MondayMotivation: Share a milestone you reached last week
Promote YOU: Share something you have posted on another platform
#WednesdayWisdom: Share a lesson or new skill you have learned in 2018
Reading / Listening: What are you reading or listening to?
#FollowFriday: Shout out someone you enjoy connecting with on social media
Reach As High As You Can Day: How will you expand your limits and reach for the sky?
#SelfieSunday: Share a selfie of you doing something you enjoy
#Monday Motivation: Share a favorite motivational quote to kickstart the week
#TuesdayTip: Share your favorite tip in your area of expertise
Stress Awareness Month: Share how you de-stress
#ThankfulThursday: What are you thankful for today?
#FollowFriday: Shout out community members and / or fellow business owners
Behind the Scenes: Share what you are doing today whether it is family or business-related
#OneWord2018: How are you incorporating your #OneWord this month?
Take a Chance Day: What will you take a chance on this week?
#TuesdayTip: Share a quick video with a tip that will benefit your community
Promote You: Share a product or resource that you have available
#April2018: Share your favorite moments from this month
#FreebieFriday: Share a free resource you have
#SaturdayFun: Share what brought you joy or made you laugh today
National Poetry Month: Share your favorite poem and why it speaks to you
#GoodMorning: Share your morning view and what you're making happen this week