April is designated as Autism Awareness Month here in the US – an opportunity to bring awareness and understanding to autism.  The Autism Society has been celebrating National Autism Awareness Month since the mid-1970s (I honestly did not know this!)
Autism Puzzle Piece Ribbon
The puzzle piece ribbon is the most widely recognized symbol of autism awareness. The puzzle pattern reflects the complexity and mystery of the autism spectrum.  The different colors and shapes represent the diversity of the people and families living with the condition.  The brightness of the pattern signifies hope that through increased awareness and through early intervention and appropriate treatments people with autism will lead fuller lives.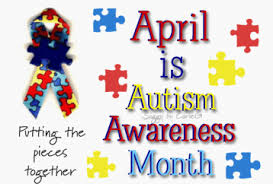 A friend and fellow blogger shared the following with the Divas With A Purpose community during our Thankful Thursday Facebook Event last week:
I've said it before and I'll say it again and again until I'm blue in the face. I'm thankful for AUTISM! It has changed my life in too many ways to name (good and bad). My eyes have opened and my heart has grown larger than I've ever imagined! – Benita, Our Autism Files
Her statement hit home and really touched me. Having a younger cousin that's been diagnosed with autism – I can definitely relate.  There are times when it can be frustrating to communicate with him, but there are those moments where he'll reach for your hand or come cuddle up with you and even though he cannot express the words verbally – the love comes shining through.  He's taught me (and my children) to be more patient and tolerant.
Whitney, over at Cafe Mocha Reflections and a participant in The Divatude Challenge 2013, shared her perspective on autism, how it's touched her family and what she's doing to support the cause this month.
Light it Up Blue on April 2nd
Each April 2, Autism Speaks celebrates Light It Up Blue along with the international autism community, in commemoration of the United Nations-sanctioned World Autism Awareness Day. Light It Up Blue is a unique global initiative that kicks-off Autism Awareness Month and helps raise awareness about autism. In honor of this historic day, many iconic landmarks, hotels, sporting venues, concert halls, museums, bridges and retail stores are among the hundreds of thousands of homes and communities that take part to Light It Up Blue.
Light it Up Blue on April 2nd wp.me/p39YQ0-s3 #LIUB #Bloggers share your posts, connect, support, spread awareness

— Michelle (@Divatude) April 2, 2013
Power in Unity – Share Your Autism Awareness Posts and Support One Another