Brrrr … there's definitely a chill in the air! The perfect time to start putting together your family's winter bucket list! As the days get shorter and the holiday spirit starts to shine through, it's the perfect time to focus on simple activities your family can do together. . Enjoying time with loved ones is the key to a perfect winter.
Disclosure: This sponsored article includes affiliate links.
Winter Bucket List Activities
Each season my children and I make it a goal to create a bucket list of activities to complete. Winter sometimes challenges us because – it's cold, y'all! Our Southern blood doesn't fare well with outdoor activities and cold weather. However, we do find things that will get us out of the house, moving our bodies and spending quality time together.
Read stories by the fire.
Have a "No Screen Time" Day
Pajama Day!
Go ice-skating
Bake

Christmas cookies

together
Drink homemade hot chocolate together
Or you can make homemade chocolate bombs!
Make a blanket fort
Do a random act of kindness
Build a snowman
Make S'mores
Bundle up
Make paper snowflakes
Camp out in the family room
Have a picnic by the Christmas tree
Go sledding
Make peppermint bark
Wear slippers all day
Listen to

holiday tunes

Drive around and look at Christmas lights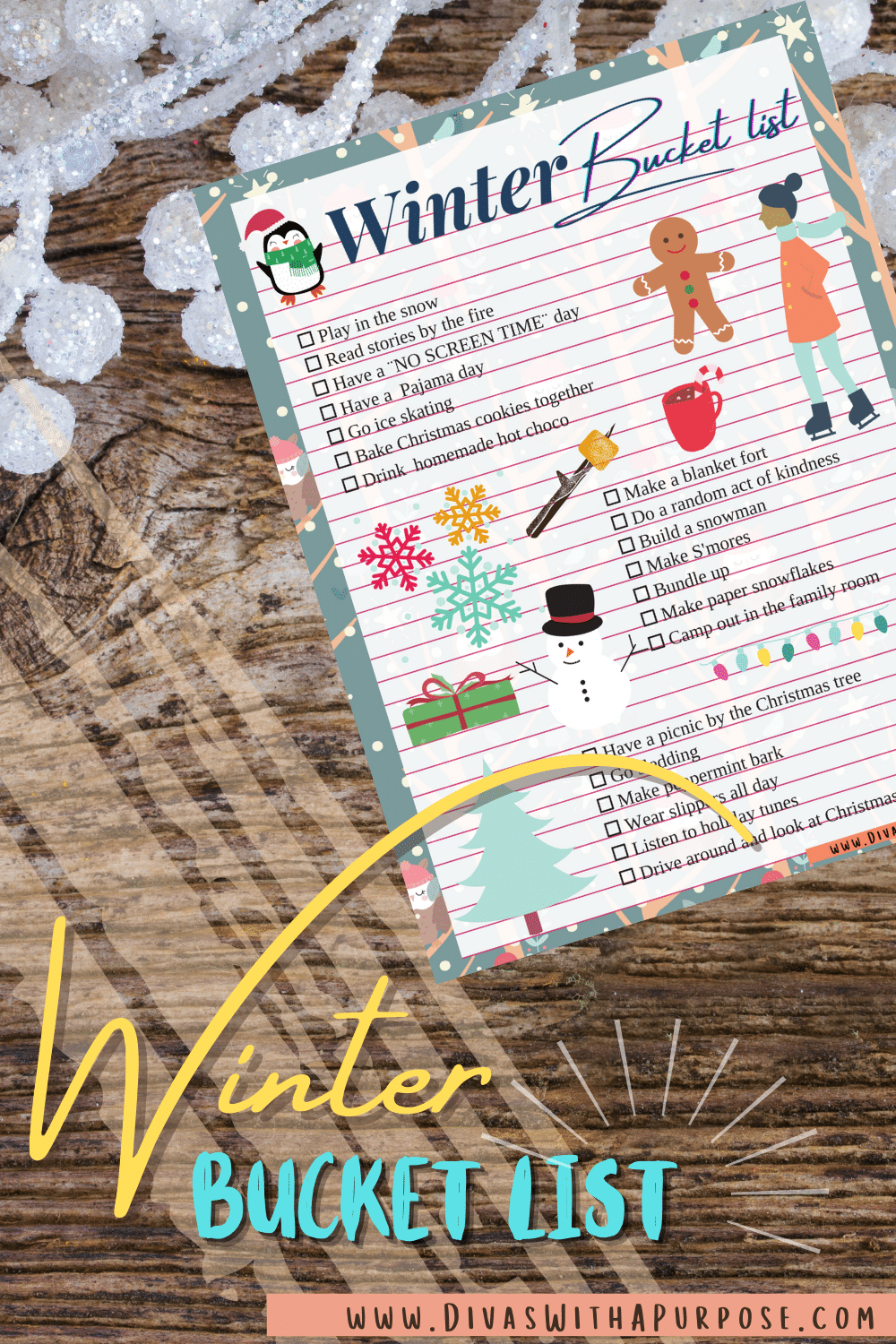 More Winter Bucket List Ideas
Surprise a neighbor or loved one with a basket of winter goodies.
Decorate a tree in your yard (or the woods) with edible goodies for the wildlife.
Tackle a giant puzzle together.
Create some brightly colored friendship rocks to leave in a public place and brighten someone's day.
Create a family holiday card to send out to loved ones. Let every family member choose a photo and/or special updates to include.
Ask everyone in your family to share one thing they'd like for the family to accomplish together in the coming year. Write down everyone's ideas and display them where everyone can see them. Work together as a family to accomplish them all.
Make Candy Cane Dust. YUM! Simply crush up your remaining candy canes and store them to use as ice cream toppings, to add to cake batter, top sweet treats and more.
On a below freezing day, go bubble blowing. Simply mix 3 cups water, 1 cup dish soap and a 1/2 cup light corn syrup and blow. Watch as they freeze!
Celebrate Winnie the Pooh Day on January 18th.