Each December thanks to my friend Natasha's Virtual Cookie Hop, my kiddos and I try a new cookie recipe. This year we tried a childhood favorite of mine – chewy gingersnap cookies! These brought back memories of milk and cookies during my preschool days. We would have scrumptious homemade cookies on special days from our director. 30+ years later and I still remember those yummy cookies.
Gingersnap Cookies Recipe
Yield: 4 dozen
Chewy Gingersnap Cookies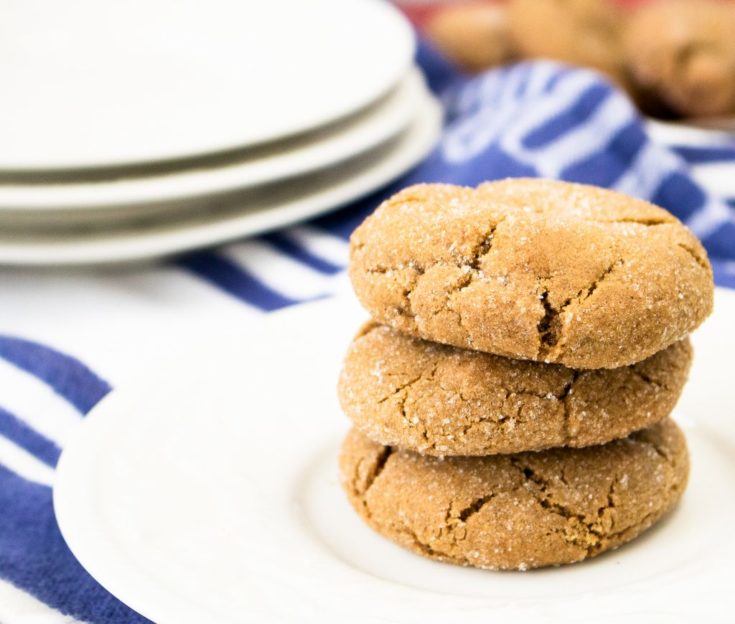 A yummy recipe from my childhood. These chewy gingersnap cookies are scrumptious!
Ingredients
½ c. unsalted butter, room temperature
1 c. vegetable shortening
1 c. brown sugar, packed
1 c. granulated sugar, divided
½ c. molasses
2 large eggs, room temperature
4½ c. all-purpose flour
2 T. ground ginger
2 t. baking soda
2 t. ground cinnamon
1 t. ground cloves
½ t. salt
Instructions
Cream the butter, shortening, brown sugar, and ½ cup granulated sugar in a large mixing bowl with a hand-held mixer.
Mix in the molasses, and then add the eggs and mix to combine.
In a separate large bowl, combine the flour, baking soda, and spices. Add dry ingredients to the wet ingredients and mix until thoroughly incorporated. Transfer the dough to the refrigerator and chill for one hour.
While the dough is chilling, place top oven rack in center position and pre-heat oven to 375°F. Line two large rimmed baking sheets with parchment paper or a Silpat® baking mat and set aside.
Remove dough from refrigerator and form into 1-inch balls. Roll balls of dough in remaining ½ cup granulated sugar until coated.
Place balls of dough onto the prepared baking sheets, leaving 2 inches between each ball. Place in the pre-heated oven and bake for 8 - 11 minutes or until cookies are nicely browned and cooked through.
Remove cookies from oven and cool on wire rack before serving. Enjoy!
What is Houseful Of Cookies?
Houseful of Cookies is an annual, virtual cookie hop, hosted by Natasha Nicholes of Houseful of Nicholes. She really likes playing on the "Houseful" theme when there is more than one of something, and since there's more than one cookie…here we are. Each year, she gathers a bunch of us from the internet to bake up our epic cookie creations and share them with all of you! It's a fun time! We've all07 dealt with butter, flour, and various flavorings to bring you our goodies each year. This year, we present to you, our cookie hop.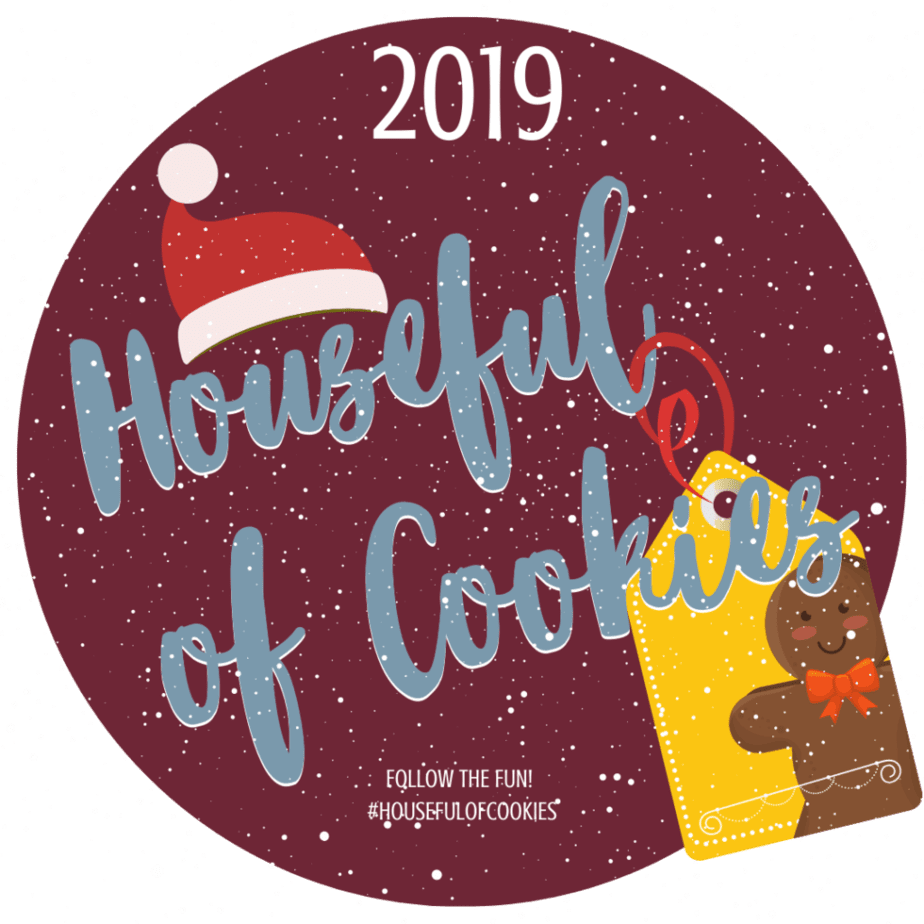 Houseful Of Cookies Participants
Brownie Cookies – Houseful of Nicholes
Chocolate Rolo Surprise Cookies – Good Girl Gone Redneck
The Perfect Christmas Sugar Cookies – Love, Jaime
Cake Mix Santa Cookies – Dairy Carrie
Candy Cane Cookies – Brooklyn Active Mama
Chocolate Dipped Peppermint Shortbread Cookies – Honest & Truly
Decorated Ugly Sweater Cookies – 1000 Directions
Mickey Christmas Headband Cookies – Cutefetti
Birds Nest Cookies – My Crafty Life
Cranberry White Chocolate Chip Cookies – Kenya Rae
Gluten-Free Russian Tea Cakes – Day by Day in Our World
Not His Mamma's Tassies – Heather Spins a Yarn
Molded Peanut Butter Cookies – This Mamas Life
Not Your Mama's Milk & Cookies – Life of a Ginger
Peanut Butter Marshmallow Chocolate Chunk Cookies – Mama Harris' Kitchen
Coffee Sandwich Cookies with Browned Buttercream Filling – How Was Your Day?
Butterscotch Cornflake Cookies – Omadarling
Coffee Cookies – Someday I'll Learn
Toffee Bits Cookies – This Worthey Life
Fruitcake Cookies – Sugar, Spice, & Glitter
Keto Almond Joy Cookies – The Crunchy Mommy