Yep! There's an app for that.
Charity Miles is an app that can easily be downloaded to your iPhone or Android phone.  Every time you exercise – walk, run or bicycle – you can donate money to a well-deserving charity. How easy is that?
Throughout the month of February, Charity Miles is partnering with the United Nations Foundation to encourage people to help raise $10k by downloading the app and participating in their virtual #VDay10k by either walking, running or bicycling.  You can donate your miles to help:
children who need life-saving vaccinations through Shot@Life

teenage girls in developing countries access education safely through GirlUp
families get access to nets to fight malaria through Nothing But Nets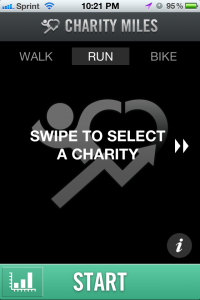 Download for the iPhone:
https://itunes.apple.com/us/app/charity-miles/id505253234?mt=8
Download for Android:
https://play.google.com/store/apps/details?id=com.charitymiles.android

I wrote this post as part of The Global Team of 200, a highly specialized group of members of Mom Bloggers for Social Good that concentrates on issues involving women and girls, children, world hunger and maternal health.
Our Motto: Individually we are all powerful. Together we can change the world. We believe in the power of collective action to help others and believe in ourselves to make this world a better place for our children and the world's children.
Follow along with us here on Tumblr, on Twitter, Pinterest, and Facebook for the latest Global Team of 200 news.