Disclosure: I received a free copy of Truths Not Spoken by Pamela T. Starr to read and review through iRead Book Tours.
I'll be honest. The way my life is set up – it's been a long time since I sat and read something that was not business or personal development related. Truths Not Spoken by Pamela T. Starr was a welcome change and gave me the opportunity to lose myself in the lives of fictional characters. With all the craziness around us these days being able to temporarily escape within the pages of a good(and quick) read is necessary and needed.
I was drawn to this book because the main character, Laura Walters, is a strong and independent female entrepreneur (or Divapreneur, as we call ourselves around here). I can, also, relate to the inner turmoil a single mother goes through when faced with child custody-related issues. Laura is raising her daughter, has a successful company, and has a fantastic bestie (yay for the Diva Time we all need!) when her life gets turned all topsy-turvy.
Enter the drama. Lies, even ones with well-intentions, have a way of unraveling and wreaking havoc. Laura finds this out when she has to confront a decision she made when her daughter was first born and she signed a contract vowing to never reveal who her father was.
While many turn to reality television, I am drawn to novels that give me a little edge, drama and then everything is for the most part tied up into a neat little bow where everyone lives happily ever after.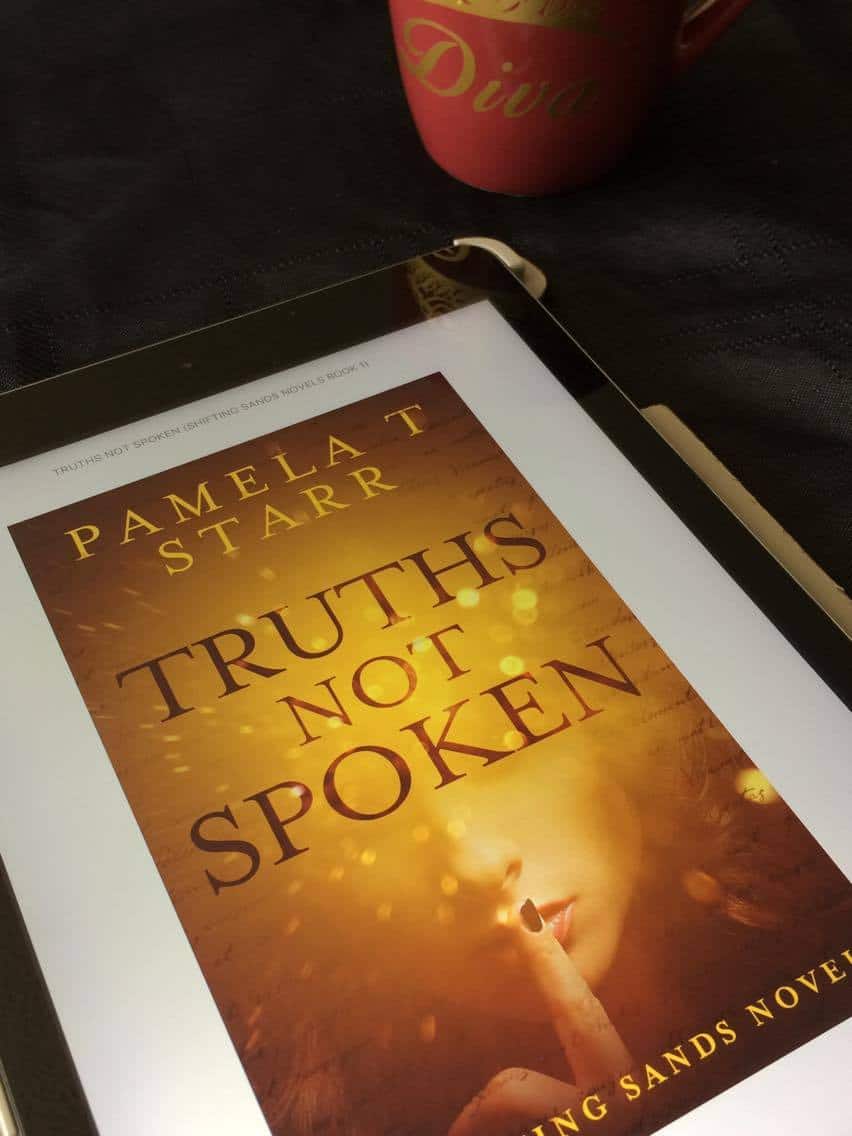 I really enjoyed reading Truths Not Spoken and look forward to reading the other books in this series. Congratulations to the author on her debut novel! We celebrate you and this amazing accomplishment.
Related Article: Need More Control? Write a novel. Guest post by author Pamela T. Starr
Synopsis of Truths Not Spoken
Single mother Laura Walters had her life under control. She had a jewelry business, a generous best friend and a careful watch on her nine-year-old daughter, Emily. Then, Emily is seen on national television with Vic, the man who could tear their world apart. With one thirty second news clip, Laurel's life turns into a tailspin. The paparazzi chase her. Two men from her past want her: Vic is a former lover. Kyle a former friend. They both know her secret, and either one could ruin the careful life Laurel built for herself and Emily.
Faced with no other option, Laurel turns to Kyle to protect her and her life with Emily. But just as Laurel and Kyle are beginning to trust each other, they learn of shocking betrayals they each have been hiding. Some secrets are made to be broken. Some secrets never should be. But how does Laurel learn which ones are which? Truths Not Spoken is the debut novel by promising new author Pamela T. Starr. It is a must-read for every woman who balances her dreams of love with a man with the needs of her child. Truths Not Spoken shows readers that yes, dreams can come true.
Buy the Book: Amazon
About Pamela T. Starr
Pamela T. Starr has been recognized as an outstanding new author with a promising future. Truths Not Spoken is the first in her Shifting Sands series, all set in her home state of Florida.
An accomplished trainer and public speaker, Pamela has motivated more than 60,000 people at live presentations and workshops. She has also logged more than 30 hours of live national television appearances.
Pamela is inspired by the two men in her life. The one she mothers is still young enough to be excited by life and the many opportunities he discovers. The one who is her life-long partner is old enough to know that life is an adventure and he embraces it every day.
Connect with the author:  Website  ~  Twitter  ~  Facebook    
Giveaway
Win a grand prize A Year of Novels" A collection of twelve novels by best selling writers, plus a signed copy of Truths Not Spoken by Pamela T. Starr (1 winner, USA only)
---