I received The Thread That Binds by Alice Hayes through iRead Book Tours. As always, all opinions shared are my own.
At first I was apprehensive about reading The Thread That Binds because it dealt with new mothers and that stage is way behind me. However, the story of five women forming a bond of friendship won me over and I was quickly engrossed in their lives. Sherice, Sylvie, Joanne, Payton, and Gloria at first glance have little in common – except personal turmoils and being new (or expecting) mothers. That alone is enough to bridge the gap and form lifetime friendships.
I love how the friendships starts with a simple act of kindness on Sherice's part. You never know when one small gesture will be the major shift needed in your life and others.
While you may not agree with the choices these women made in life, their individual and collective stories of facing their issues, overcoming and the life lessons they learn along the way has you encouraging and cheering them along. It was hard to pick a "favorite" character because they each contribute so much to the overall story line.
This is definitely one of those novels you start reading and do not want to put it down until it's finished. I am glad that I decided to read The Thread That Binds – it was a fantastic read!
About The Author: Alice Hayes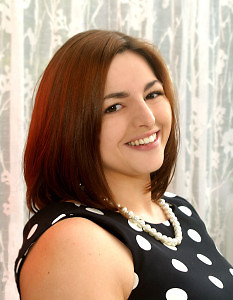 Originally from Winchester, England, Alice's plans to read law at a British university were disrupted when she fell deeply in love with Georgia, USA, while studying abroad. After moving all over Georgia, Alice has finally settled in Athens and has no plans to go anywhere else.
She is a single mother to a three-year-old girl and a 65 lb hound dog. She likes coffee, wine, and anything edible with the words 'salted caramel' in its description.
At the time of publication, Alice is a 24-year-old history student working full time in a law office, and writing fiction at every stolen moment. She hasn't slept in approximately two years.
Connect with Alice:  Website   Twitter
Make sure you read Alice's I Am A Diva With A Purpose Guest Post
Synopsis of The Thread That Binds
Sherice is a new mother, a sonographer, quilter, and wife; an overworked young woman whose elderly mother is slipping away from her.
Sylvie is a newlywed and recent immigrant, unemployed and virtually penniless. Her husband's paycheck can't even cover prenatal care, let alone a baby, and her due date is only drawing nearer…
Joanne's unconventional pregnancy turns her world upside down, redefining her career and relationships, and even bringing to the surface long-buried demons from her past.
Payton is seventeen, pregnant, and on the run. She flees to her uncle in Georgia with the hope of making a fresh start, but discovers making it on her own is harder than she could ever have imagined.
Gloria is trapped in an unhappy marriage; in love with someone else. Her life is falling apart. With a baby on the way, would it be selfish to flee?
Five women, once strangers, form bonds. Set in modern day Georgia, this is the story of friendship that blossoms in the land of country music, sweet tea, and secrets kept locked tight behind closed doors. Moving, funny, and at times heartbreaking, The Thread That Binds is a lesson in empathy, strength, and the beauty of love.
Purchase The Thread That Binds:  Amazon  
---


You can read others thoughts and views on The Thread That Binds by Alice Hayes on the iRead Book Tours website and enter to win 1 of 5 copies of The Thread That Binds. (Giveaway ends on December 18th)