Happy August Divas! Today officially kicks off my blogaversary month! I, honestly, cannot believe it's been 4 years of writing, connecting and embracing the divatude here at Divas With A Purpose. I'm so thankful for DWP: the people I've crossed paths with, the bloggers who have become friends, mentors and cheerleaders, the readers who have supported and helped shaped Divas With A Purpose to what it is and is growing to become.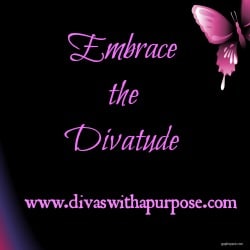 Throughout the month, some awesome bloggers will be sharing their views on "Embracing the Divatude". I'm so thankful for these wonderful women. The blogging community is filled with some true Divas and I'm grateful to have them a part of my circle!
I encourage you all to reflect on your own personal "divatude" and how you're implementing it in your daily walk. What drives you? Motivates you to push forward, be better, do better? What/who inspires you? Are you walking a walk that will inspire others? Are you walking in victory? Life can be hard at times – do you let those moments of defeat define who and what you are? And, finally, are you called to action? Words and thoughts are great – but what are you doing to make a difference in your life and others?
This week I'm thankful for:
my wonderful circle of girlfriends! We had a family BBQ this weekend and it was great to relax and spend time with our families.

working for a company that truly embraces and respects work-life balance
having my kiddos back from their week at my parents. The break was great for us all, but our house just isn't the same without them around.
leftovers!
Looking forward to reading your gratitude posts this week and see what's on your list!
[inlinkz_linkup id=301415]