This week I'm thankful for growth – both personally and professionally. Sometimes we don't understand the growth. Sometimes we don't even want the growth – but as with life, when it happens we don't have any control over it.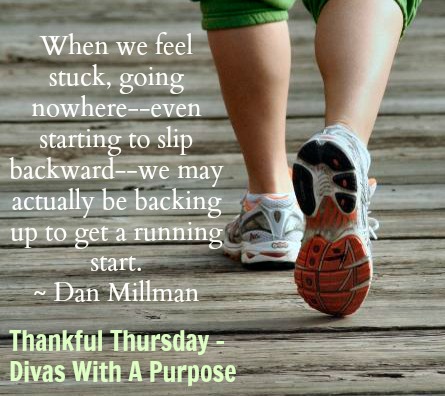 I'm a glass is half-full type of diva and learning to accept those that don't have that mindset.
At the beginning of this year I started my Focus on Divatude – it was supposed (ahem!) to be a weekly check-in and then it became a monthly check-in and well…..
I'm learning that I need that accountability to maintain my focus and growth. I'm willing and able to step back and admit that I slacked off. "Life happens" is often my response. I'm learning that response is my cop-out and while life happens it's my responsibility how I react to the circumstances.
My immediate plan of attack:
begin reading more – not for fun but books and articles that will help me with the specific growth that I'm working on (business, networking, and budgeting)

begin doing my Focus on Divatude posts again on a weekly basis (this encompasses goal check-ins and supporting others).
become more self-disciplined and organized (this is a process but I need to own it and focus on it to improve it)
What are you thankful for this week?
What ways do you show your gratitude regularly?
Bloggers, feel free to link-up your gratitude posts and connect with others this week.
This week I'm linking up with and supporting: There's Just One Mommy's Thankful Thursday, Self Sagacity's Thursday Two Question, The Fontenot Four: Thankful Thursday, Black Tag Diaries' Thankful Thursday