I find comfort in some routines. I'm very thankful for family traditions – old ones and ones I'm creating with my own family.  I love knowing that there are certain traditions and practices within my family that I can count on occurring regularly.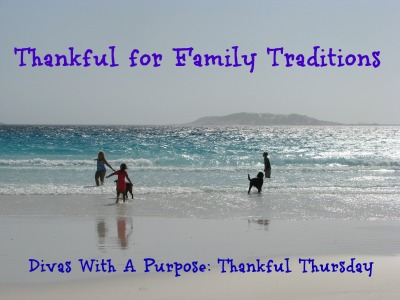 Family traditions help to reinforce a sense of belonging and help family members share a common bond, memory.
To this day, even though my sisters and I do not speak regularly – we all respectively take our children out on Christmas Eve to see lights in neighborhoods, come home for hot cocoa, and then let our kids open one Christmas gift before they go to bed. Why? Because it's the Christmas Eve that we had growing up – we find comfort in it and enjoy sharing and passing those memories down to our children.
Creating Your Own Family Traditions
As your family grows and branches out, you may want to create your own family traditions to share with your children.
Speak with your spouse and see what family traditions they remember from their childhood. The two of you may be able to combine one from each of your families to reflect your new blended family or continue a family tradition that already exists (like my sisters and I do with Christmas Eve).
Speak with others and see what they do. Look at families with strong ties and bonds that you admire.
Traditions have several purposes within our lives – to teach values and principles that you want your children to embrace; to strengthen the family bond; some are for pure entertainment and others may be a combination of all or some of the others.  Look at what you're already doing and see if there's something you can make a routine that already fills these roles.
Remember to follow-through. A tradition is a routine and one your children will look back on fondly for years to come.
What family traditions does your family embrace?
What are you thankful for this week?
Each Thursday on Divas With A Purpose, we pause to reflect on what we're thankful for. Gratitude is a huge part of my life. A few years ago I made a conscious decision to reflect more on what I had versus what I did not have – since then I've seen a considerable positive change in my attitude and demeanor even in stressful situations.
I encourage my supporters to take a moment to think about what they have to be thankful for. Feel free to share below in the comments – you never know how you'll inspire and motivate someone else.
Make sure to join us on Mondays when we share our Making A Happy Home Moments.
Happy Thursday, Divas!
[inlinkz_linkup id=306345]