Hi Divas! Today we're discussing surviving cold and flu season and I must say thank you to Influenster.com for providing a product free of charge that my family will get plenty of use out of. I did not receive any financial compensation to write this blog post, but wanted to share my thoughts, opinions and wellness tips.
Mom's all over can relate to this question when it comes to surviving cold and flu season:
What's worse than a sick child?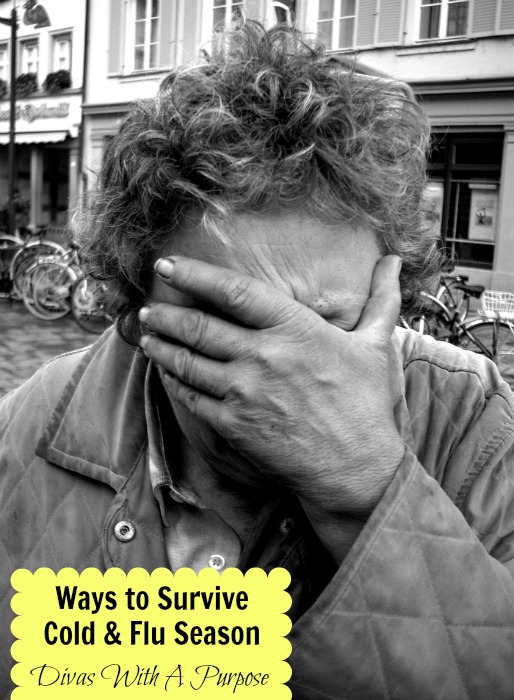 Yep, you guessed it. A sick husband.
[Tweet "#NowReading: Surviving Cold and Flu Season"]
Seriously, the men our lives often put so much into all those manly things they do, but when they get hit with a cold or the flu they quickly remember why they have such loving, nurturing beings like us in their lives.
My husband got hit with a bug a few weeks ago and he was down for the count for a few days.  Besides forcing him to drink plenty of liquids, get rest and just be still – having to monitor his temperature was a breeze with Braun's Forehead Thermometer.
Using a forehead thermometer can be a little tricky at first.  The thermometer has to be swiped across the forehead. I like that depending on the temperature, the screen changes colors. This comes in very handy when taking someone's temperature and not wanting to turn on bright lights. I was able to quickly take my husband's temperature when needed without disturbing his rest or waiting for minutes for a reading.
Tips for Surviving Cold and Flu Season
Many of these are just simple reminders on how we can do our best to stay healthy this time of year:
Wash your hands regularly. It goes without saying that we touch so many different things throughout the day and regularly come in contact with different viruses on our hands and fingertips.  Touch your hands or rub your eyes and it is sniffle city for you.
Discuss with your doctor whether a flu shot is right for you and your family. For some it's necessary and for others not so much. Your doctor would be the best to help you with making an informed decision. My oldest son was a preemie and went to a traditional daycare with children six weeks to school age so getting a flu shot was a definite. My daughter was full-term and is in a in-home daycare with only five other children – for her we decided it was not so necessary.
Stock your medicine cabinet: pain relievers, decongestants, tissues, soap, hand sanitizer, disinfectants, and a good thermometer are top on my list.
Skip the antibiotics. Colds and the flu are caused by viruses – which antibiotics have no effect on.  Taking antibiotics unnecessarily can make you resistant to them.  Meaning when do you need them for an infection, your body has built up a tolerance to them.
Sick? Stay home, please! If you're sick (and especially if you have a fever) do your co-workers, friends and others a favor by staying home, resting and not spreading the virus to others.
Increase your fluid intake (water, sports drinks, herbal teas and broth are best) to help drain sinuses and relieve stuffy noses.
 What are your tips and helpful hints for surviving cold & flu season?
Disclosure, I received the Braun Forehead Thermometer complimentary from Influenster for testing purposes.