Disclaimer: This article on home office essentials contains information on a product I received for free in exchange for sharing my thoughts and opinions about it with my community.
When setting up your work from home office, whether full or part-time, there are a few home office essentials you should have. If we are connected on Instagram, you may have seen that I am in the process of reorganizing and setting up a new space in my home. During the move there were a few items I realized were must haves for me and my productivity.
Home Office Essentials
A Desk: Your desk does not have to be anything fancy. It can be a lap desk, a small table in the corner or even a small folding table (yep, that's what I use).
Door: With a lock, if possible. If your children are anything like mine, a closed door means "let's go ask Mommy every question possible in the world" – even if I let them know "Do Not Disturb". Having a closed door that's locked makes a big difference in your home office. Finding a space that is in an area with a door is great. Don't have an area there? It's okay. Just be stern about how necessary it is that you are not disturbed when you are in your space. Put headphones on, if necessary.
Surge Protector: From experience, if you have electronics plugged up – use a surge protector. Especially for your computers and laptops.
Lamp: Having great lighting is essential. Especially if you are working on an electronic device – we have to protect our eyes, Divas! I was recently sent the BenQ e-Reading LED Desk Lamp (the world's first desk lamp for monitors) to review.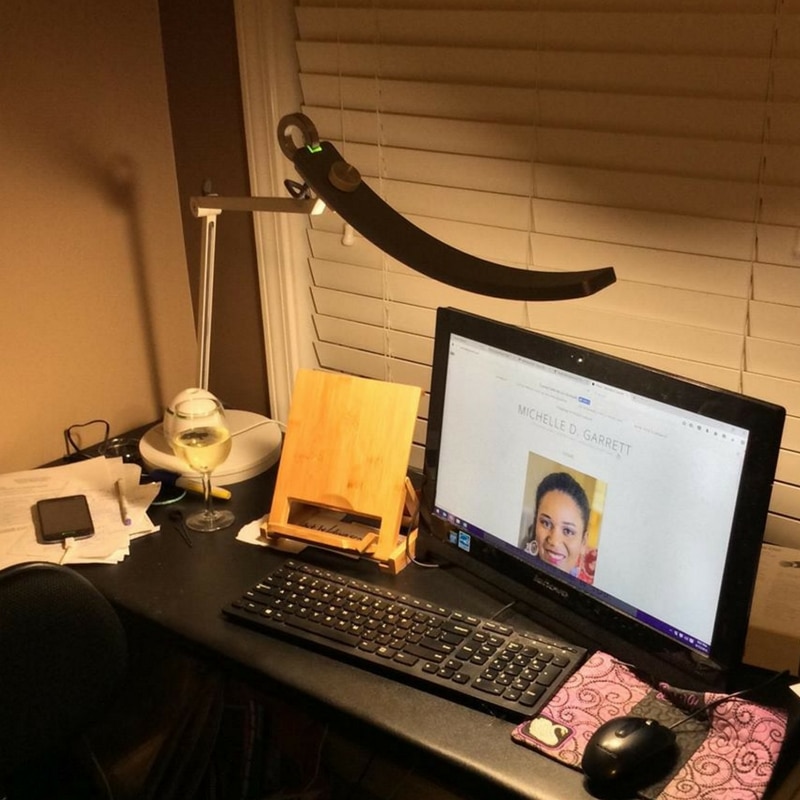 I'll be honest. I was apprehensive about the need for (desire to have) a $300 lamp. Still, my initial thoughts were still – It's a lamp. I could continue to use the desk one I've had for a gazillion years, right? Oh. My. Goodness. A little back story. I have horrendous sight. I've worn glasses since I was 4. This lighting made such a difference immediately. I could tell the difference in the brightness and it was not a harsh overbearing light. The area that it covers is amazing. I have a fairly large computer screen and the entire screen is illuminated. Super easy to take out the box and use (one simple screw). You can tell it's durable and sturdy and does not take up a lot of space in my work area. The large base allows me to use it to place other items, like a storage container or charger. When pricing other quality lamps, the price point was similar and when you take into consideration the length of time the bulb lasts – that's a huge savings, as well. All-in-all – I am very pleased!
Vision Board, Motivational Quotes, and Wall Calendar: Surround yourself with positive uplifting words and images. It makes a huge difference in your productivity and effectiveness within your work.
(Bonus) Essential Oil Diffuser: I love diffusing peppermint or sweet orange in my work space. It gives me much-needed pick-me-ups and helps me to be more focused and energized when it is time to get work.
I'd love to know – what are your home office essentials to ensure you are productive?