Disclosure: This article on easy ways to spoil yourself this week is a sponsored post on behalf of Groupon Coupons. All opinions, as always, are mine.
A few months ago I asked the question "Are you as bad as I am when it comes to setting aside time to spoil yourself?" and gave a list of 5 simple ways we could spoil ourselves that day – no excuses, no planning necessary – just do it. The response I received on social media and via email was overwhelming. This is something that so many women still struggle with doing on a regular basis.
[Tweet "#NowReading: 5 Inexpensive Easy Ways To Spoil Yourself This Week (AD)"]
As we culminate our Back To You Challenge, I wanted to share 5 more inexpensive and easy ways to spoil yourself this week and remind you how important and essential it is to take care of yourself on a regular basis. It is okay to treat yourself to something nice on a regular basis and you do so in an affordable way.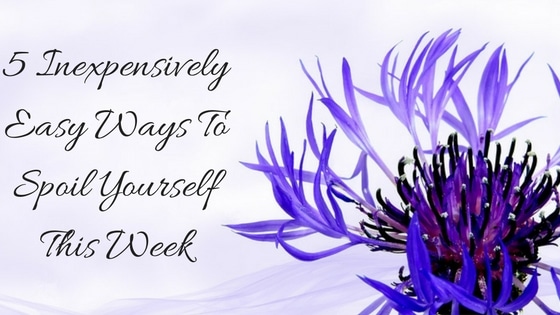 5 Affordable Ways to Spoil Yourself this Week
1 – Buy yourself fresh flowers and display them somewhere prominently in your home or work space.
2 – Take time off (or an extended lunch break) during the day and take in a matinee or have lunch at your favorite restaurant. Convince a girlfriend or two to join you and make it a mini Girls Day Out!
3 – One of my favorites is to search for local deals and specials on websites like Groupon. You can use Health, Beauty & Wellness Groupons to treat yourself to affordable pampering services like a massage, manicure or pedicure – or all three! A simple browse through their website will connect you with local small businesses you can support to get some well-deserved "you time"!
4 – Go to your favorite coffee shop, indulge in your favorite beverage AND a sweet treat. While you're there spend time people watching or take the time to write in your gratitude journal.
5 – Buy a new bottle of wine and fancy cheese and crackers. Lay out a fancy spread at home and enjoy! Bonus points – invite a friend over to have some just because time.
Spoiling yourself – especially if you are on a budget – may not always seem like the easiest and simplest thing to do, but you are worth it and deserve it!