I was so excited when I found this recipe for a pot roast that I wanted to share it with everyone. It's easy to make, and it tastes great.
This simple pot roast recipe is courtesy of my godmother and may have saved my marriage in the early stages. She is definitely a God-send. When my husband and I first moved to South Carolina at the beginning of our marriage, the adjustment was not easy. It was our first time living together, and two very independent souls meshing together kept things very… interesting. Add in his combat-related post-traumatic stress disorder, and oh boy!

What they didn't tell me before "I do"
One of the biggest differences we had, when it came to food, was seasonings. Louisiana born-and-bred, he preferred everything to include cajun seasoning. My heartburn (especially once I was pregnant with our youngest son) could not take it. Also, if you're not a fan of spicy foods, cooking is not the easiest thing to do.
I had been a single mother at this point for almost six years and had a career with a demanding work schedule. My son and I often ate on the go or at the restaurant at my place of employment. The meals we did cook at home were very basic, as we are both picky eaters. (I own it, y'all, I do!)
Cooking for a family was a struggle for me
And honestly, I never was interested in cooking. As a nurse, my mother worked the night shift, so she was typically home and able to prepare our meals. Thinking back, I was never actually taught to cook. I was responsible for eating, complimenting the chef and making sure the kitchen was clean.
Suffice it to say, preparing dinner as a newlywed gave me lots of anxiety, so I just stopped doing it. To cancel out the complaints or blatant attempts to re-season what I cooked, I prepared… nothing. I'm not saying it was the right way to handle the situation, but my husband quickly realized he needed to pick his battles carefully, because my defense mechanism was to shut down.
Wise words from someone who understood
Enter my Auntie. She sent me an email one day with some encouraging words and provided some super simple recipes that worked for her husband – whose demeanor and upbringing was very similar to my husband's. She encouraged me to view cooking differently and as an act of love for my family versus a necessary task.
This pot roast was the first recipe I made with my new attitude. He loved it. I was shocked. As I prepared more meals with love, I noticed that the arguments over what was prepared diminished. We both learned to be open to other cooking styles and to be more considerate of the other's preferences.
12 years later, I still have the recipes she sent in a filing box. Over the years, I have added more from some of my favorite blogs, magazines, television shows I have watched, and even a few I have created myself. When my oldest son took on some cooking duties, he could use many of these recipes as a guide for his meals. My husband and I were also more intentional about including our children in the preparation of meals, so they could be more comfortable in the kitchen at an early age.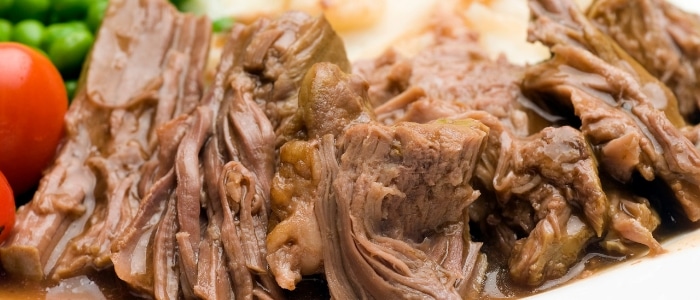 Simple Pot Roast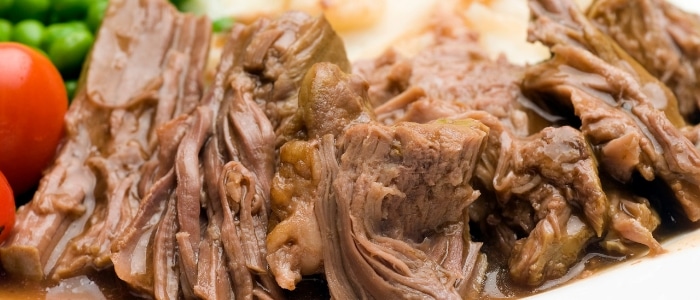 A scrumptious and simple pot roast recipe made in your slow cooker.
Total Time
6 hours
15 minutes
Ingredients
Roast
Salt and pepper
White Potatoes
Carrots
Diced onions
1 can cream of mushroom soup and equal parts water
Instructions
Empty cream of mushroom soup and equal parts water into your slow cooker.
Season your roast as desired with salt and pepper. (Over the years I've added seasoned salt or kosher salt (instead of regular salt), garlic salt and/or onion salt, as well). Add it to your slow cooker.
Drop-in carrots, potatoes and onions diced as you desire.
Cook on low for 6 hours or high for 4 hours.
If you desire a thicker gravy: Mix 2-3 tsp cornstarch with just enough cold water to make a smooth paste, pour into the slow cooker sauce and continue cooking for a further 10-15 minutes or until sauce thickens.
Recommended Products
As an Amazon Associate and member of other affiliate programs, I earn from qualifying purchases.
---
Linked up at Homestead Blog Hop