I participated in an Influencer Activation on behalf of Influence Central for Lionsgate. I received a promotional item to thank me for my participation.
Shaun The Sheep Movie:
Our Next Family Date Night
Like most family's ours seems to be constantly on the go. This summer has been especially crazy for us, but we're looking forward to slowing down over the next few weeks and getting back into our school schedule mode.
Before we do that and to celebrate the return of my oldest son from his summer vacation we are planning a family date night. We strive to have a family date night on a bi-monthly basis. While we don't always do costly activities (have you taken a family of 5 to the movies lately?), my younger two children are very excited about the upcoming release of the Shaun the Sheep Movie on August 5th (earlier than the anticipated August 7th date!).
Shaun the Sheep Movie is geared for ages 4 – 10. My (soon-to-be) 14 year old was outvoted on movie choices but I believe the Claymation will win him over. From the previews we've seen, the movie is full of rich textures that his artistic mind will love!
The story line already has my younger two excited to see the Shaun the Sheep Movie and what's not to love about adorable characters getting into mischief while having fun together as friends? (Reminds me a lot of my 3 little ones and the fun they have together!) Shaun and his friends decide they need a day off and a series of mix-ups lands them in the Big City. As they are working to get back to the farm examples of teamwork and leadership are being taught at the same time.
With a run time of 84 minutes, the movie is the perfect length for my 4 and 7-year-old to not get antsy in. Of course, we'll go to the earliest show possible to ensure we don't cross over into lunch or nap-time which could lead to a case of cranky kiddos (and parents!).
To assist with summer reading and sibling bonding, the Shaun the Sheep Movie book series is great for early readers.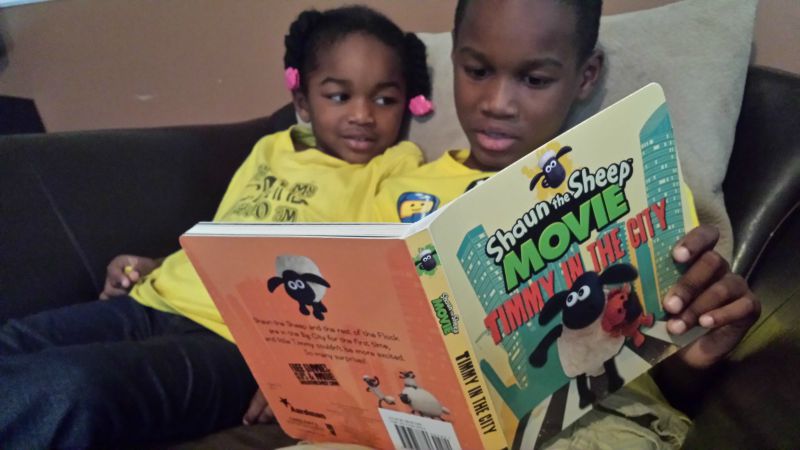 Now for some fun! I would love to give one of you a Shaun the Sheep Movie Prize Pack that includes:

One (1) Shaun the Sheep Movie Children's T-Shirt
One (1) Shaun the Sheep Movie Adult's T-Shirt
One (1) Shaun the Sheep Movie Headband
One (1) book from the Shaun the Sheep Movie book series
One (1) Shaun the Sheep Movie poster, and
One (1) Serta Sheep Plush.

Simply comment below with your favorite family date night ideas and whether or not your family plans on seeing Shaun the Sheep. Entries will be accepted through 11:59 PM EST Friday, August 7th and winner will be selected using Random.org.
Good Luck!