Uplifting morning quotes for difficult days provide inspiration when you need it most. This article shares 10 motivational sayings plus tips to integrate them into your daily routine.
---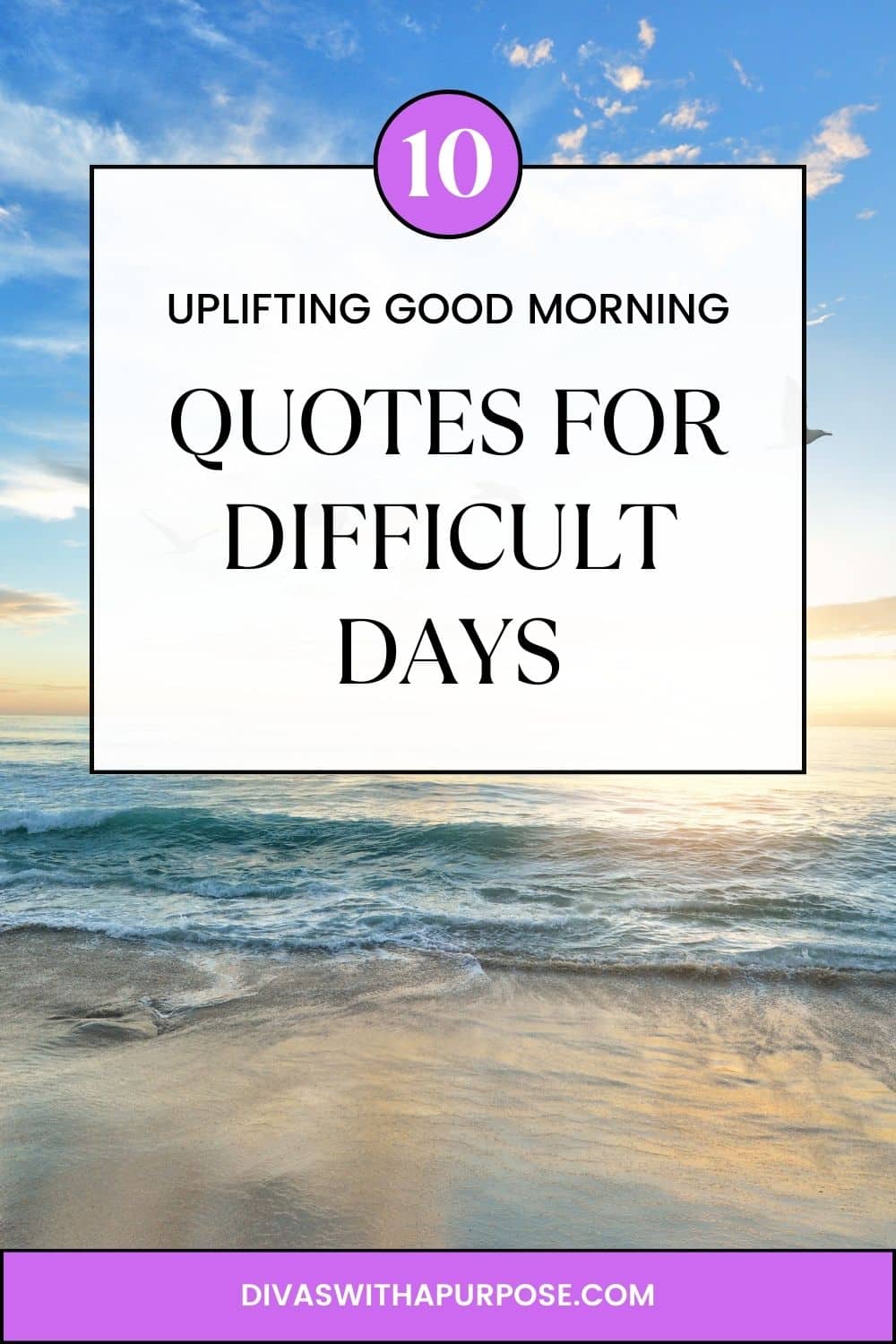 We all have days when life feels extra challenging and overwhelming. On those difficult mornings, it can be hard to find the motivation to get out of bed, let alone tackle the day with a positive mindset. An encouraging quote, however, can provide a spark of inspiration that helps you start your day with intention and grace.
Morning quotes offer wisdom and perspective to help you cope with adversity. They remind you of your inner strength, the support around you, and the temporary nature of hard times. Incorporating positive morning quotes into your routine is an uplifting way to begin even the most challenging days.
Below are 10 motivational good morning quotes for difficult days, along with tips to integrate these uplifting words into your busy mornings. Arm yourself with inspiration to greet each new day with resilience, no matter what comes your way.
10 Quotes for Difficult Days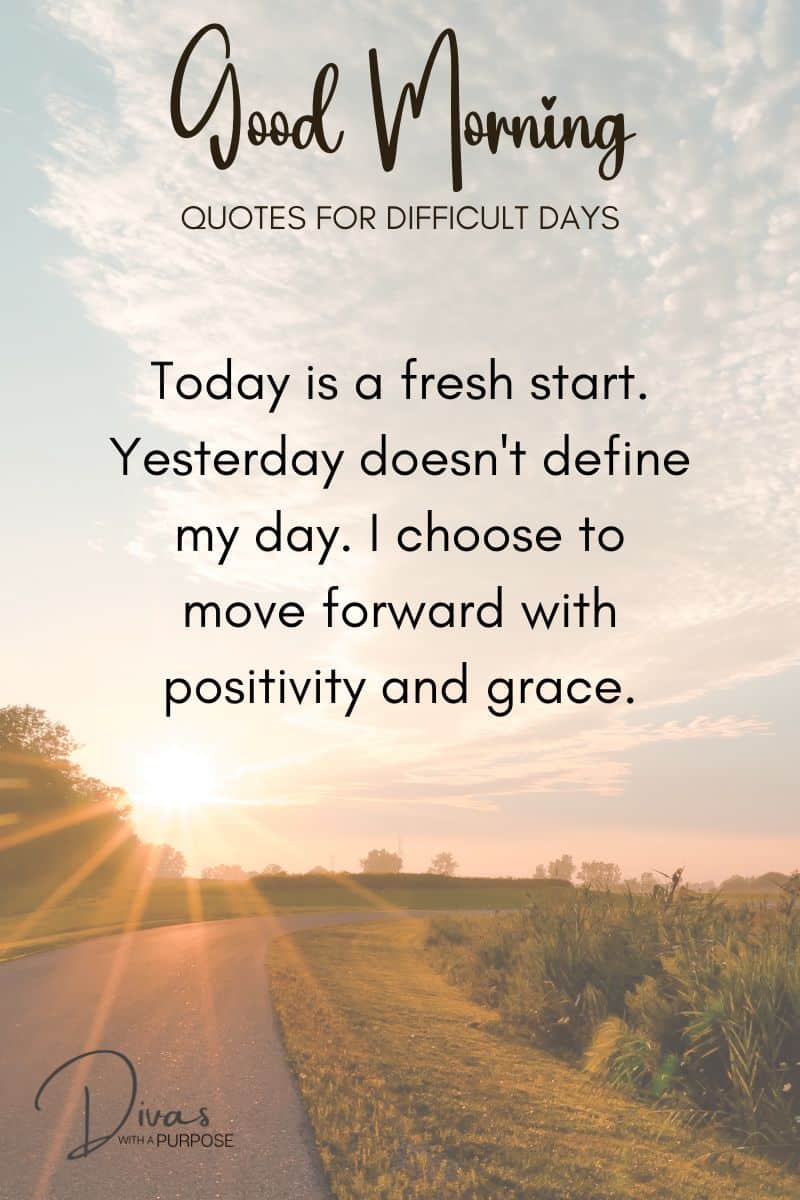 "Today is a fresh start. Yesterday doesn't define my day.
I choose to move forward with positivity and grace."
Each morning brings with it a clean slate, a chance to leave behind the worries and regrets of yesterday. Embrace the day with an open heart, knowing that you have the power to shape it into something beautiful.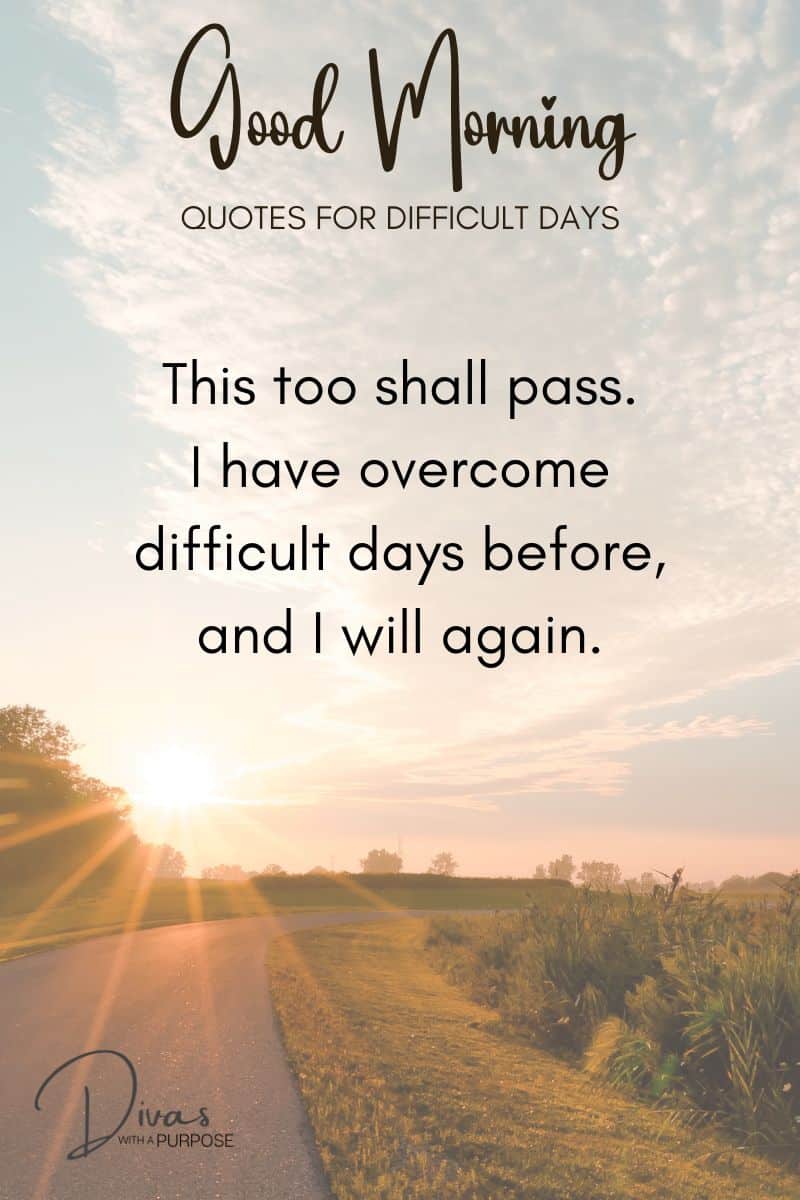 "This too shall pass. I have overcome difficult days before, and I will again."
Remember that you've persevered through hard times in the past, so you have the strength to weather any storm. Like bad weather, challenges are temporary even when they feel endless in the moment.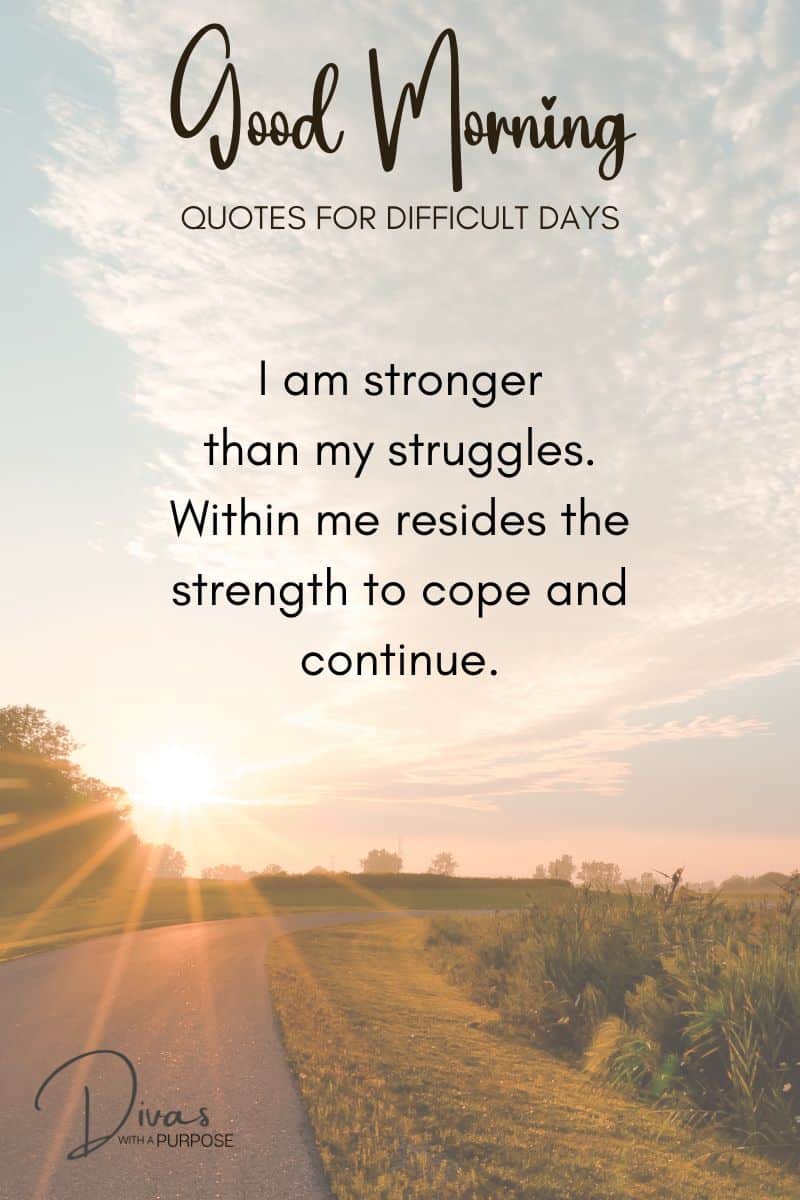 "I am stronger than my struggles. Within me resides the strength to cope and continue."
You have inner fortitude that has seen you through previous adversities. Draw on that reservoir of resilience again.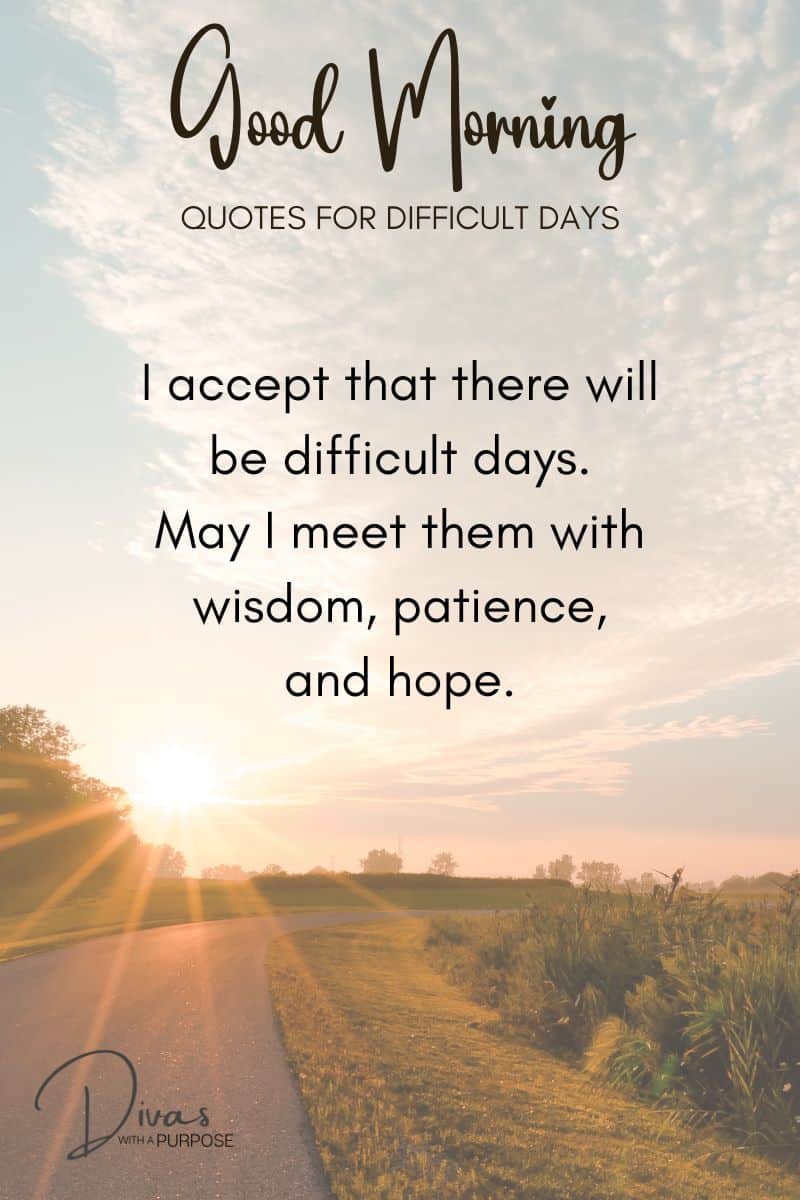 "I accept that there will be difficult days. May I meet them with wisdom, patience, and hope."
Challenging times are inevitable, but you can choose how to face them. Cultivate qualities like wisdom, patience, and hope to navigate difficulties with grace.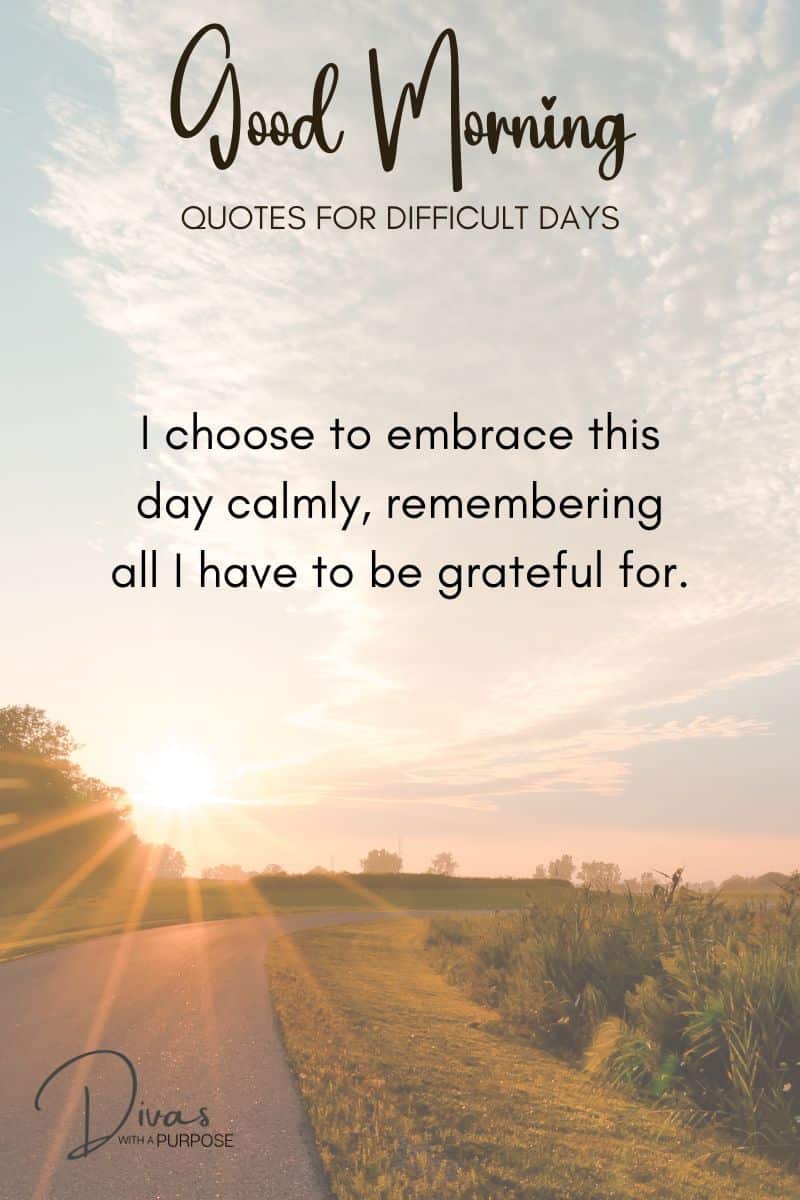 "I choose to embrace this day calmly, remembering all I have to be grateful for."
Make a conscious choice not to catastrophize the day. Think of all the blessings in your life, no matter how small. Gratitude shifts perspective.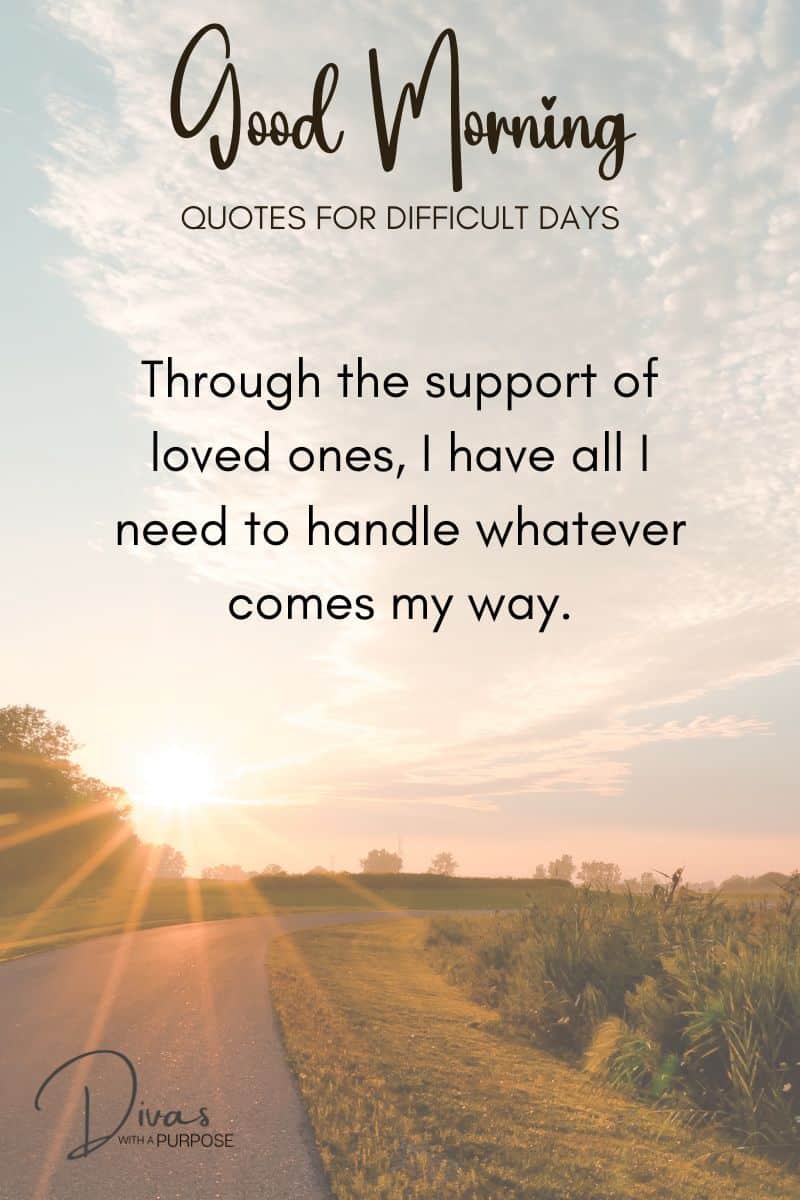 "Through the support of loved ones, I have all I need to handle whatever comes my way."
You don't have to tackle challenges alone. Reach out to supportive people in your life who can uplift and encourage you.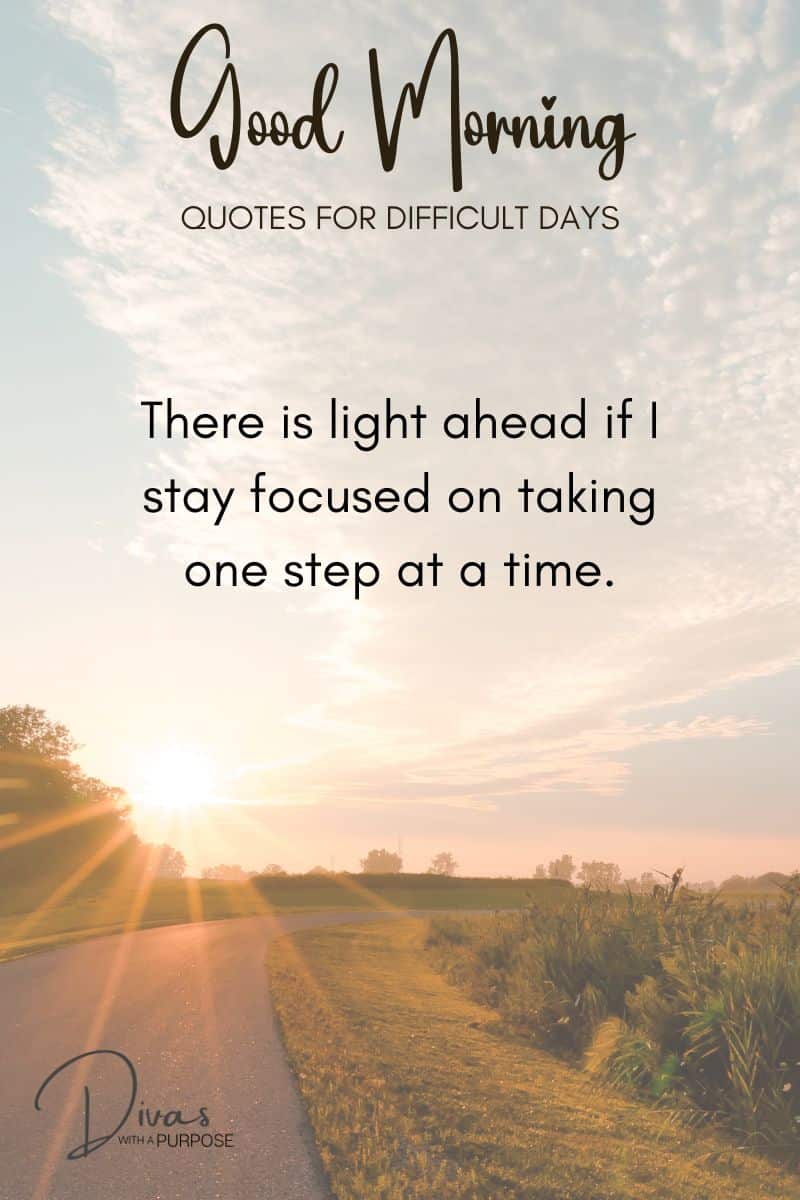 "There is light ahead if I stay focused on taking one step at a time."
In bleak moments, have faith that there are better times to come. Stay present; just focus on the next right step forward.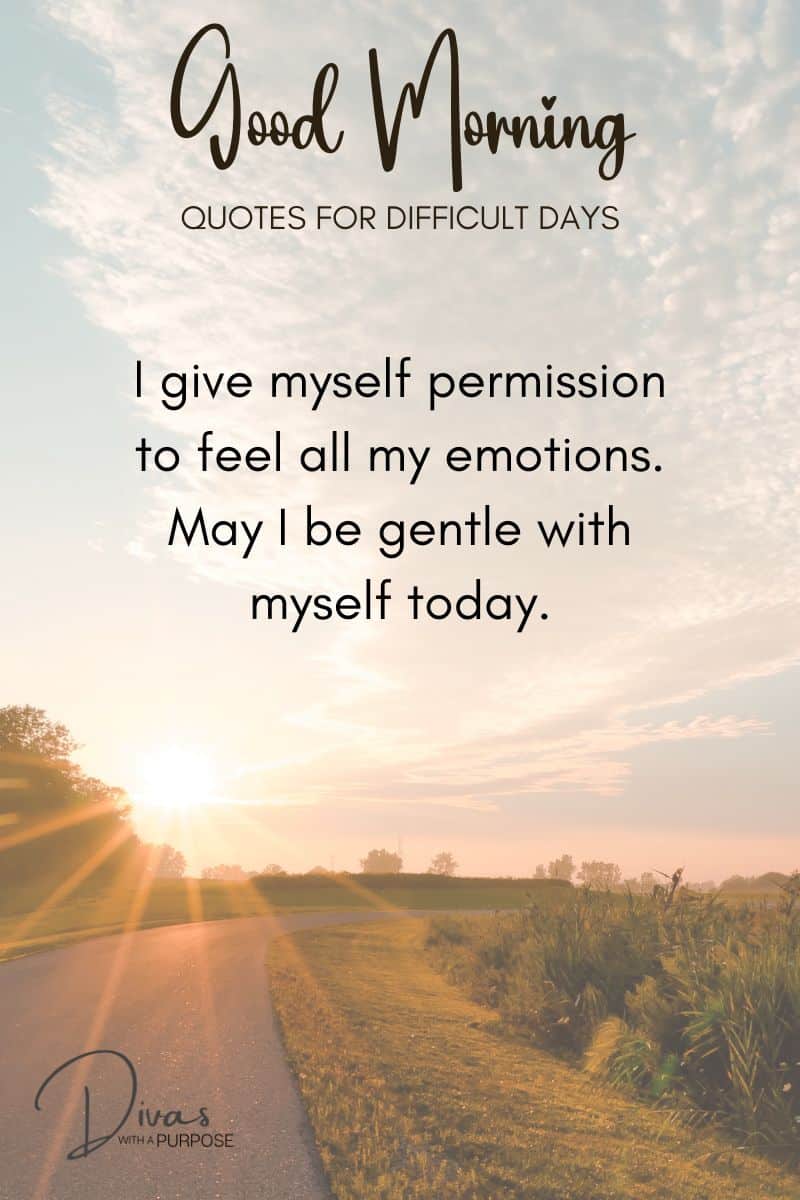 "I give myself permission to feel all my emotions. May I be gentle with myself today."
Acknowledge and fully experience any painful or upset feelings without judgment. Practice self-compassion.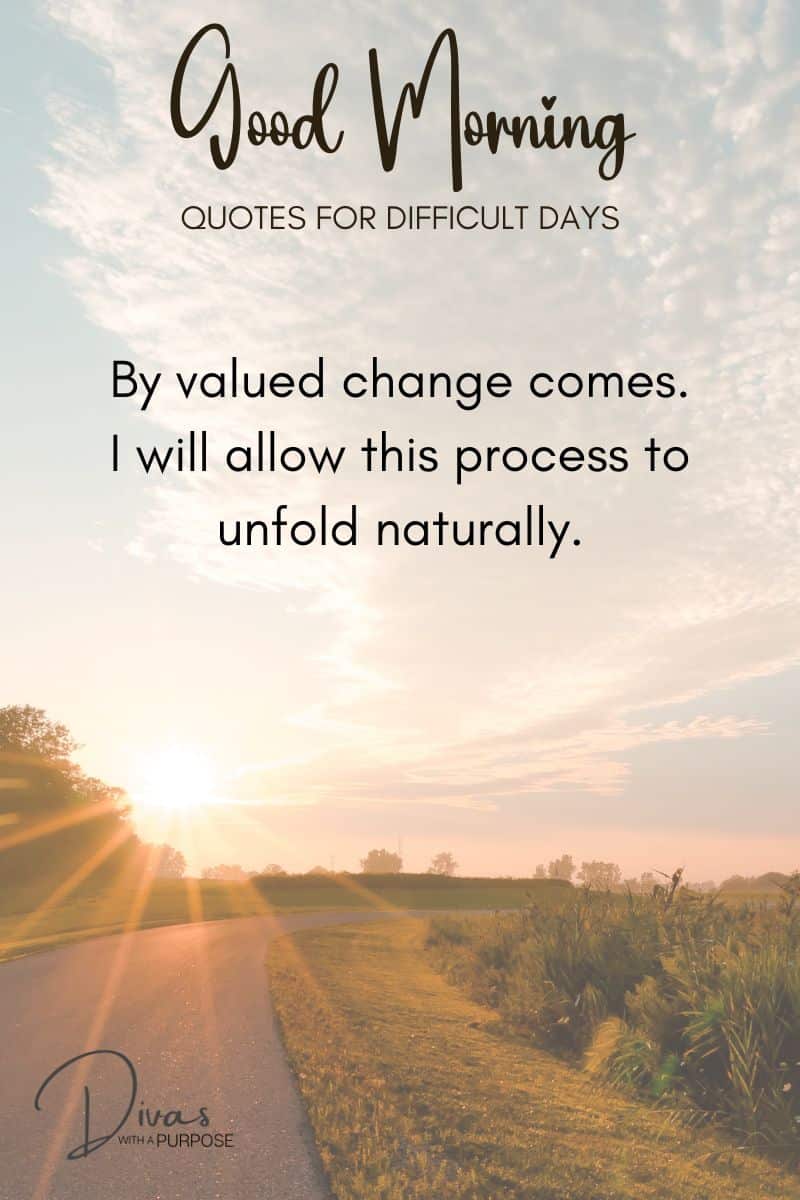 "By valued change comes. I will allow this process to unfold naturally."
Understand that difficult periods often precede growth. Let go of control and allow necessary transformations to happen.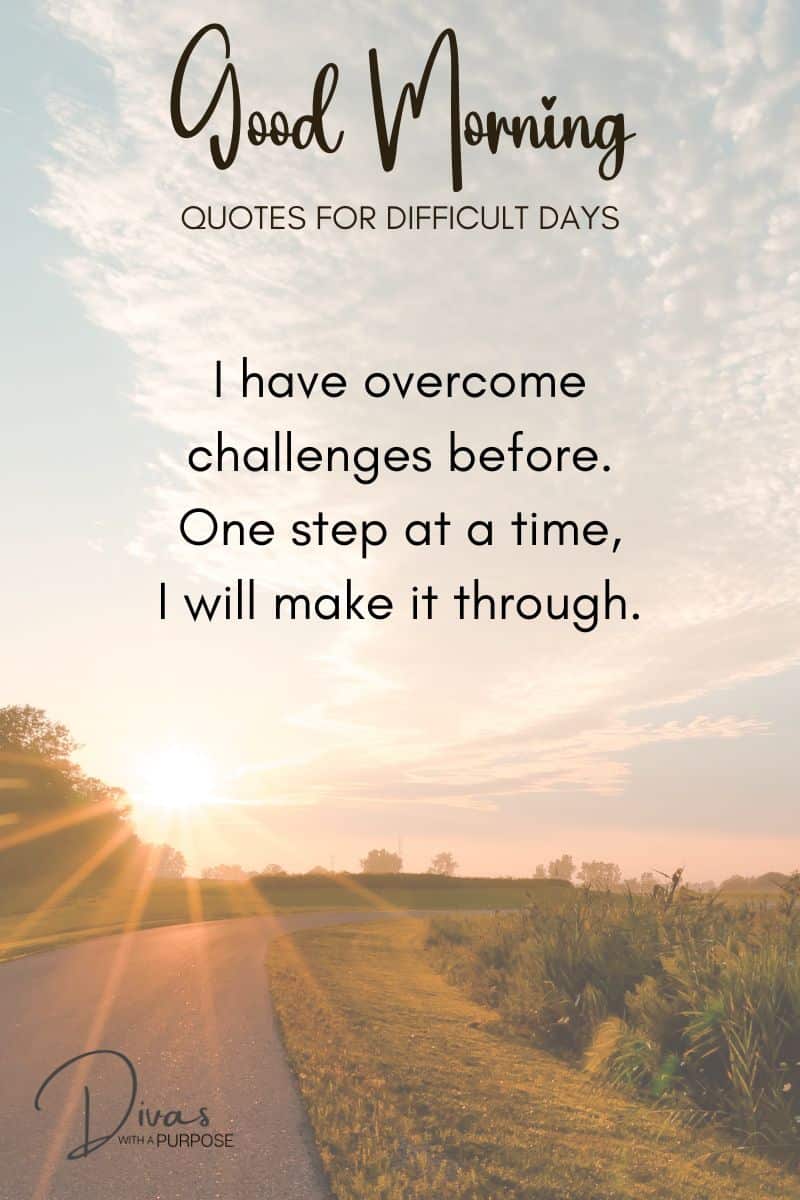 "I have overcome challenges before. One step at a time, I will make it through."
Draw strength from past resilience. Take things slowly, trusting your ability to eventually prevail.
Simple Tips to Incorporate These Quotes for difficult days Into Your Daily Routine
Integrating uplifting quotes into busy mornings may seem challenging when you're already stretched thin. However, there are many simple, convenient ways to infuse your daily routine with motivational words to start your day off right. Here are tips to easily incorporate inspiring morning quotes even during difficult, hectic times:
Take time for reflection: Pause and reflect on your feelings and thoughts. Self-awareness is a powerful tool for managing challenging days.
Focus on what you can control: Concentrate your energy on things within your control, and let go of what you cannot change.
Remind yourself this too shall pass: Always remember that difficult days are temporary and that better days are on the horizon.
Find things to appreciate: Seek out the small joys and moments of beauty even amidst adversity.
Limit news/social media: Excessive exposure to negative news can increase stress. Consider limiting your media consumption during tough times.
Talk to supportive friends: Reach out to friends or loved ones who offer a listening ear and emotional support.
Practice self-care and stress relief: Engage in self-care activities that bring you comfort and relaxation, whether it's meditation, exercise, reading, or spending time in nature.
Incorporating these quotes and tips into your daily routine can provide the motivation and perspective needed to navigate even the most challenging days with resilience and positivity. Remember that you are capable of overcoming difficulties and emerging stronger on the other side. Each new morning is a fresh opportunity to embrace the day with hope and determination.
Related Articles:
---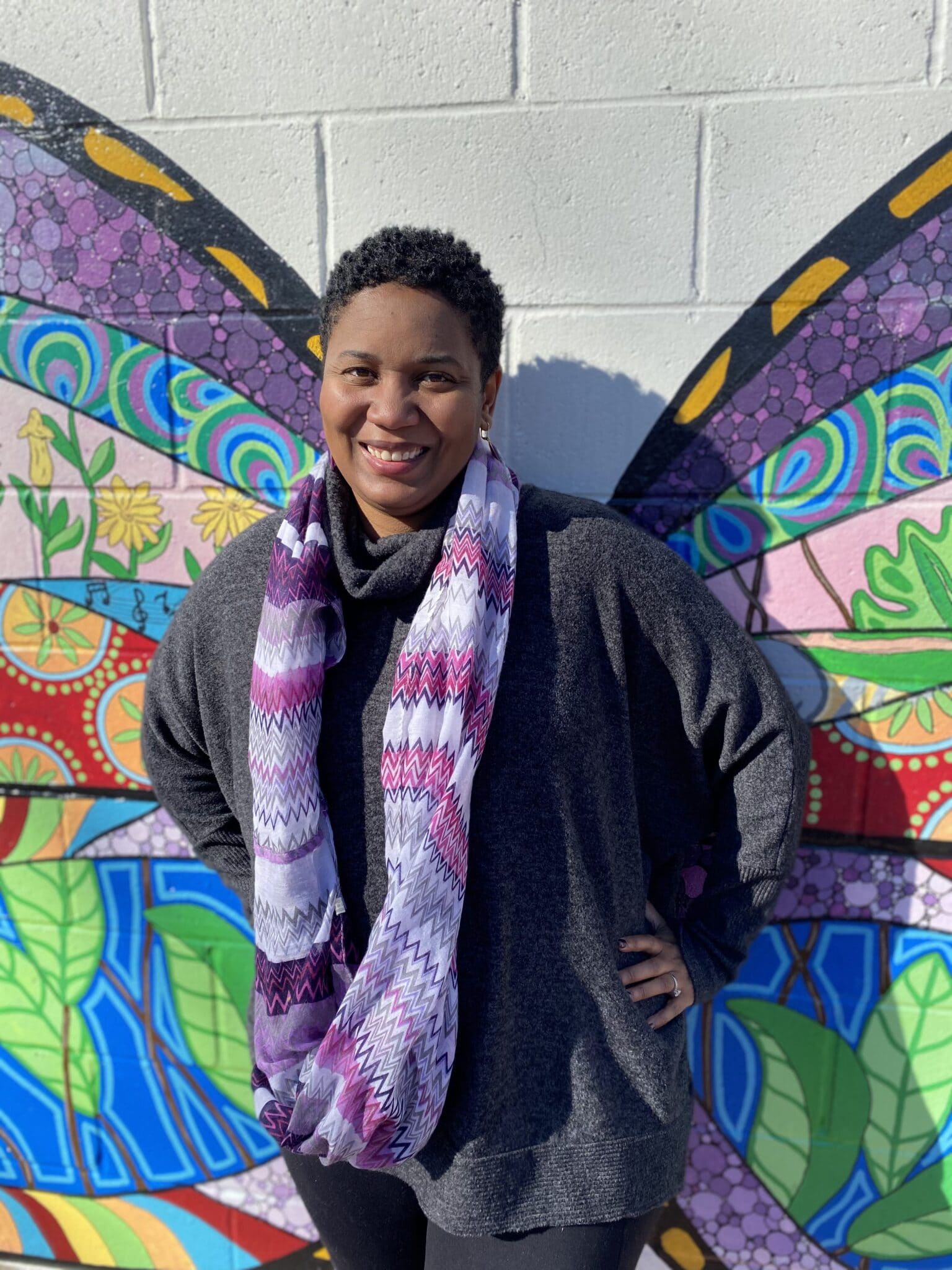 Michelle D. Garrett is the founder of Divas With A Purpose.
She focuses on sharing resources for being purposely productive; setting personal and professional goals and achieving them through daily action; and successfully running a business while focusing on your mental health. Michelle is a full-time entrepreneur who specializes in teaching female entrepreneurs how to show up consistently in their business – online and off.
---