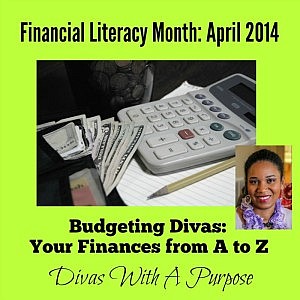 Today's topic for Financial Literacy Month 2014: Your Finances from A to Z is Pay Yourself First.
For the month of April, we will be bringing you daily posts centered on our personal finances – saving, making and managing our money.
Pay Yourself First.  What exactly do I mean by this?
If you use up your entire salary every month without putting some of it away for yourself, you will never create financial wealth, freedom and security.
By paying yourself first you FIRST save some of your salary that you earn every month and then live on the rest.
Now I know that for some this is easier said than done. Most of us don't start paying ourselves first when we first get into the working world earning our first few bucks. We are usually so excited about our first salaries, that we are not thinking or worrying about what will come at a later stage in our lives.  I have shared before how I learned many of my financial lessons from my mother and the one thing I wished she had enforced more was the practice of saving.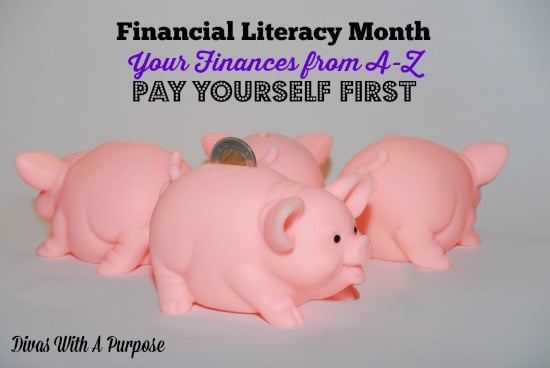 By the time the light bulb goes off, many have accumulated debts and responsibilities making it even more difficult to set aside something for yourself first.
Some ideas to consider implementing:
1) Look at your paycheck, miscellaneous income check or direct deposit or however you get paid for a moment. Take a deep breath and pat yourself on your back for all of your hard work to earn your paycheck! Just relax and take your paycheck all in. Take your time looking at your earnings before you start distributing your money. You will be glad you did!
2) Make yourself a payee.  Make a decision before you start paying any bill how much you will pay yourself. You're probably wondering, how much you should I pay myself? In my opinion, initially it really doesn't matter as long as you pay yourself something! Make sure you are realistic about the amount of money you are paying yourself and that you are comfortable with that amount. Once you start this good habit, it will be difficult for you to stop paying yourself first!
3) You may want to consider placing a portion of the money you have paid yourself in a separate account.  One suggestion is to have a portion automatically deposited into a separate account that is not easily accessible.
4) Paying yourself first can assist you in planning and budgeting for your future goals. For instance, if you are trying to purchase a home or take a vacation, paying yourself first, may be able to assist you with this.
5) You may gain confidence and a better peace of mind by paying yourself first. This may lead to more control over your personal finances and empowering you to achieve other goals that you may have not thought were possible for you to achieve.
Paying yourself first is a good thing for you to do. Just get in the habit of doing this. You can start with your next paycheck or miscellaneous income you may receive. Go ahead, deduct money for yourself first, and you will be glad you did!