I'll be honest I really wanted to call this post "Don't Treat Your Online Groups Like A Booty Call" but I talked myself out of it.
Whichever title you prefer, the nitty gritty of this article are specific actions to take to make the most out of your online communities – especially Facebook groups which are very popular and can cultivate wonderful collaborations.
As the popularity of Facebook groups grew, groups began popping up about anything and everything. And that is fantastic. I love that I can join groups and connect with people that are passionate about my many different interests and ideas – from entrepreneurs, bloggers, motherhood, direct sales and even quick and easy meal ideas for busy families. It's awesome, I know!
Side Note: Please do not automatically add people to your groups. Send them a quick note or invite and give them the option to join or request that you add them. It is a pet peeve of many.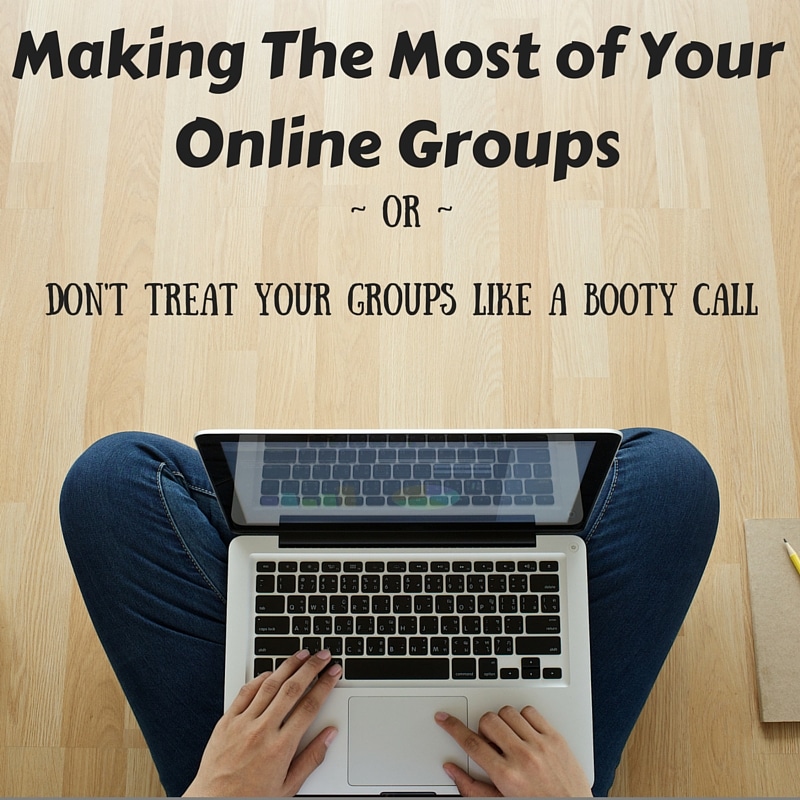 Limit the number of groups you belong to. Professionally, I have groups I am actively engaged in and groups I utilize for information and resources. There is a different level of expectation from each group on my part. Depending on your niche, there is probably a plethora of groups that you could belong to. Test them out and see which ones benefit you the most. Keep in mind that you will quickly find yourself spread thin if you try to commit to too many groups actively.
Know and follow the group's guidelines.Most groups have posted guidelines. They're usually pinned to the top of the group or in groups documents. Read them. Please. For your sake and the fellow members. This keeps you in the good graces of your group members and helps you to get acquainted with how the group works, its focus and what you should and should not do.If the group is business-related, they will typically have rules about self-promotions, when and how you can share your business opportunities and information.
Introduce yourself.When you first join and read over the guidelines take a moment to introduce who you are. If you have friends in the group or were invited by someone, share that information. Kinda like when you enter a dinner party, you mingle, make friends, say a few pleasantries before making a beeline to the food and drinks.
Actively engage with others. This goes hand-in-hand with point # 2. It is difficult to actively engage and form relationships with others when you are in group overload. You'll be able to tell which groups are for you and which aren't.As time goes on, you may outgrow a group and that's okay.  Leave gracefully as you never know when you will cross paths with others – the Internet is large but it's relatively small, too.If someone is requesting assistance or information, share what you know, experiences you've had, etc. These are the type of interactions that help your fellow group members learn more about you and they'll remember. Again, if this is a professional group, they will be more likely to seek you out if they recall that time you gave awesome advice on how to handle a problem.
Don't be afraid to solicit advice or feedback when necessary. Again, make sure it's a give a take when it comes to being supportive.Related Article: Support – It's A Two-Way Street
Do not blatantly pitch your products or services – unless that is the sole purpose of the community. This, also, relates to point # 2, because many groups consider this spamming and will remove you if it continues.Example: Someone shares they had a wonderful experience speaking at their local chamber of commerce.
Blatant Pitcher responds with "Hey. I have this awesome public speaking course available. Check out my site here."No. No. And No.Many groups will consider this spamming and remove you if it continues. (Yes, I know I said it twice. As you can see, this is a hot button for this Diva.)
Online networking has been a game-changer for many of us – personally and professionally. Let's commit to making the most of these communities and fostering awesome relationships.