Disclaimer: This article includes information on a product I received for free in exchange for sharing with my readers my experience with the company and its products.
Last month I had the opportunity to support the Sister Summit Expo, a local community event,  as a vendor. It was a great opportunity to network with fellow divas and meet with women who were interested in supporting and building one another up.
Most that attend expos are looking to sell a product or a service, my main focus for this recent event was to bring additional awareness to Divas With A Purpose and connect with others locally.
I enjoy supporting local vendor events because it gives me an opportunity to meet and connect with women in my community that I might not have crossed paths with otherwise. I am able to find new women and organizations to support and help bring awareness, too.  Most of all, I am able to have a great time while doing what I love most – sharing the message of Divas With A Purpose!
As I do more community events, I have compiled a list to make preparing for these events as stress-free as possible.
Must-Have Items For Your Community Vendor Event
Business Cards: Make sure your cards have updated information, your website, your most actively used social media sites and a way to contact you (email, business phone, etc).
Eye-catching Items: Many times attendees are "window-shopping" – have something at your table that will catch their attention and generate conversation. For me, that's

my sign that has my logo and motto

. The burning questions is always "

Just what is a Diva With A Purpose?

"
It's a great conversation piece and the best part – it's super affordable! I received this sign from Best of Signs to review and share with my readers. This 3 foot by 2 foot sign starts off at less than $20 on their website and is of great quality! The turnaround time was quick and the ordering process was seamless. I will definitely be utilizing this company again for additional signs and accessories. My next order will be a retractable banner stand and I will follow-up with photos and my thoughts! Make sure you're connected with our Instagram account for those updates!
You can connect with Best Of Signs on Facebook, Google Plus and Twitter.
Freebies – attendees love having something tangible to put their hands on to remember you. For one previous event, I did mini-bags of candy that included my business card. It doesn't have to be something too ornate or expensive.
Giveaways – Who doesn't love a giveaway? Attendees that signed up for our newsletter during the most recent event were entered into a giveaway for the items below.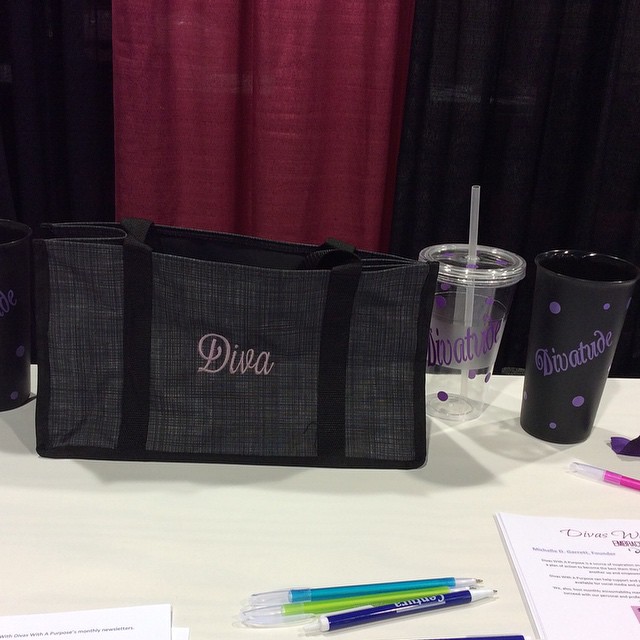 Informational handouts: Easy to handle handouts that describe your business and how you can be of assistance to those attending the event. This is something that may need to be tweaked based on the types of event that you are doing. I have a basic template but change the wording, as needed.
[Tweet "Must have items when promoting your business at local events"]
A great attitude!: This should go with out saying, but I have attended and hosted many events where the vendors attitude and demeanor were not inviting at all. Those in attendance can tell and will avoid you. Life happens and even if you're having a not-so-great day – put your game face on and share the passion you have for your organization or company with others. Get up from behind the table, engage with other vendors and attendees and SMILE. It makes a difference.