Disclaimer: This article on how local events can help build your brand contains a review and affiliate links. All thoughts are my own and include information on how I leverage local events in my area to connect with customers and fellow business owners.
Local events are a great way to connect with your readership and establish your brand in your community. I participate in vendor events at least 3-4 times a year. My goal is to connect with supporters of Divas With A Purpose in a face-to-face setting and expand our audience. I try to do two local events and at least two events in a new city to share the mission and message of Divas With A Purpose.
Related Article: Must Have Items To Promote Your Business At A Community Event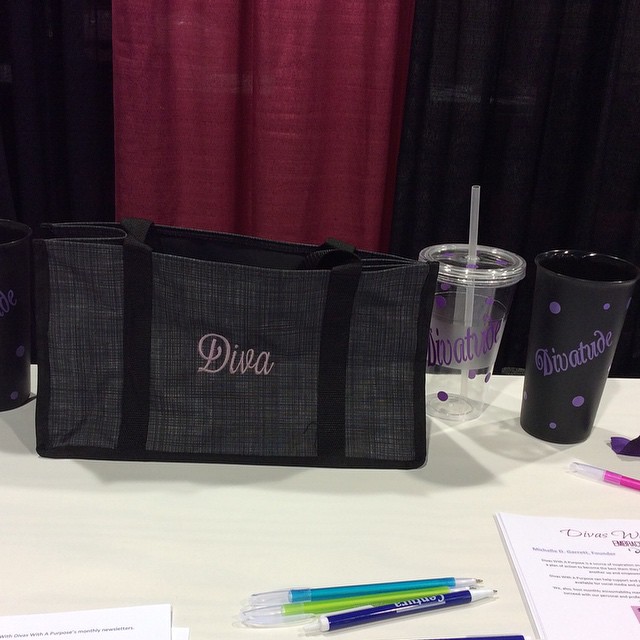 When doing a vendor or community event, it is necessary to get your message across in a visually appealing way and draw passers-by into your space even if you're speaking with others.
During events, I display my business cards, branded products (t-shirts, tumblers, etc), informational sheets on the history and purpose of Divas With A Purpose and fun giveaway items.
Connect on Social Media During Local Events
Recently I have begun using HashtagCube or #Cube – an innovative way to display your Instagram feed or your favorite hashtags from Instagram – as part of my display. Depending on the overall purpose of the gathering, I will set #Cube to show a particular feed or hashtag. For example, during a vision board party I streamed #visionboard to help give inspiration and motivation to my guests. During my events, I will use my brand's hashtag (usually #EmbraceTheDivatude or #DivasWithPurpose) and encourage those in attendance to take photos and post to Instagram so the feed is visible by others who pass through. It makes a fun conversation topic and helps me connect with others on one of my favorite social media outlets.
#Cube is a great investment for vendor events and gatherings you host. If you're on Instagram, wanting to increase your presence on Instagram or encourage your community to utilize hashtags specific to your brand, the #Cube can help! My #Cube was sent to me for review purposes and it has been put to great use!
Participating in local events will help your community put your face with your brand. It is a way to connect with them face-to-face and share your passion for your website, products and the brands you support. If you are looking to connect more with your readership, this is a great way to form focus groups and meet-ups.
The Divatude Challenge began online has moved to a face-to-face interaction with women in my local community. Each one committed to supporting one another and challenging each other to follow-through on their goals.
If you've participated in local events, I would love to hear creative ways you interacted with those in attendance or shared your company's message.