Our family loves a great road trip! Whether it's a quick visit to the coast to visit my parents or extending out a business trip to see off-the-beaten path sights in a new city or town, we're there for it.
My kids spend quite a bit of time traveling with me in our car. Whether it's us visiting traveling to Charleston, SC to visit my parents or them tagging along with me to a conference or training session that's drive-able – we enjoy jumping in the car and riding out. Now that summer is here, we are more than ready to kickstart our Summer Road Trip adventures.
The past year or so I've been more mindful about the amount of time they spend on electronic devices and our road trips have been declared 60% device free. I'll be honest – there are times I want to go back on that rule. Once we spent 2 hours playing "I-Spy". It was as thrilling as it sounds, I promise.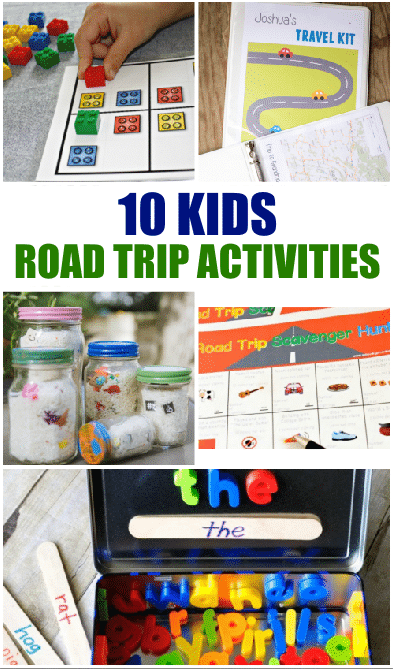 Besides our road trip snacks, there are a few must-haves that we keep in our car when we travel (even for around town errands):
Travel Blankets and Pillows: No matter the season there's a need for a blankie and a pillow to get comfortable for a quick nap or just because.
Bottled Water: Water comes in handy for so many reasons on our road trips. Hydration, empty bottles for stuck in traffic moments for the boys, the list is endless.
Change of Clothing: Once we made an impromptu stop at a park with a play fountain. The kids got soaked and thankfully we had clothing for them to change into that we didn't have to go digging through our suitcases for.
Books, Pencils and Plain Paper: Sometimes you have to go old school 🙂
Below is a quick list of road trip activities for kids to prepare for your next road trip with your family and ensure everyone stays engaged and entertained:
10 Road Trip Activities for Kids
1. Printable Tic-Tac-Toe Board
2. Lego Road Trip Building Tray
3. 20 Awesome Road Trip Activities for Kids
4. I-Spy Jars (A Road Trip just wouldn't be a Road Trip without I-Spy!)
5. Kids Travel Kit Binder with 150 FREE Printables!
6. Printable Road Trip Scavenger Hunt
7. Brick Sudoku
8. Travel Bingo, Ford Models Wordsearch and Car Badge Bingo
9. Printable Alphabet I-Spy
10. Word Building Activity Travel Kit
What road trip activities does your family enjoy?
---
Related Article: