I love giving gifts. I, especially, love giving gifts that are symbolic and meaningful. I was excited to have the opportunity to receive a Zymbol product free of charge in exchange for sharing my thoughts on the product and company. As a member of the Karma Media Team, I received the women's black leather wrap bracelet to review. No other financial compensation was received.  Zymbol creates items that are, what I like to call, jewelry with a purpose.

As a consumer, I love to support companies that offer great products AND give back to our communities. Zymbol  is one of those companies and I recently received a product from them to review and share with my wonderful readers!
Zymbol was accidentally created when the company's founder  was doodling and wrote done Love Is All U Need by stacking all the letters on top of one another and then adding a peace sign to the design.  Her family later realized that by laying the design on its side they could see the letter K. The closer they looked they realized that the entire alphabet and every number was hidden in plain sight within Sally's design.
Melissa Gorga from the Real Housewives and NFL Pro-Bowl Quarterback Vince Young have partnered with Zymbol to help bring attention to the product and its initiatives.
Zymbol is spreading love, hope, inspiration and empowerment! Hmmm…sound familiar DWP readers? Now you know why I absolutely adore this company and the concept of it's jewelry!!! Even better, for every Zymbol purchased, an acrylic pendant is gifted to a child in a children's hospital. They each receive an activity sheet with blank Zymbols to trace and SPELL Out their message of inspiration and encouragement.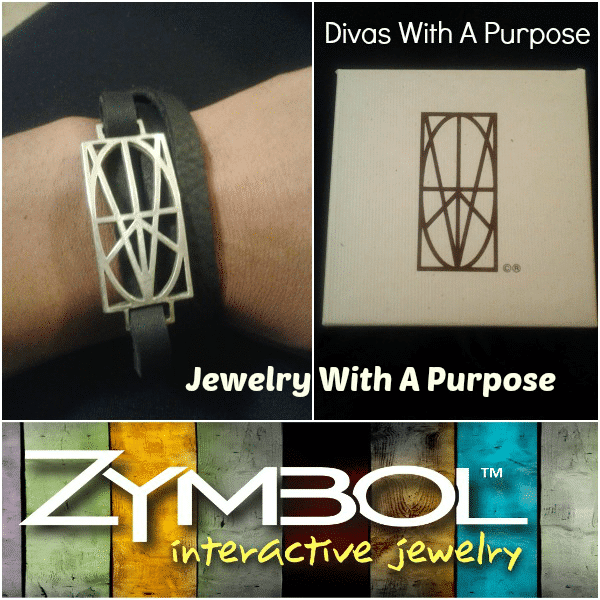 I received a black leather wrap bracelet. I. Love. It! It even came with a personalized note from the company …. Working with a company that takes the time to enclose something personalized means a lot to this blogger! I took the time to trace out my own personalized message – Speak It! Live It! Be It! Which is my daily mantra and motto for life. Words are great but the true measure of their meaning is in how you apply it to your daily life and walk. I strive to embody the positive words that I speak by living them and being an example to others. While it's not always easy – focusing on the positive and uplifting makes a huge difference in my attitude and mentality for living.
As I go through my day, wearing my Zymbol, it's a reminder of those words and encouragement to continue pressing forward. It's very stylish and something that I can wear on a regular basis comfortably.