Got 10 Minutes? 10 Great Ways to Spend Me Time shares simple activities to help you begin a self care routine that makes you a priority.
---
As a busy woman with a full plate, finding time for yourself can seem impossible. But taking just 10 minutes a day for "got 10 minutes? 10 great ways to spend me time" can make a big difference in your mental health, stress levels, and overall wellbeing. Even the busiest moms deserve a little time to recharge. The good news is you don't need hours to yourself – even 10 minutes can provide a much-needed break.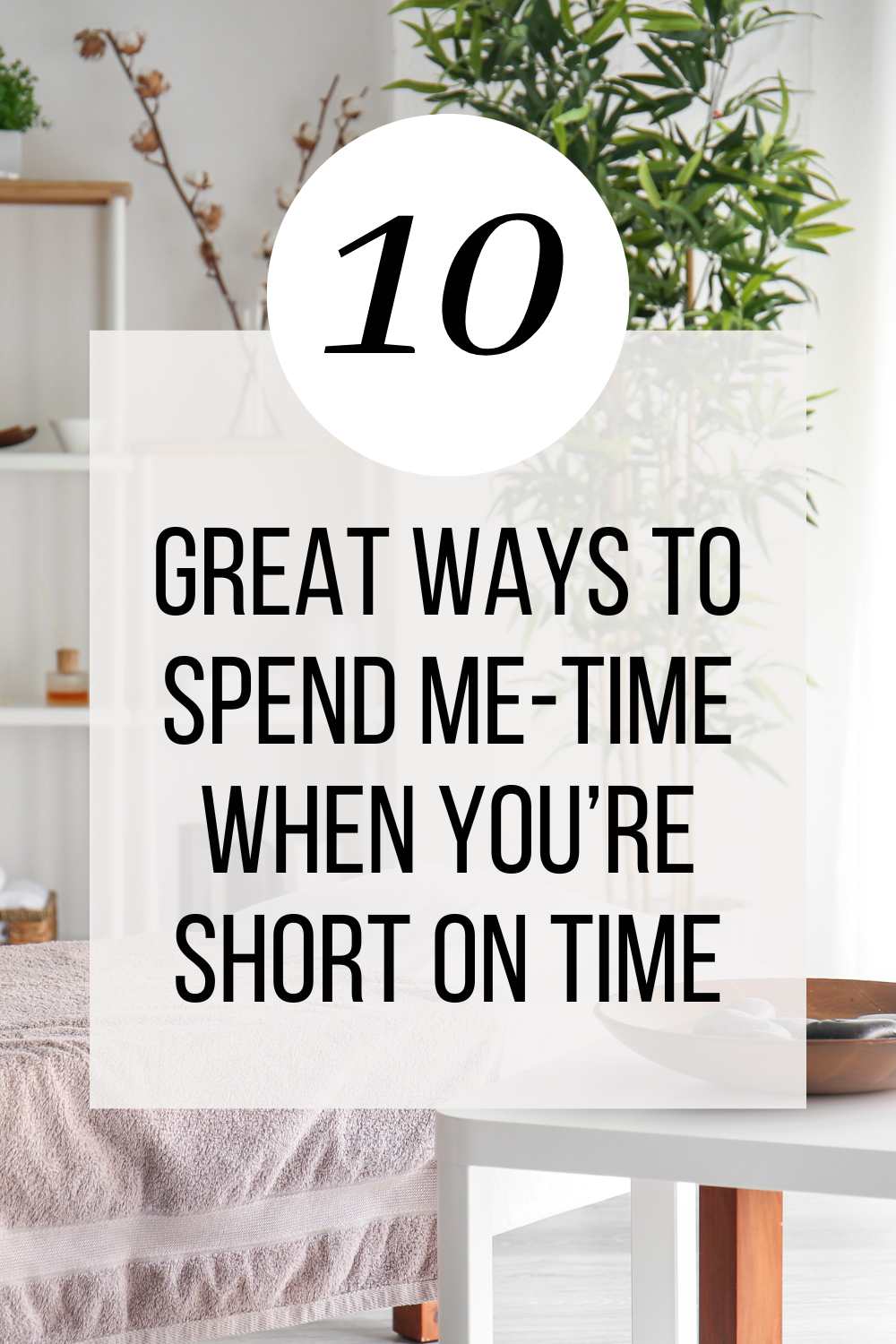 Here are 10 great ways to spend me time in just 10 minutes a day:
Take a walk
Taking a short 10 minute walk is one of the easiest ways to get some me time. Walking gets you outdoors and moving, which provides mental and physical benefits. Going for a stroll around the block can help clear your mind, reduce stress, and boost your mood. Walking also increases blood flow and oxygen to re-energize your body and brain. Bring along your favorite music or podcast to make the most of your 10 minutes.
Getting outside for even a few minutes will recharge you. The best part is you can take a walk anywhere at any time. Use your lunch break, sneak out for 10 minutes while the kids are occupied, or take an evening stroll after dinner – whatever fits your schedule. Just 10 minutes of walking can vastly improve your day.
Journal
Keeping a journal for 10 minutes a day provides an outlet to process thoughts and emotions. Writing things down is therapeutic and helps relieve stress. It also promotes self-reflection, allowing you to gain perspective. Use the 10 minutes to jot down your thoughts, feelings, daily activities, or inner dialogue
Getting things out on paper can help declutter your mind. Vent about challenges, work through problems, express gratitude for the positives – journaling is judgement-free! You can reflect back on entries to track growth and progress.
A journal is also a keepsake to look back on down the road. All you need is a pen and paper – no need for anything fancy. Just find a quiet spot and start writing. You'll be amazed what 10 minutes of journaling can do for your mindset.
Listen to music
Listening to music you love for 10 minutes is an easy way to lift your mood instantly. Good music has therapeutic effects that can calm your nerves, alleviate anxiety, and provide an emotional boost.
Cranking up an upbeat playlist provokes the release of feel-good neurotransmitters like dopamine and serotonin. Slowing it down with mellow tunes can relax the mind. Set aside 10 minutes to really immerse yourself in the music. Sing, dance, or just sit and listen intently. You could also curate playlists for different moods – one for energizing, another for calming, etc. Discover new artists or re-listen to your old favorites.
Music is a quick me time activity you can do while cooking, driving, exercising, or simply taking a break. Transport yourself out of reality for a mental vacation. Listening to just one song can instantly shift your attitude and outlook.
Call a Friend
Having a catch-up call with a close friend is a mood-boosting way to spend 10 minutes. Social connections are vital for wellbeing. Talking and laughing with a friend, even for just a few minutes, relieves stress and loneliness. Schedule a quick phone or video call over coffee, on your commute, or while running errands.
Friends understand and share what you're going through, so venting feels cathartic versus burdensome. You can offer each other mom advice, talk about challenges, celebrate wins, reminisce over memories – the companion is key.
Friends rejuvenate and nourish your spirit. Focus the chat on positive subjects that uplift you both. End the call feeling refreshed and supported. Maintaining friendships amidst the chaos of life takes effort but is well worth it for your mental health. Never underestimate the power of a short catch-up with a good friend to brighten your day.
Meditate
Spending 10 minutes in meditation is an easy yet highly effective form of me time. Meditation relieves stress, sharpens focus, and promotes inner calm/peace. Find a quiet spot, set a timer, and close your eyes. Direct your attention to your breathing or a mantra. The goal is to clear and quiet the mind by continuously re-focusing when thoughts arise. Even beginning meditators benefit quickly from this concentrated relaxation of body and mind. If anxious thoughts creep in, gently return your attention to your anchor.
Meditation takes consistent practice, so try to work it into your daily routine. You can meditate first thing in the morning to set your intentions or before bed to decompress. Just a few minutes can make a big difference. Apps like Calm, Headspace, and Insight Timer offer free meditations to guide you.
The more you make meditation a habit, the more mindful and present you'll feel. But even one 10 minute session can provide instant relief when you need it most.
Stretch
Taking 10 minutes to stretch releases muscle tension and boosts your energy levels. Simple stretches for your neck, shoulders, back and legs can relieve pain and prevent injuries caused by prolonged sitting and repetitive motions. Stretching increases blood circulation, improving your body's range of motion.
Use the 10 minutes to focus solely on your physical body without any other distractions. Hold each stretch for 30 seconds, taking deep breaths. Rotate through all muscle groups or target problem areas. Stretches combined with deep breathing enhance that mind-body connection. Experiment with yoga poses and exercises like lunges or planks for an added burn. When you stand tall with squared shoulders post-stretch, you'll feel less stressed and more calm.
Doesn't it feel great to work out those kinks? Sticking to just 10 minutes makes stretching seem totally manageable, even on your busiest days. You can do it while dinner cooks, the kids play, or early in the morning. Listen to your body. Stretching is one simple act of self-care with immense benefits.
Read
Curling up with a book, even for just 10 minutes, provides a welcome respite from daily stressors. Reading calms the mind and stimulates imagination and creativity. Use your 10 minutes to read for pure enjoyment – a favorite novel, magazine, poem, anything unrelated to work or responsibilities. Reading shifts your mental focus and transports you to a new world, which is therapeutic.
Maintain a book or two in different places like your nightstand, office, or car so a quick reading session is always handy when you have a spare 10 minutes. Revisiting well-loved books also evokes nostalgia and provides comfort. If you fall in love with a book, 10 minutes can easily turn into 20 or 30 because you lose track of time!
Reading exercises your brain but in a relaxing way. Let your mind wander as you turn pages. Literature expands perspectives, improves vocabulary, and sparks inspiration. Savor a few pages as a mini mental getaway. Even light reading gives your mind an energizing break.
Take a cat nap
You may think you need a lengthy snooze, but even a 10-minute power nap revitalizes the mind and body. Napping reduces fatigue, elevates your mood, and sharpens focus – ideal during an afternoon slump. Set a timer for 10-15 minutes, draw the blinds, and find a comfy spot like a couch or bed (avoid sleeping too deeply). Let your body completely relax as you drift off.
Napping clears out the mental cobwebs and allows you to attack the rest of your day with renewed energy and clarity. Long naps can leave you sluggish, so keep them short and sweet. A brief snooze mid-day truly does wonders. It's like getting a reset button for your brain.
If you're home with kids, try synchronizing their nap time with your own. Otherwise, maybe you can sneak in a quick office nap. Just be sure to set an alarm! Infuse some brightness into the second half of your day. Don't feel guilty about stealing 10 minutes of rest – sometimes your mind and body just need it.
Take in nature
Spending just 10 minutes surrounded by nature is instantly soothing. Step outside into your backyard, walk to a nearby park, or find an area with trees, grass, flowers etc. Absorbing the sights, textures, sounds and smells of the natural world is medicinal.
Sunshine and fresh air naturally boost your mood and energy. Speaking with family, work, screens or errands can overload the senses. Reset with 10 minutes of nature therapy. Let your mind quiet as you stroll, sit, or simply observe the beauty around you. Don't be afraid to literally stop and smell the roses!
Tune into birds chirping, leaves rustling, and your own breath. Nature brings perspective when life feels stressful or frantic. Pay attention to how your shoulders drop and focus sharpens after being amongst greenery. Maintaining a connection with nature, even for just 10 minutes, is vital self-care. Take your shoes off, dig your toes into grass or dirt. Happiness and wellness are intertwined with time spent outdoors. Nature is always there to rejuvenate you.
Breathe
Our breath is one of the simplest yet most powerful tools for soothing stress. Conscious, deep breathing triggers an immediate relaxation response. It slows the heart rate, lowers blood pressure, and calms the nervous system.
Set aside 10 minutes with no distractions. Find a comfortable seated position. Inhale slowly through your nose, feeling your belly rise. Exhale gently through your mouth. Work up to longer, fuller inhales and exhales. Repeating a focus word like "calm" or "peace" keeps the mind from wandering. Visualize all tension releasing as you exhale. Place one hand on your belly and one on your chest to sync them.
Deep breathing cleanses and centers you. It helps you stay mentally and emotionally present. Make breathing a daily ritual – 10 blissful minutes to disconnect from the chaos around you. Close your eyes or focus on a point to avoid visual distractions. The goal is to be totally immersed in your breath. Just breathing with purpose for 10 minutes can shift your entire mood and outlook. It costs nothing and requires no equipment – just tune into your built-in respiration system. You'll gain clarity and feel remarkably lighter.
Me Time Is Essential
Carving out even 10 minutes of me time during hectic days may feel impossible, but it's absolutely essential. Your physical and mental health depend on taking small breaks just for yourself. Prioritize these moments of self-care to be a better mother, wife, and woman overall.
Try one or more of these simple 10 minute activities – take a walk, journal, listen to music, call a friend, meditate, stretch, read, nap, spend time in nature, or just breathe. Tackle chores and obligations in manageable chunks between mindful minutes that recharge you. Remind yourself that you deserve me time. Ten minutes here and there truly makes a difference.
Small Steps Lead to Big Results
While 10 minutes may seem short, appreciate how meaningful this time just for you can be. Gradually increasing your me time will become easier and you'll yearn for those breaks! You'll return feeling focused, peaceful, and ready to give your all once again.
Here are some simple tips to get you started:
Schedule it. Mark 10 minutes of "me time" on your calendar so it becomes a regular commitment.
Set reminders. Use phone alerts to remind yourself to take a break for you.
Get creative. Find small pockets of time in your day – while the coffee brews, during a lunch break, or while kids are occupied.
Start small. Begin with just 5 minutes and work up to 10 as it becomes a habit.
Don't feel guilty. Remind yourself that you deserve me time to be your best self.
Even the busiest women need moments of me time. Don't wait until you have a whole hour or day to yourself. Seize these tiny windows as lifelines – you'll be amazed at the transformation. Make me time a priority for the sake of your emotional wellbeing.
Me Time Essentials Under $10