"I participated in an Influencer Activation on behalf of Influence Central for GoodNites* TRU-FIT*. I received a promotional item to thank me for participating."
Bedwetting is a fairly common condition that a child cannot control or be trained out of. Also, children with Attention Deficit Hyperactivity Disorder (ADHD) have been found to wet their beds more often and until a later age. In our household, we have experience with both bedwetting and ADHD. Research from the American Academy of Pediatrics shows that psychologically, children who wet the bed do not want to participate in fun activities, such as sleepovers, because of their fear and embarrassment. We are very familiar with that frustration and embarrassment.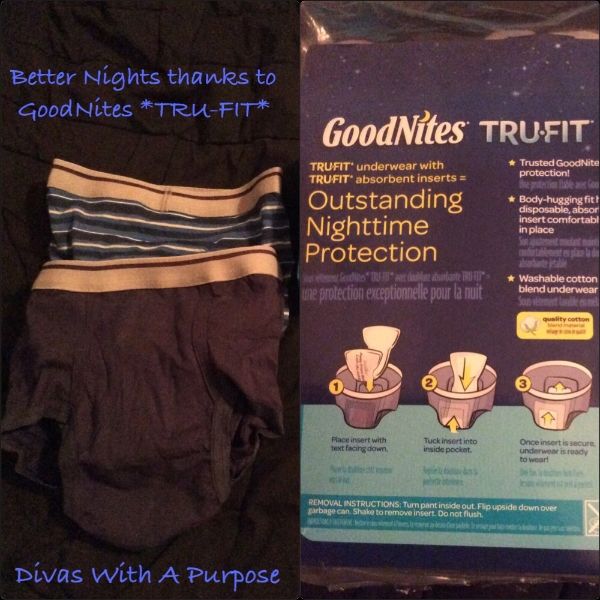 For the past six months, my youngest son has been using GoodNites* TRU-FIT*.  Why do we love GoodNites* TRU-FIT*? First and foremost, it's real underwear. Baby boy was quite confused the first time he saw his GoodNites* TRU-FIT* Underwear Starter Pack. "Momma, I think you got the wrong thing!" He loves that he's wearing real underwear each night. And, yes, our mornings are much drier than in the past.
[Tweet "Bedwetting Woes No More #WalmartTRUFIT #sponsored #IC"]
Sleepovers are the norm in our family. Having a large, close-knit family means there's always cousins close to your age that are only a phone call or text away for an impromptu get together. GoodNites* TRU-FIT* has boosted my son's confidence level during these sleepovers. He can focus more on the laughter, fun and games with his older cousins and less on having an accident over night. The disposable inserts used with his GoodNites* TRU-FIT* – Real, machine-washable underwear are designed to protect sheets and pajamas all night.
GoodNites* TRU-FIT* gets thumbs up all around from our household!
GoodNites* TRU-FIT* are available at a Wal-Mart near you. They are available for boys and girls in sizes S/M and L/XL with colors and patterns for each size. Each pair is accompanied with disposable, absorbent inserts. You can head here to download a GoodNites* TRU-FIT* coupon for $2 off.
Let's Talk About It Divas:
How are (or have) you giving your child encouragement
if they experience recurring bedwetting?