This collection of goal setting quotes is to inspire, motivate and encourage you along your goal-setting journey. Here at Divas With A Purpose we believe that setting specific, measurable, attainable, realistic, and time-based goals is a strategy for success.
I believe there are three simple steps to ensuring you will succeed at the goals you set for yourself – personally and professionally:
Make them personal. Set your goals for you, not someone else.
Make them practical. They can be personal or work related, or both.
Share them with others. This helps you commit to your success.
I work with entrepreneurs on a daily basis; their livelihoods depend on their ability to generate business for themselves. You would be shocked how many of these awesomely talented women have not taken the time to write down their specific goals or mapped out a strategy to achieve their goals. Imagine how much more successful they would be if they set tangible goals, developed a plan to reach those goals, and shared their goals with their teams, a peer or their partner – or all three!
Finally, keep your goals visible. They do you no good tucked away in a binder or shoved in a drawer. Post them in your office, carry them on a small card in your wallet or purse, and put a copy on your closet door to look at every morning when you get dressed, or consider putting it on your computers screen saver. Subliminal reminders work. And don't forget to track your progress.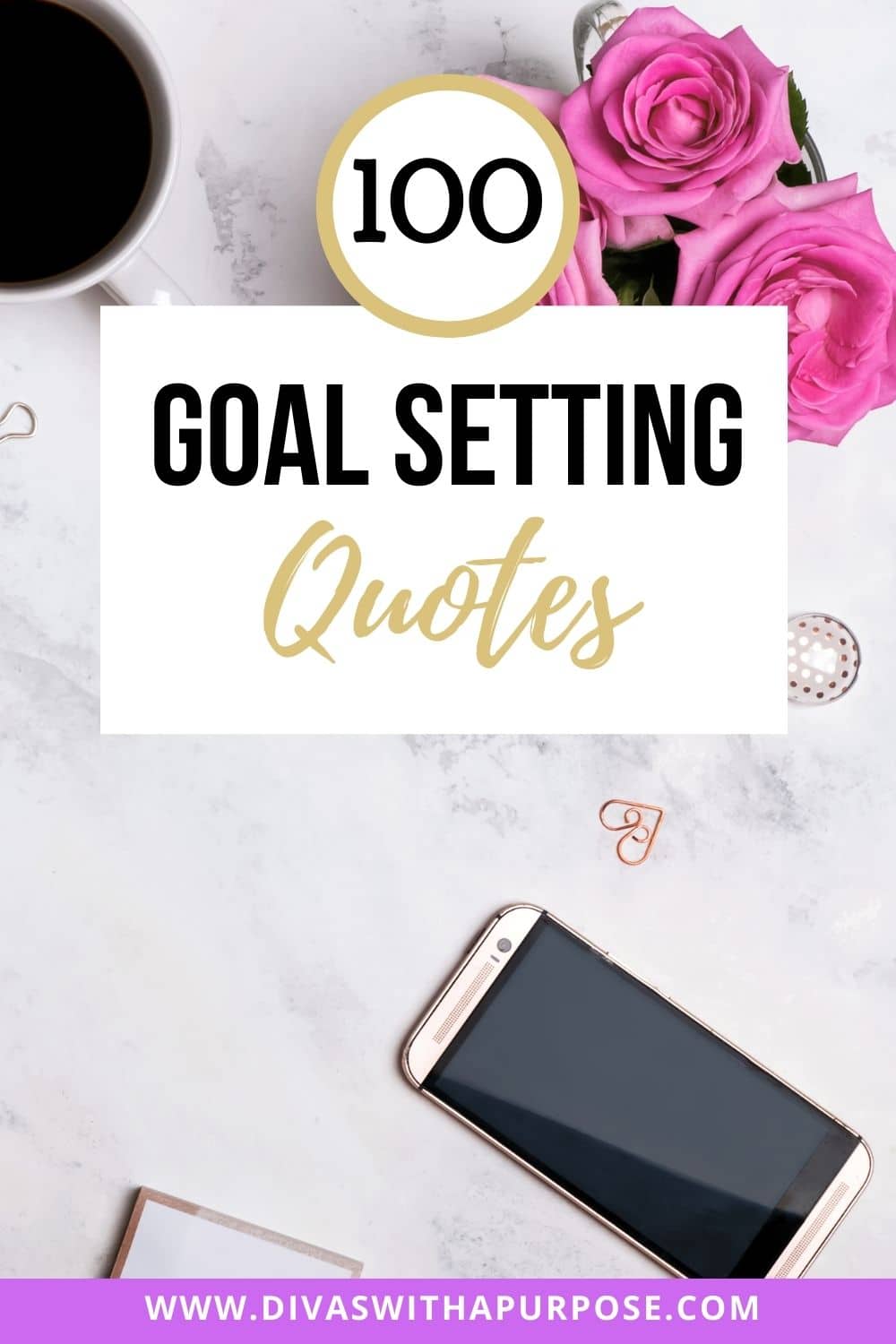 Goals Defined
A goal without a timeline is just a dream. – Robert Herjavec
The moment you put a deadline on your dream it becomes a goal. – Stephen Kellogg
Setting goals is the first step in turning the invisible into visible.
A goal properly set is halfway reached. – Zig Ziglar
Goals are the road maps that guide you to your destination. – Roy T. Bennett
A good goal is like a strenuous exercise — it makes you stretch. – Mary Kay Ash
A goal without a plan is just a wish. – Antoine de Saint-Exupéry
For me, goals are my road map to the life I want. They have helped me accomplish things I once thought were impossible. – Catherine Pulsifer
Goal setting is the core of existence that defines life. – Joanne Bonomi
Goals are dreams with deadlines. – Diana Scharf Hunt
The going is the goal. – Horace Kallen
What kind of goals to set
You have to set goals that are almost out of reach. If you set a goal that is attainable without much work or thought, you are stuck with something below your true talent and potential. – Steve Garvey
If you want to be happy, set a goal that commands your thoughts, liberates your energy and inspires your hopes. – Andrew Carnegie
If you aim for nothing, you'll hit it every time.
You should set goals beyond your reach so you always have something to live for.– Ted Turner
Becoming a star may not be your destiny, but being the best you can be is a goal that you can set for yourself. – Brian Lindsay
In life, the first thing you must do is decide what you really want. Weigh the costs and the results. Are the results worthy of the costs? Then make up your mind completely and go after your goal with all your might. – Alfred A. Montapert
Happiness is not a goal; it is a by-product. – Eleanor Roosevelt,
Anyone can be remarkable if they have something truly remarkable to do. Set remarkable goals for yourself and get to work on achieving them. Then, watch in amazement as you become remarkable. – Marelisa Fábrega.
You need to choose goals that are big enough to spark your fire. – Mia Fox
Show me a goal with no challenge or risk and I'll show you a goal with no value or reward. – Gary Ryan Blair
Why setting goals is important
I truly hope you realize how important setting goals are for young women, teaching them we have so much more to offer than our bodies. – Chloe Grace Moretz
You should set goals beyond your reach so you always have something to live for.
Goals. There's no telling what you can do when you get inspired by them. There's no telling what you can do when you believe in them. And there's no telling what will happen when you act upon them. – Tim Rohn
In the absence of clearly-defined goals, we become strangely loyal to performing daily trivia until ultimately we become enslaved by it. – Robert A. Heinlein
If we don't consciously plant the seeds we want in the gardens of our minds, we'll end up with weeds! – Tony Robbins
Goals are not only absolutely necessary to motivate us. They are essential to really keep us alive. – Robert H. Schuller
People cannot hit what they do not aim for. – Roy Bennett
It's better to be at the bottom of the ladder you want to climb than at the top of the one you don't. – Stephen Kellogg
Set goals and seek challenges; Become a role model for those coming behind you. – Charles F. Bolden
The process of setting goals works a lot like your eyesight. The closer you get to your destination, the greater clarity you gain, not only on the goal itself, but the details of everything around it. – Tony Robbins
Goals give you a compass in order to direct your path through life. Goals focus your thoughts and actions on areas that have precise purpose and meaning. – Catherine Pulsifer
Goals give us purpose, which, in turn, motivates us to make ourselves the best version in all aspects of your life. – Hannah Bronfman
People with goals succeed because they know where they're going. – Earl Nightingale
Your goals are the road maps that guide you and show you what is possible for your life. – Les Brown
The trouble with not having a goal is that you can spend your life running up and down the field and never score. – Bill Copeland
The thing about goals is that living without them is a lot more fun, in the short run. It seems to me, though, that the people who get things done, who lead, who grow and who make an impact… those people have goals. – Seth Godin
Dreams don't come true. Goals do. – J Willis
Having the right mindset when setting goals
A goal should scare you a little and excite you a lot.
Your only limit is your mind.
Without dreams and goals there is no living, only merely existing, and that is not why we are here. – Mark Twain
You don't become what you want, you become what you believe. – Oprah Winfrey
It's time to start doing what you are afraid to do.
You can do anything if you set goals. You just have to push yourself. – RJ Mitte
What we find is that if you have a goal that is very, very far out, and you approach it in little steps, you start to get there faster. Your mind opens up to the possibilities. – Mae Jamison
Begin with the end in mind. – Stephen Covey
Most people overestimate what they can do in a year, and they massively underestimate what they can accomplish in a decade or two. – Tony Robbins
The most difficult thing is the decision to act. The rest is merely tenacity. – Amelia Earhart
In all things that you do, consider the end. – Solon
A good archer is known not by his arrows but by his aim. – Thomas Fuller
Stay focused, go after your dreams and keep moving toward your goals. – LL Cool J
Goals help you channel your energy into action. – Les Brown
I think it's very important to do things the way you want to do them and be true to yourself, your own goals, and your own ideals. – Elisabeth Moss
All the answers to your questions abotu what your goals can and should be lie within, so does your power to accomplish those goals. – Anna Stephens
The question isn't who is going to let me; it's who is going to stop me. – Ayn Rand
Vision with action is daydream. Action without vision is nightmare. – Japanese Proverb
How to reach your goals
If you set goals and go after them with all the determination you can muster, your gifts will take you places that will amaze you. – Les Brown
If the plan doesn't work, change the plan, not the goal.
Aim higher in case you fall short. – Suzanne Collins
The greater danger for most of us isn't that our aim is too high and miss it, but that it is too low and we reach it. – Michelangelo
Your goal should be just out of reach, but not out of sight. – Denis Waitley and Remi Witt
Begin somewhere. You cannot build a reputation on what you intend to do. – Liz Smith
By recording your dreams and goals on paper, you set in motion the process of becoming the person you most want to be. – Mark Victor Hansen
Far away there in the sunshine are my highest aspirations. I may not reach them, but I can look up and see their beauty, believe in them, and try to follow where they lead. – Louisa May Alcott
You must do the thing you think you cannot do. –Eleanor Roosevelt
Technique and ability alone do not get you to the top; it is the willpower that is most important. – Junko Tabei
If you want to live a happy life, tie it to a goal, not to people or things.– Albert Einstein
If a goal is worth having, it's worth blocking out the time in your day-to-day life necessary to achieve it. – Jill Koenig
Knowing is not enough; we must apply. Willing is not enough; we must do. – Johann Wolfgang von Goethe
Most impossible goals can be met simply by breaking them down into bite size chunks, writing them down, believing them and going full speed ahead as if they were routine. – Don Lancaster
One part at a time, one day at a time, we can accomplish any goal we set for ourselves. – Karen Casey
Go as far as you can see, and when you get there you will see farther. – Orison Swett Marden
This one step- choosing a goal and sticking to it – changes everything." – Scott Reed
Let him that would move the world first move himself. – Socrates
All who have accomplished great things have had a great aim, have fixed their gaze on a goal which was high, one which sometimes seemed impossible. – Orison Swett Marden
Focused, hard work is the real key to success. Keep your eyes on the goal, and just keep taking the next step towards completing it. If you aren't sure which way to do something, do it both ways and see which works better. – John Carmack
The Importance of SMART Goals
It's no secret that I love SMART Goals – specific, measurable, attainable, realistic and time-based. While they may not fit every situation, SMART goals can make a big impact on many of them.
Related Article and Resource: Simple Setting Goals Template
It is not enough to take steps which may someday lead to a goal; each step must be itself a goal and a step likewise. – Johann Wolfgang von Goethe
You can't cross the sea merely by standing and staring at the water. – Rabindranath Tagore
Our goals can only be reached through a vehicle of a plan, in which we must fervently believe, and upon which we must vigorously act. There is no other route to success. – Pablo Picasso
When I was growing up I always wanted to be someone. Now I realize I should have been more specific. – Lily Tomlin
Goal-setting is powerful because it provides focus. It gives us the ability to hone in on the exact actions we need to perform to achieve everything we desire in lfe. – Jim Rohn
People with goals succeed because they know where they're going. – Earl Nightingale
To pursue a goal which by definition is unattainable is to condemn oneself to a state of perpetual unhappiness.
Without goals, and plans to reach them, you are like a ship that has set sail with no destination. – Fitzhugh Dodson
Our goals can only be reached through a vehicle of a plan, in which we must fervently believe, and upon which we must vigorously act. There is no other route to success. – Stephen A. Brennan
Definition is the companion of clarity; clarity is the guide to your goals. – Tony Buzan
Staying Motivated While Working Towards Your Goals
Do not let what you cannot do interfere with what you can do. – John Wooden
The rung of a ladder was never meant to rest upon, but only to hold a man's foot long enough to enable him to put the other somewhat higher." – Thomas Henry Huxley
When I feel tired, I just think about how great I will feel, once I finally reach my goal. – Michael Phelps
In achieving your goals, you may run into roadblocks. Don't let that stop you, go around, over, or under. If you are committed to your goal you will find a way. – Catherine Pulsifier
I can't change the direction of the wind, but I can adjust my sails to always reach my destination. – Jimmy Dean
Successful people maintain a positive focus in life no matter what is going on around them. They stay focused on their past successes rather than their past failures, and on the next action steps they need to take to get them closer to the fulfillment of their goals rather than all the other distractions that life presents to them. – Jack Canfield
A year from now you may wish you had started today. – Karen Lamb
One of the secrets of life is to make stepping stones out of stumbling blocks." — Jack Penn
Obstacles can't stop you. Problems can't stop you. Most of all, other people can't stop you. Only you can stop you. – Jeffrey Gitomer
Don't let the opinions of the average man sway you. Dream, and he thinks you're crazy. Succeed, and he thinks you're lucky. Acquire wealth, and he thinks you're greedy. Pay no attention. He simply doesn't understand. – Robert G Allen
Decide whether or not the goal is worth the risks involved. If it is, stop worrying." – Amelia Earhart
You have within you, right now, everything you need to deal with whatever the world can throw at you.
You can never cross the ocean unless you have the courage to lose sight of the shore. – Christopher Columbus
Never quit. It is the easiest cop-out in the world. Set a goal and don't quit until you attain it. When you do attain it, set another goal, and don't quit until you reach it. Never quit. – Bear Bryant